Beltone Hearing Aids

The First With Made For iPhone Hearing Aids
Made For iPhone Hearing Aids
Beltone is both a hearing aid brand and an international retail organisation. They are primarily a US-based brand with retail outlets across the United States. They are owned by GN Hearing and have been for many years. Their hearing aid products share the same hardware platform as ReSound products and their features and strategies are similar. While there would be instant brand recognition of Beltone within the US, globally, they are not a big player globally.
If You Find The Information on This Page Helpful, Please Rate The Page
Your Ratings allow us to understand if the info we provide is helpful
Rate this article
(Rated 4 stars by 20 people)





Thanks!
Beltone
Amaze
The Beltone Amaze was launched at the same time as the LiNX Quattro and is a very similar hearing aid offering in concept and design. The Amaze range from Beltone is available in two levels of technology with a 17 and 9 range. The devices use the brand new chipset from GN Hearing and Beltone took the opportunity to re-design many of their leading features to take full advantage of the extra speed. To put it in perspective, the new chipset has double the speed and memory of the last one and it offers 30% more computing power, while reducing battery drain while streaming by 25%. Those are excellent figures considering the success and efficacy of their previous Trust range.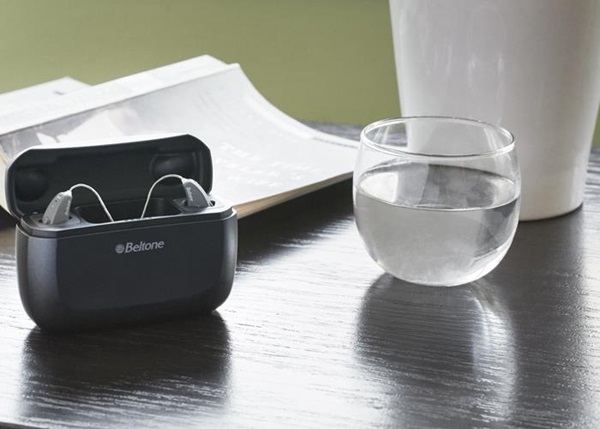 This is what we know so far:
The Amaze range is available at two levels of tech

The devices are Receiver In Canal devices

The devices are Bluetooth direct connection hearing aids

The devices use a brand new chip platform

The chip has 100% faster processing than Trust

The chip has 100% additional memory over the Trust

Beltone are using a new way of handling directionality inputs

They have introduced a redesigned wireless radio with extra signal strength

They have extended the bandwidth of the devices giving extra high-frequencies

They have increased their dynamic input range, calling it industry leading

The devices are available with a Lithium-ion

rechargeable battery pack and without

The rechargeable hearing device will deliver 24 hours of use with 50% streaming on a three-hour charge
The Lithium-ion devices will deliver 30 hours of use without streaming on a three-hour charge
A Lithium-ion Rechargeable Made For iPhone Hearing Aid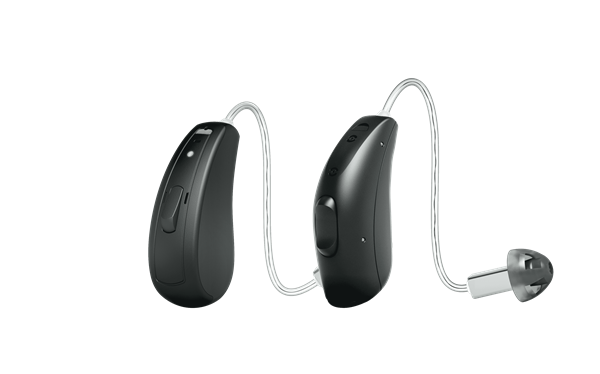 The Beltone Amaze is available in two models, the 63 which is the rechargeable device and the 64 which is a traditional zinc-air powered device. The 63 is a rechargeable direct connection, Bluetooth enabled or Made For iPhone hearing aid. Beltone are using a newly redesigned wireless radio that they say that is more powerful than ever before. It should offer a solid connection to the iPhone. Making it a rechargeable device makes a lot of sense, although they have used the chip upgrades to improve power consumption, a rechargeable option allows you the comfort of never having to worry about hearing aid batteries. The battery life is also fantastic, they say that you will get 24 hours of life even if you are streaming for 50% of the time, that's amazing. The device shown above is the rechargeable option, but as I said, they are also offering a traditional hearing aid battery model using a size thirteen battery.
Premium Plus Price Point
Beltone have not introduced the devices as a replacement for the Trust, rather, they have introduced them as a new premium price point above the Trust. As I said, they have introduced two RIC models, it will be interesting if the expand the models and the price points. We will keep you updated as to what they do next.
Back To Types
Beltone
Trust Hearing Aids
Beltone's Latest Full Range Made For iPhone Hearing Aid Platform
The Beltone Trust hearing aids are the latest full model type range of Made For iPhone hearing aid technology. They offer outstanding results even in very complex sound situations. The Trust was the first range that featured the new remote care experience. While the accompanying HearMax app allows you a lot of control over your settings, it also allows you to request assistance wherever you are. Your hearing professional can make all the adjustments necessary. Let's take a high-level view of the Beltone Trust range
The Beltone Trust includes Beltone's 5th generation 2.4 GHz wireless technology and 3rd generation CrossLink directionality. They say it will provide users with "clear, natural sound, exceptional speech understanding and the best sense of where sounds are coming from." There are eleven different hearing aid models in three levels of technology.

When connected to the brand new HearMax app, you will be able to access custom control features for your hearing aids. The app features built-in guidance steps to understand both the hearing aids and there is also coaching assistance to get the most out of your hearing aids. When compared to competitors, the company said that the Beltone Trust and companion app are up to 50 percent better at identifying speech across various environments, enable users to hear up to 80 percent more of the sounds around them, and enable users to understand up to 40 percent more speech in noise.
Trust Hearing Aids Comparison Chart
| | Trust9 | Trust7 | Trust5 |
| --- | --- | --- | --- |
| Models | | | |
| Everyday situations | Five-star hearing | Four-star hearing | Three-star hearing |
| Small groups | Five-star hearing | Four-star hearing | Four-star hearing |
| Stream Phone Conversation | Five-star hearing | Five-star hearing | Five-star hearing |
| TV | Five star Hearing | Four star hearing | Three star hearing |
| Car | Five star hearing | Four star hearing | Three star hearing |
| Shopping | Five star hearing | Four star hearing | Three star hearing |
| Larger meetings | Five star hearing | Four star hearing | NA |
| Theatre | Five star hearing | NA | NA |
| Social events | Five star hearing | NA | NA |
| Remote Fine Tuning of Hearing Aids | Yes | Yes | Yes |
| Tinnitus Therapy Feature | Yes | Yes | Yes |
Back To Types