Made For Android Hearing Aids
Made For Android, or MFA Hearing Aids
No matter what you call them, they are probably one of the biggest things to happen in hearing aids for years
Bluetooth Hearing Aids For Android, What's Available?
Made For Android hearing aids have been long awaited and anticipated. Considering almost 80% of smartphone users use an Android-based phone, there is a massive market for hearing aids that connect directly to them in the way that Made For iPhone hearing aids do. Unfortunately, up to very recently, this has always been a problematic thing to achieve for the hearing device manufacturers. That is changing though, so let's talk about Made For Android, why it has taken so long, and what hearing aids will connect to Android phones directly now, and shortly. You can read the article below or download the podcast for later.
Apple Works Right!
Apple, however, is a very different proposition from Android, they completely control both the operating system and the phone hardware. That is why Made For iPhone hearing aids came first, the hearing aid brands were dealing with a completely known and controlled standard. That allowed them to plan and implement their MFI hearing aids without a huge amount of worry about efficacy and reliability of the connection.
What Took So Damned Long?
The issue for the hearing aid brands has always been the Android operating system and the fragmentation of it and the hardware used in Android phones. Android is an OS that is used on many phones from many different phone brands, that has meant that the Android experience on Samsung devices is quite different than on HTC devices. It also means that the hardware used in those phones is also often different. This ensures that designing hearing aids that will work with every Android phone is an insurmountable task. However, with the introduction of Android P, that is beginning to change.
Android has wrested back a lot more control over the OS with Android P, especially the Bluetooth management system. It means that the part of the operating system that will help hearing aids connect will now be the same across phones with Android P. The inbuilt hardware is something they won't control though, but, we can expect every major phone brand to follow suit quickly because they understand the value of hearing aid direct connection.
When Can We Expect It?
I believe that we can expect it in 2019, however, even when it is introduced it will only be available on Google Pixel 3 phones initially and it will not be a backward compatible system from what I understand. I would imagine though that the major phone brands will follow quickly, so I can see 2019 being the year of Made For Android. The first hearing aid brand with a true Made For Android hearing aid will be ReSound. They introduced their Quattro in late 2018 and it will be the first device to work with the Pixel 3.
Bluetooth Hearing Aids That Work With Android Right Now
There are Bluetooth hearing aids that work directly with Android right now. They are billed as Made For All Phone devices which is a concept of the Sonova group, their initial devices would allow you to answer calls hands-free in one hearing aid from an Android phone but would not allow you to stream audio to your hearing aids.
Phonak Android Streaming
However, the new Phonak Bluetooth hearing aid range called the Marvel will allow stereo streaming from an Android phone. It will also deliver stereo streaming from an iPhone, in fact, it will deliver both stereo streaming of phone calls and audio from any Bluetooth enabled phone. While these devices don't fit the rigid concept of MFI or MFA, they will connect to both Apple phones and Android phones and allow streaming.
Buy The Rechargeable Version
The key with these devices though is that they are power hungry, I would advise that if you are buying a Made For Any Phone hearing aid or the new Marvel hearing aids, buy the rechargeable hearing aid version.

If You Find The Information on This Page Helpful, Please Rate The Page
Your Ratings allow us to understand if the info we provide is helpful
Rate this article
(Rated 4 stars by 89 people)





Thanks!
Resound
LiNX Quattro LT61
First Ever Made For Android Hearing Aid
As we reported on our blog (13/08/2014), Resound has announced the launch of a new premium plus hearing aid called the LiNX Quattro. The new LiNX Quattro will come in two types, the rechargeable version which we cover here and a non-rechargeable model. The rechargeable model is lithium-ion powered and offers a huge amount of power no matter how much you are streaming. As I said earlier, my advice would be to always go for the rechargeable version of these types of hearing aids. Even the low power version of Bluetooth which is used by the Quattro is still power hungry. So rechargeable means that you don't have to worry about buying batteries, it is also a far easier use proposition. I mean I didn't realise how much I loved rechargeable until I had a set.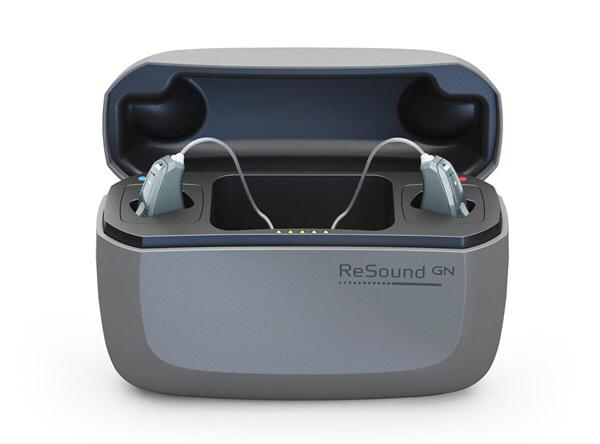 This is what we know so far:
The devices will only be available in two new technology levels

The devices are Receiver In Canal devices

The devices are Bluetooth hearing aids

The devices use a brand new chip platform

The chip has 100% faster processing than 3D

The chip has 100% additional memory over the 3D

Resound are using a new way of handling directionality inputs

They have introduced a redesigned wireless radio with extra signal strength

They have extended the bandwidth of the devices giving extra high-frequencies

They have increased their dynamic input range, calling it industry leading

The devices are available with a Lithium-ion

rechargeable battery pack and without

The rechargeable hearing device will deliver 24 hours of use with 50% streaming on a three-hour charge

The Lithium-ion devices will deliver 30 hours of use without streaming on a three-hour charge

The Lithium-ion devices will deliver 30 hours of use without streaming on a three-hour charge
A Lithium-ion Rechargeable Made For iPhone & Android Hearing Aid
The LiNX Quattro LT61 is a rechargeable direct connection, Bluetooth enabled or Made For iPhone hearing aid just like all the LiNX devices before it. Resound have redesigned the wireless radio though and they say that it is more powerful than ever before. That should translate into pretty stable connection to the iPhone. ReSound have also announced that they have partnered with Google to set a connection standard for Made For Android and the Quattro will be the first-ever Made For Android hearing aid.
Making it a rechargeable device makes a lot of sense, although they have used the chip upgrades to improve power consumption, a rechargeable option allows you the comfort of never having to worry about hearing aid batteries. The battery life is also fantastic, they say that you will get 24 hours of life even if you are streaming for 50% of the time, that's pretty amazing. The device shown above is the rechargeable option, but as I said, they are also offering a traditional hearing aid battery model which is based on the LT-62 using a size thirteen battery.
Premium Plus Price Point
Resound have not introduced the devices as a replacement for the LiNX 3D, rather, they have introduced them as a new premium price point above the LiNX 3D 9 and 7. As I said, they have introduced two RIC models, it will be interesting if the expand the models and the price points. We will keep you updated as to what they do next.
Phonak
Audeo Marvel Hearing Aids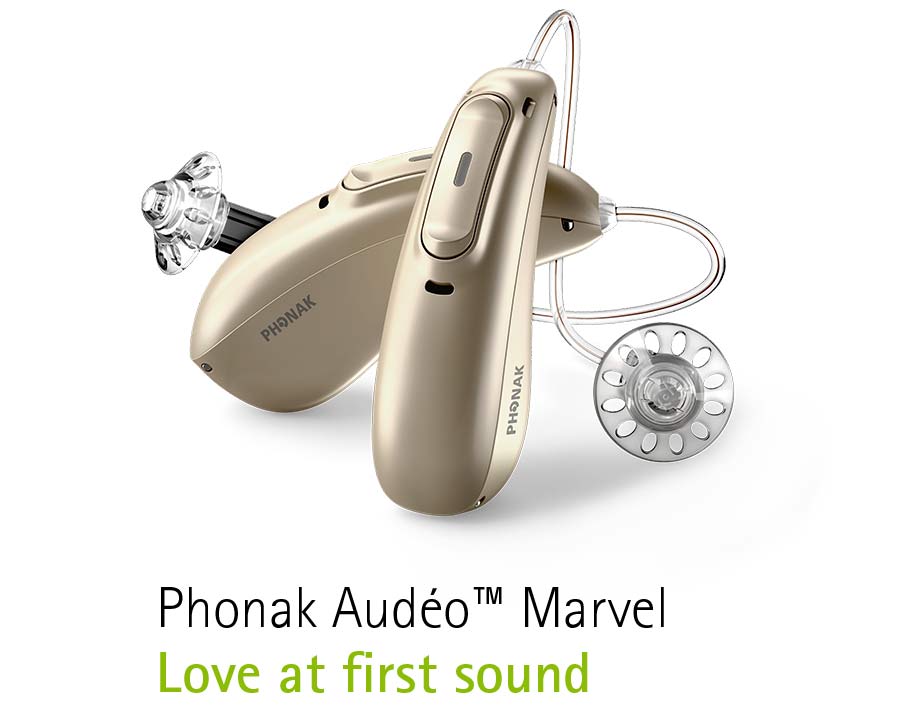 Made For Any Phone Hearing Aids
Phonak introduced Marvel to the world at EUHA 2018 and it is a pretty amazing hearing aid range. The Marvel isn't just a Made For iPhone, it is a Made For Any Phone hearing aid. It is a true Bluetooth hearing aid in all that the concept is. Initially, the new Marvel range will be available in the Audeo type which is Phonak's Receiver In Canal style of hearing aids. However, they will expand the range as time passes. Their initial offering is a Lithium-Ion powered rechargeable hearing aid version and a traditional size 312 Zinc-Air version. My advice would be to go for the rechargeable version because I think these things are going to be power hungry.
While Phonak had introduced the concept of Made For Any Phone with the Audeo B-Direct, that device was a compromise. It connected to phones but only allowed you to hear the call in one ear. It also didn't stream audio from your phone. The Marvel hearing device is a hugely multi-functional and feature-rich hearing aid which streams audio to both ears. There is actually a huge amount to talk about with the Marvel platform, almost so much that you wonder where to start. The Marvel contains probably every single one of the current headline features in the hearing aid world, and they have even thrown in some new ones, here's the quick list:
Stereo Bluetooth streaming: Stereo streaming from any Bluetooth enabled device, that means iPhone, iPad, laptops, computers, Macs, Android phones, Windows phones, hell any Bluetooth-enabled phone.
Real Hands-free calling in stereo: Like the Audeo B-direct, the Marvel offers true hands-free calling from Bluetooth-enabled phones and VOIP services like Skype, except, to both hearing aids.
TV Streaming: Marvel can stream directly from Bluetooth-enabled TVs, and can also stream from the Phonak TV Connector accessory.
Rechargeability: They say both Marvel rechargeables will deliver a full day of hearing aid use from a single charge.
Remote adjustments: Marvel hearing aids can be adjusted remotely by your hearing expert.
New App Eco-System: Brand new apps to make life easier and engage the consumer in the process.
RogerDirect: This is really fascinating, for the first time, users will be able to stream from Roger devices directly to their hearing aids.
Full Phonak Feature Set: Unlike the Audeo B-direct, the Marvel devices will not be hobbled, they will offer full and up to date inter-ear features.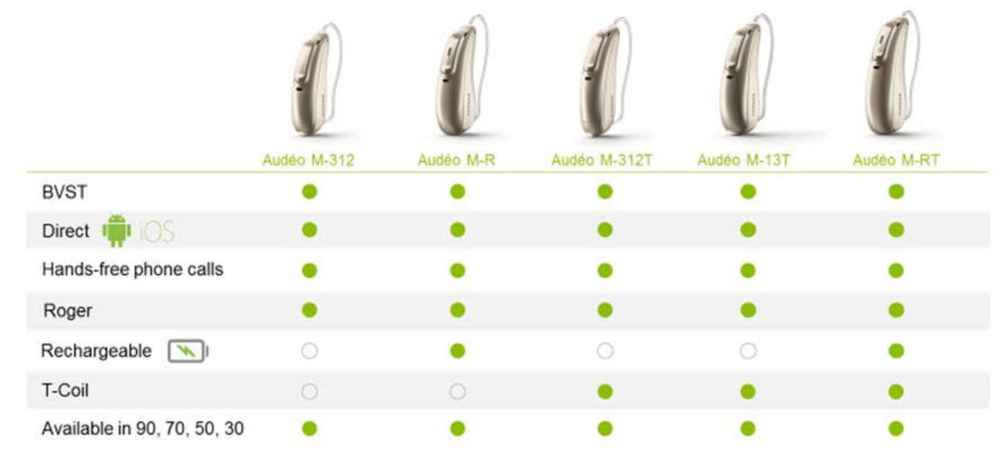 Four Levels of Technology
The Audeo Marvel will be available in four levels of technology when they are released. It appears that only the Audeo M-R and the Audeo M-312 will be released initially but we are unsure of the release date. From what I can see, the rechargeable hearing aid model will be available at all four levels of technology which is good. Originally it was only available in the top three of the Belong range.
You can read our article on the introduction of the devices which gives a decent rundown on the new Phonak Marvel here
Phonak
Audeo B-Direct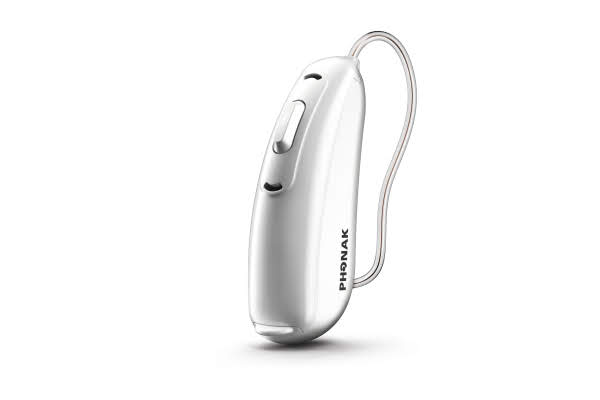 Phonak Delivers Made For Any Phone
When Phonak introduced the Audeo B-Direct it was a revolutionary hearing aid that changed Bluetooth wireless connection to a mobile phone forever. The Audeo B-Direct connects to any Bluetooth® enabled mobile phone, directly without a streamer. Even better, it offers true hands-free calling. As it supports the classic Bluetooth protocol, it provides direct connectivity to cell phones – including AndroidTM, iPhone® and even classic cell phones – with no extra body-worn streaming device required.
Not Quite Made For!
While these hearing aids will stream phone calls from iPhones and Android phones, they don't fall within the same feature concept as the Made For Android hearing aids discussed that are discussed here. They do not have the same features and abilities, let's take a look at what I mean.
True hands-free calling
The hearing aids offer real hands-free voice calling. The wearer can answer or reject a phone call by simply pressing the push button on their hearing aid. The ringing of the phone is heard through one of the hearing aids and once the call is accepted, the conversation is instantly streamed. You don't even need to pick up your phone. Your voice is picked up by the hearing aid's intelligent microphone network and transmitted to the other caller similar to a wireless headset.
No Music Streaming
Unfortunately for people who like to stream music or audiobooks from their phone, this hearing device isn't the answer. While it delivers astonishing new power over mobile phone calls, it doesn't allow the type of streaming that delivers music or other audio. However, they have thought about music lovers and your TV viewing habits.
Hearing aids that double as wireless TV headphones
They have also introduced an accompanying TV Connector, which uses their proprietary AirStreamTM technology. It is designed to be a state-of-the-art compact multimedia hub that seamlessly connects wearers to their favourite TV programming for an immersive audio experience. It's a plug and play solution that automatically turns a pair of Audéo B-Direct hearing aids into wireless TV headphones. The TV Connector can also connect and transmit to multiple sets of Audéo B-Direct hearing aids simultaneously. That's a pretty good solution for couples with hearing loss.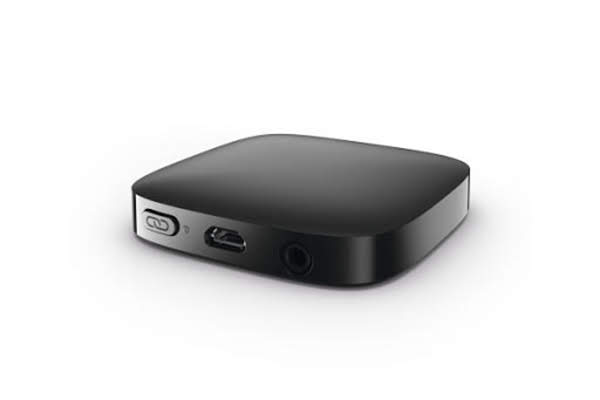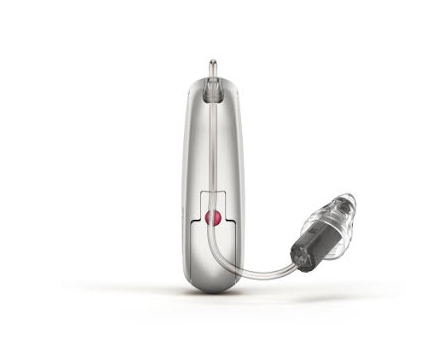 The device is a receiver in canal (RIC) hearing aid which means that it will be suitable for a wide range of hearing losses and users. It is also the first device to make use of Sonova's revolutionary SWORD chip and wireless radio technology. They say that the low-voltage radio chip has the lowest power consumption of any hearing aid using Bluetooth Classic.
The device uses a size thirteen battery and Phonak reports some excellent battery life figures. They say that the battery should last for six days with one hour of phone use and 3 hours of TV per day. That isn't bad, I would say though real-world experience will vary, some people like to talk more and watch a lot more TV. Even though the device is a size thirteen, it isn't actually much bigger than their Audeo B 312.
Three levels of technology
The Audeo B-Direct is available in three levels of technology, the 90, the 70 and the 50, so no entry level device this time around. Although that was to be expected based on the introduction of the rechargeable devices.
Read More ABout Phonak Hearing Aids Here
Looking For Hearing Aids or A Hearing Test?
We can arrange a consultation with a trusted Independent hearing healthcare professional in your area
Unitron
Moxi All Hearing Aids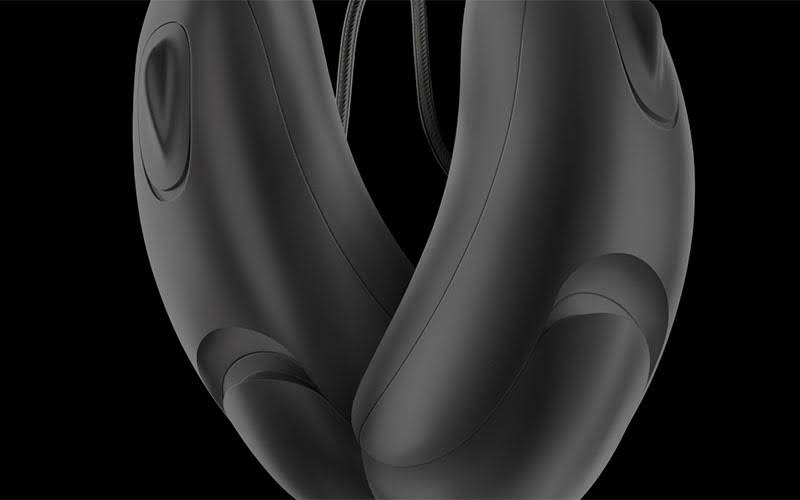 Rechargeable Made For Any Phone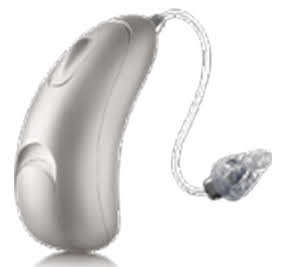 Like their stablemate Phonak, Unitron chose to offer a hearing aid that will connect to any mobile phone with Bluetooth using a headset protocol. However, in a very smart move, they decided to make the device rechargeable. If you are considering the purchase of any direct connection hearing aid from any of the hearing aid brands, well then thinking about a rechargeable option makes sense.
Made For iPhone, Made For Android or Made For Any Phone systems are quite power hungry devices. Going for a rechargeable option makes financial sense here. The rechargeable system that Unitron uses in this device is the Z Power system that Unitron went with for the rest of their devices. There have been some problems with that system so do your research in relation to it and follow the instructions given carefully.
Five Different Price Points
The Moxi All is available in five different levels of technology, so that means five price points. In other words, there should be one for everyone.
No Streamer, Headset Functionality
The Made For Any Phone concept delivers pretty revolutionary hearing aids that changes Bluetooth wireless connection to a mobile phone forever. The Moxi All connects to any Bluetooth® enabled mobile phone, directly without a streamer. It offers true hands-free calling. As it supports the classic Bluetooth protocol, it provides direct connectivity to cell phones – including AndroidTM, iPhone® and even classic cell phones – with no extra body-worn streaming device required.
One Ear Only
The Moxi All only offers mobile phone streaming to one ear only. However, that is not a real problem, during my use of them, I found no real issues hearing the caller even in a relatively noisy situation. You can read more about my experience with the Moxi All here.
No Music Streaming
While these hearing aids will stream phone calls from iPhones and Android phones, they are not typical Made For iPhone or Made For Android hearing aids. They do not have quite the same features and abilities, for instance, they will not stream music or audiobooks from your phone. However, if you just want a good mobile phone solution, well then these devices are pretty good.
TV Connector
They will, however, stream audio from any sound source that you connect to their new TV Connector. The device will stream high-quality audio to both of your Moxi All hearing aids. I have spoken to a few people who have experienced the audio streaming via a TV Connector and they have all been exceptionally happy with the experience.
Like the Audeo B-Direct from Phonak, you need to think a little carefully about the Moxi All before you buy them. However, because of the way many Unitron features work, there is no loss of benefits or features because of the new Bluetooth chip, unlike the Audeo B-Direct.
Subscribe to our Newsletter

Don't worry, we hate spam too - that's why we only send out content you will want to read.
Looking For Hearing Aids or A Hearing Test?
We can arrange a consultation with a trusted Independent hearing healthcare professional in your area