Widex Dream 330 Hearing Aids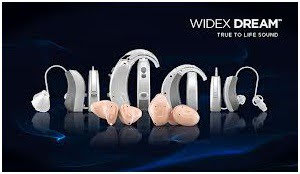 The Dream 330 is one of the Dream range of hearing aids from Widex. It is available in a number of different styles including BTE (Behind the Ear), RIC (Receiver in Canal), ITE (In the Ear) and CIC (Completely in Canal).
These hearing aids are available in four different levels of technology with the Dream 330 being the second level in the range. You can take a look at the full range of Widex hearing aids here. You can read about all of the best brands of hearing aids here.
The Widex Dream 330 works on their new platform technology known as True ISP. This means better sound quality and faster processing than ever before.
With the introduction of True ISP, Widex also want to make your listening experience as personal as possible. One way they have done this is with a new website called MY.WIDEX.COM. This site is designed for hearing aid users and contains information about the hearing aids, access to customer service and even a section that will explain your audiogram results.
They have also created some new features to make your listening experience even better. You can adjust these manually as well as programme them for automatic changes
Acclimatisation
This gives you individual control of your hearing aid's acclimatisation. With this feature you can control both the pace and level.
Audibility Extender
Many people have difficulty with the higher frequency sounds so this feature is designed to make them audible for each individual
Widex have also used the True ISP technology to improve on some of the key features from their previous ranges.
10 Channels
These are the sound processing channels that allow you to hear the different frequency ranges more clearly
4 Programmes
These can be set to manage your individual hearing loss in different listening environments.
TruSound Softener
This feature will soften the sudden and unexpected loud noises to make sure your hearing is always comfortable
Feedback Cancelling
This blocks out the annoying whistling noises that some hearing aid users experience
Noise Reduction
This suppresses background noise and makes the speech sound clearer
Speech Enhancer SII
The Speech Enhancer identifies the voice you are trying to hear and makes it clearer even in the more difficult listening situations
Digital Pinna
This feature will make the sound more natural by recreating the natural acoustics of your ears
The Widex Dream range is also compatible with their DEX wireless accessories. These accessories allow you to connect with the different every day devices you use regularly
RC-DEX
This is a remote control for your hearing aids that allows you to control basic functions.
TV-DEX
The TV-DEX will stream the sound from your TV into your hearing aids so you can hear clearly and at a level comfortable for you
Phone-DEX
This makes landline phone calls easier and clearer by streaming the sound into both ears at the same time
M-DEX
This will allow you to talk hands free on your mobile phone and hear the conversation clearly in both ears.
Looking For Hearing Aids or A Hearing Test?
We can arrange a consultation with a trusted Independent hearing healthcare professional in your area