Phonak Audeo Q70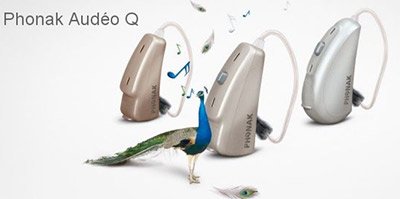 The Audeo Q70 is one of the Quest RIC (Receiver in Canal) models launched in 2013. It is available in four technology levels with the Q70 being the second level. The Audeo Q70 has now been replaced by the Audeo V70 which you can read about here. You can take a look at the full range of Phonak hearing aids here
This hearing aid comes in three different RIC variations.
The Audeo Q-312 is small and cosmetic and has wireless capability
The Audeo Q-312T has wireless capability and also includes Telecoil
The Audeo Q-10 is a non-wireless hearing aid
Styles
The Audeo Q70 is available in a wide choice of colours that range from subtle shades to vibrant colours
Platform
The Audeo Q70 works on Phonak's Quest platform technology. One of the most innovative new features in the Quest was Binaural VoiceStream. This allows your hearing aids to wirelessly communicate and work together to further improve your hearing. This binaural technology has led to the introduction of the following features.
Features
Acclimatisation Manager
This feature can detect environments where the amplification of the hearing aids needs to be changed. Automatically and smoothly adapts the hearing aids to give you the best sound.
Tinnitus Balance Sound Generator
Using a range of sounds, this feature can help ease the symptoms of tinnitus. There is also the Tinnitus Balance App which is compatible with Apple and Android devices to give you access to a catalogue of sounds to choose from
16 Channels
These channels process a number of different frequencies to tune the hearing aids for your needs. The more channels there are, the more precisely this can be done
Soundrecover
This feature improves your ability to hear higher frequencies
Ultrazoom/Stereozoom
These two microphone features use the binaural technology to enhance speech capture and noise reduction
Soundflow
This can detect small changes in the environment and adapt the hearing aids to give you a clear sound
Soundrelax
Soundrelax will detect sudden loud noises and soften them for your comfort
Whistleblock, Noiseblock and Windblock
These block out unwanted noise leaving speech sounds clear
Wireless Hearing Aid Accessories
Some of the Audeo Q70 models are compatible with Phonak's wireless accessories. This technology allows you to connect your hearing aids to a number of devices such as televisions, music players and mobile phones.
Phonak Compilot
This streamer is worn around your neck to transmit the signal from your other accessories into your hearing aids. This can give the same effect as wearing headphones without actually having to wear them
Phonak TV Link S
This device will transmit the sound from your television into your hearing aids making it easier to hear and eliminating the need to increase the actual TV volume. The TV Link S is also a charger for the Compilot
Phonak MyPilot
This remote control allows you to adjust volume and programme settings and has a simple display screen.
KeyPilot
This small, basic remote control can be attached to a set of keys.
RemoteMic
This device can be attached to someone else's clothing and will stream their voice directly into your hearing aids
Looking For Hearing Aids or A Hearing Test?
We can arrange a consultation with a trusted Independent hearing healthcare professional in your area