If You Find The Information on This Page Helpful, Please Rate The Page
Your Ratings allow us to understand if the info we provide is helpful
Rate this article
(Rated 4 stars by 30 people)





Thanks!
Widex Unique 110 Hearing Aids
Basic level unique hearing aids
Basic Level Widex Unique Hearing Aids
Unique 110 Hearing Aids
The Unique 110 is the new entry level hearing aid from Widex. The Unique 110 has retained a number of features even though it is the most basic in the range. It has the famous Widex sound and it is a significant step up from the older Dream 110 which wasn't well received. You can take a look at the full range of Widex hearing aids here.
Widex Unique 110 Prices
We would expect the range to be sold at prices from £700.00 to £1100.00 in the UK depending on the Practice and location. We would expect the range to be sold at prices from €1000.00 to €1400.00 in Ireland. We would expect the range to be sold at prices from $1100.00 to $1500.00 in the USA.
Looking For Hearing Aids or A Hearing Test?

We can arrange a consultation with a trusted Independent hearing healthcare professional in your area
Find A Provider Near You
Learn more about The Test
Widex Unique 110 Hearing Aid Models
Main features
Sound Processing
The Unique 110 has four channels and doesn't have Sound Class Technology on board. While it is an automatic aid, It doesn't adjust itself as well as the higher technology models so if you go into a noisier environment you may want to consider programmes so you can adjust the aid to reduce the background noise. The 110 has three manual programs available.
InterEar (IE) technology
IE technology allows both hearing aids to act as one system through the instantaneous wireless exchange of information. Widex uses this technology in order that the hearing aids can act as a synchronised pair. The IE technology ensures the synchronization of volume adjustments and program changes between the two aids.
Phone+
This feature is actually only available on a stand alone phone program, the signal from the hearing aid you are using close to the phone is streamed to both hearing aids to help you hear better.
Background noise reduction
Background noise reduction on the 110 is very basic, this is not really the hearing aid for you if you go into environments with a lot of background noise on a regular basis, it may be somewhat difficult to hear speech in these environments.
Soft sound amplification
The Unique 110 still benefits from the extended range of hearing that the more expensive models have and the soft sound noise reduction feature is also present.
Connectivity

DEX ASSISTIVE LISTENING DEVICES
With the DEX assistive listening devices from Widex it becomes easy for you to communicate with your:
Phone
TV
Remote Control
Other external audio devices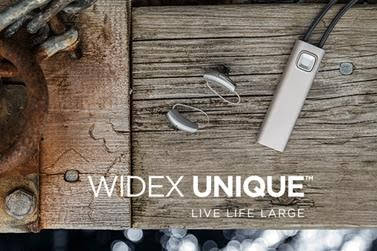 COM-DEX
For communicating with other bluetooth enabled devices there is the new COM-DEX accessory, which is a bluetooth enabled pendant you hang around your neck. This will pair to your phone so that you can stream audio to your hearing aids from your phone, via the COM-DEX. You can also download an app for your smartphone (Apple or Android) which lets you use it to remotely control the hearing aids. Also available are the usual range of extra accessories for TV or audio equipment streaming.
The UNI-DEX

The all new UNI-DEX is extremely easy to use. Simply plug the mini-jack cable into your mobile phone or audio device, hang the UNI-DEX around your neck, and you are ready to go.
The M-DEX

M-DEX offers wireless connectivity between hearing aids and a mobile phone, practically turning the hearing aids into wireless headsets.
The TV-DEX

With the TV-DEX you can enjoy distortion-free wireless transmission of TV sound directly to your hearing aid
The RC-DEX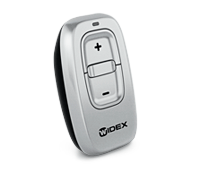 The RC-DEX is designed for basic wireless remote control of the hearing aids.
The T-DEX

T-DEX gives you easy connection with mobile phones. For use with all Widex hearing aids with a telecoil
The PHONE-DEX

PHONE-DEX is a cordless phone that streams sound directly into your hearing aids. The PHONE-DEX is easy to hold and can be used as a regular phone as well
Looking For Hearing Aids or A Hearing Test?
We can arrange a consultation with a trusted Independent hearing healthcare professional in your area