If You Find The Information on This Page Helpful, Please Rate The Page
Your Ratings allow us to understand if the info we provide is helpful
Rate this article
(Rated 4 stars by 17 people)





Thanks!
Widex Unique 330 Hearing Aids
Advanced Level Unique Hearing Aids
Widex Advanced Technology Level Unique Hearing Aids
Unique 330
The Widex Unique 330 is the second to top aid in the new "Unique" hearing aid range from Widex. They have delivered a very strong range at this price point as they always do, retaining some of the better features. This really is outstanding technology and would be a match for their last top of the range hearing aid. You can take a look at the full range of Widex hearing aids here
Unique 330 Prices
We would expect the range to be sold at prices from £1400.00 to £1800.00 in the UK depending on the Practice and location. We would expect the range to be sold at prices from €1800.00 to €2400.00 in Ireland. We would expect the range to be sold at prices from $1900.00 to $2500.00 in the USA.
Looking For the Latest Widex Hearing Aids or A Hearing Test?
Arrange a consultation with a trusted Independent hearing healthcare professional in your area
Main features
U platform (processor)

Unique Sound Class Technology 5 interear sound classes

Unique Variable Speech Compression

Unique True-Input Technology

10 Channels

Multi-directional Active Interear Feedback Cancelling (stops whistling)

4 Programs

Unique Preference control

Digital Pinna (mimics the natural effects of the outer ear)

TruSound Softener

Unique Interear Speech Enhancer (fantastic noise reduction)

Noise Reduction

Unique Soft Level Noise Reduction (noise reduction for softer sounds, computer fans, fridges etc)

10 channel HD Locator (10 channels of directionality)

Telephone flexibility including Phone +

Interear Zen (helps to deliver relief from tinnitus)

Unique Audibility Extender (brings frequencies that you can't hear back into your residual hearing)

Wireless connectivity: TV Dex, Phone Dex, Uni-Dex, FM-Dex, RC-Dex, Call-Dex, and Com-Dex.
Widex Unique 330 Hearing Aid Models
Sound Processing
As is normal with Widex, the Unique 330 is a 10 channel aid utilising Widex's U-platform chip that the whole Unique range are built on. The 330 uses the new Sound Class Technology feature but the aids are restricted to five possible environmental types, again, the aim is to always maximise speech sounds when they are present and comfort when they are not.
InterEar (IE) technology
IE technology allows both hearing aids to act as one system through the instantaneous wireless exchange of information. Widex uses this technology in order that the hearing aids can act as a synchronised pair. The IE technology ensures the synchronization of noise reduction, sound classes, volume adjustments and program changes between the two aids.
Inter ear Speech Enhancer
This feature is always worth mentioning, the speech enhancer is an amazing noise reduction feature from Widex. Most noise reduction features actually just deliver comfort in noise. This one delivers both comfort and clarity, the inter ear feature gives it an even better edge. Both hearing aids communicate and decide as a pair how to apply the feature, this makes it smarter and better.
Sound Class Technology
The aids can automatically detect and adapt in 5 different listening environments and focus on the most dominant speech signal detected in the environment.
Phone+
This feature is actually only available on a stand alone phone program, the signal from the hearing aid you are using close to the phone is streamed to both hearing aids to help you hear better.
Background noise reduction
The noise reduction in the Unique 330 is excellent and is suitable for all but the noisiest environments. However if you are really active with lots of exposure to quite noisy environments then you might want to think about the Unique 330.
Wider dynamic range of hearing
The 330 also has access to that wider dynamic range of hearing, they have also included the soft sound noise reduction so that you won't get annoyed by hearing the fridge buzzing away in the background.
Zen Tinnitus management
As with the previous two ranges of Widex hearing aids, the Zen tinnitus management features are available in the 330.
Connectivity

DEX ASSISTIVE LISTENING DEVICES
With the DEX assistive listening devices from Widex it becomes easy for you to communicate with your:
Phone
TV
Remote Control
Other external audio devices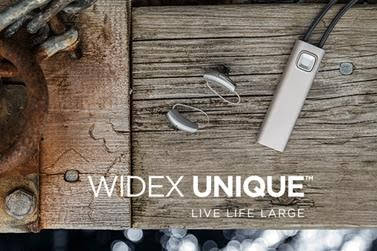 COM-DEX
For communicating with other bluetooth enabled devices there is the new COM-DEX accessory, which is a bluetooth enabled pendant you hang around your neck. This will pair to your phone so that you can stream audio to your hearing aids from your phone, via the COM-DEX. You can also download an app for your smartphone (Apple or Android) which lets you use it to remotely control the hearing aids. Also available are the usual range of extra accessories for TV or audio equipment streaming.
The UNI-DEX

The all new UNI-DEX is extremely easy to use. Simply plug the mini-jack cable into your mobile phone or audio device, hang the UNI-DEX around your neck, and you are ready to go.
The M-DEX

M-DEX offers wireless connectivity between hearing aids and a mobile phone, practically turning the hearing aids into wireless headsets.
The TV-DEX

With the TV-DEX you can enjoy distortion-free wireless transmission of TV sound directly to your hearing aid
The RC-DEX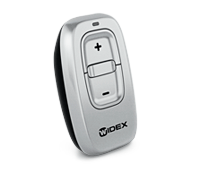 The RC-DEX is designed for basic wireless remote control of the hearing aids.
The T-DEX

T-DEX gives you easy connection with mobile phones. For use with all Widex hearing aids with a telecoil
The PHONE-DEX

PHONE-DEX is a cordless phone that streams sound directly into your hearing aids. The PHONE-DEX is easy to hold and can be used as a regular phone as well
Looking For Hearing Aids or A Hearing Test?
We can arrange a consultation with a trusted Independent hearing healthcare professional in your area