Safe, Comfortable Ear Wax Removal in Edinburgh
Ear Wax Removal Prices St. Johns Rd, Edinburgh
Microsuction Ear Wax Removal From £50
No Mess, No Fuss, Just Easy Ear Cleaning

Need an appointment? Call 0131 629 1819 now or fill in the form and we will get back to you
If you would like to book an appointment or contact us for any other reason, please pop your details in below and we will get straight back to you.
The No Wax Ear Wax Removal Specialists in Edinburgh
Edinburgh Hearing Practice is the No Wax Ear Wax Removal Specialists in Edinburgh. They offer Micro Suction ear wax removal, irrigation ear wax removal and manual ear wax removal. They understand the significance of value for money, that's why they offer quality products with excellent aftercare
They are confident that they won't be beaten on quality or price. They give 100% commitment to providing you with the very best in hearing services and aim to show you exactly why they have an outstanding reputation. They understand that earwax blockage is uncomfortable and irritating and they will always try to ensure that they see you as quick as humanly possible.
If there is a problem but your ears are clear there is an admin fee of £25, but they can provide high definition images of your ear canals / ear drums, offer advice and a hearing check to confirm hearing levels are normal and email the results to you.
Private Ear Syringing Edinburgh
Ear syringing is an outdated method of earwax removal. Edinburgh Hearing Practice offers irrigation earwax removal in replacement for ear syringing. It is far safer and more comfortable.
At Edinburgh Hearing Practice, they offer 2 main ways that remove wax at our hearing aid centres:
Types of Earwax Removal
Irrigation: This is where a soft pulse of water is passed into the ear canal to loosen and flush the wax away.
Microsuction: A gentle suction is used to remove wax and debris from the ear canal.
On occasion, there may be more complex ear canals (those that have had surgery or people with perforations in the eardrum) where an ENT consultant would need to carry out the procedure which we are able to organise for you. Edinburgh Hearing Practice is fully qualified to perform both irrigation and microsuction.
Please contact us if you would like any more details on this service or you would like to speak To Us About Earwax Removal
Call us on 0131 629 1819 for earwax removal in Edinburgh, Auchterarder or Gullane
Address
No Wax Ear Wax Removal Specialists (Edinburgh Hearing Practice)
Ear Wax Removal Edinburgh,Edinburgh
Price: From £50.00 per ear
0131 629 1819
201 St. Johns Rd,
Edinburgh
EH12 7UU
Edinburgh Hearing Practice

Ear Wax Removal Edinburgh
Micro Suction Ear
Wax Removal
Edinburgh Hearing Practice offer instant micro-suction earwax removal. Microsuction is probably one of the safest methods of ear cleaning, there are no liquids involved, therefore there is no mess and little fuss. It can usually be done the day we see you with no preparation, however, occasionally, it might need two sessions depending on the hardness of the ear wax
Price: £50 for one ear, £70 for 2 ears
Irrigation
Wax Removal
We undertake ear wax removal using a special irrigation machine which introduces water to the ear canal in a gentle manner washing all of the ear wax out. It is important that you use some oil (earol is excellent) in your ears for a couple of days before irrigation is performed. It makes the process far more easy and comfortable.
Price: £50 for one ear, £70 for 2 ears
Experienced hearing care experts
Edinburgh Hearing Practice
Hearing Aid Audiologists & Ear Care Specialists
With over 30 years' experience in hearing aid audiology. The team at Edinburgh Hearing Practice offer no pressure, complimentary hearing tests so that you will be able to get to the bottom of any issues. If there is a hearing loss, they offer the latest digital hearing aids from the best hearing aid manufacturers, backed up with outstanding aftercare. If it is simply ear wax, They can deal with that too.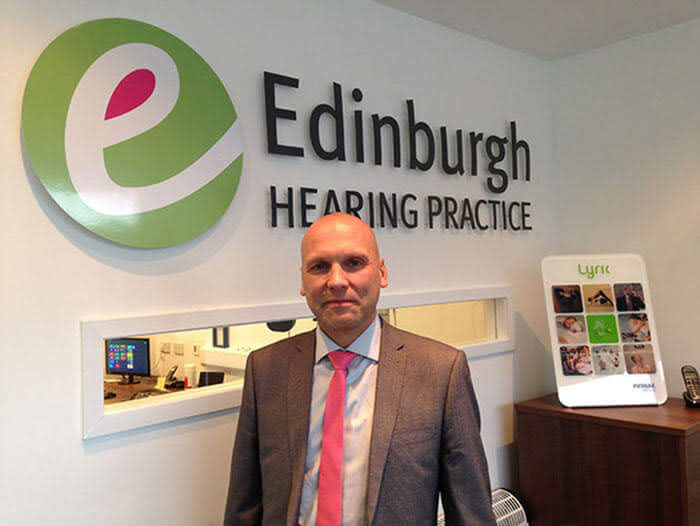 Helping You With Better Hearing
Martin Smith FDSC
Martin Smith has worked in the hearing aid industry for over 20 years. He worked for an American hearing aid company then joined the largest hearing healthcare manufacturer, working there for over 15 years as Product Manager. Martin studied Hearing Aid Audiology at the Queen Margaret University in Musselburgh, gaining his qualification in 2015.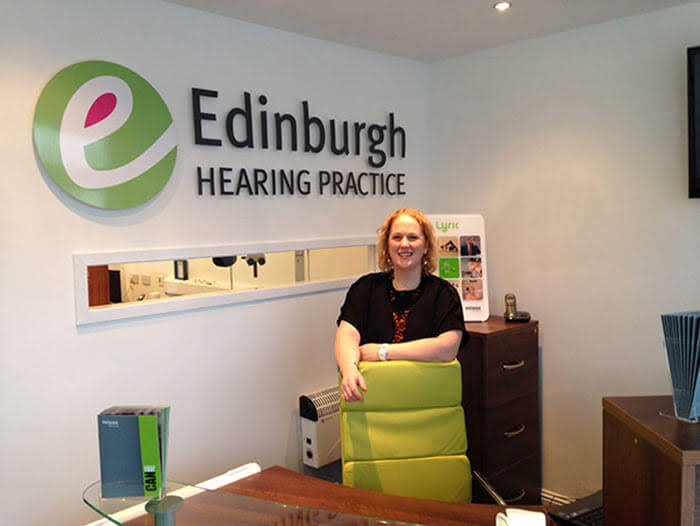 Delivering Outstanding Hearing Aid Benefit
Katie Webster BSc (hons) PG Dip RHAD
Katie qualified as an audiologist over 10 years ago. She has worked in the NHS and more recently for one of the leading hearing aid manufacturers in the world. Katie was responsible for the roll out of Lyric in the UK, the world's first extended wear hearing aid and worked closely with the research and development team in Switzerland. Katie trained all of the current Lyric providers in the UK and Ireland and has fitted more lyric devices than anyone else in the UK.
Rated 5 out of /5 based on over 42 customer reviews
"Thank you so much for restoring my hearing, I only wish I had come to you first! Amazing service, you really care and went over and above to fix the issue. Highly recommended and I will definitely come to you first next time!"

Fiona McGowan

"I am an experienced hearing aid user who recently attended Edinburgh Hearing Aid Practice for assessment. The latter was the most comprehensive I have experienced to date. Audiologist Katie was meticulous in arriving at the best solution for me. She has a positive and sympathetic approach which is so important in this sensitive area."

Phillip Michaelson

"after reading which consumer report they recommended independents and I chose Edinburgh hearing practice and I'm glad I did. Katie and Martin are excellent in checking your hearing and advising on the best aid suited to you. After sales service is second to none and I have no hesitation in recommending them."

Robert Crombie
Looking For Hearing Aids or A Hearing Test?
We can arrange a consultation with a trusted Independent hearing healthcare professional in your area