Older ReSound Hearing Aids

Older and discontinued Resound Hearing Aids
This are details of older Resound hearing aids
In some places they may be still available, however, they are older hearing aid technology. Not bad, just older, make any purchase decision on that basis

If You Find The Information on This Page Helpful, Please Rate The Page
Your Ratings allow us to understand if the info we provide is helpful
Rate this article
(Rated 4 stars by 37 people)





Thanks!
The LiNX2™ Hearing Aids
In 2014, ReSound released the first Made for iPhone hearing aid ever, the LiNX™. The response was overwhelmingly positive. Most users are really taken with the aids, their abilities and the experience they deliver. There really is no question that Made for iPhone hearing aids are here to stay. ReSound's release of their new line of Made for iPhone hearing aids, the ReSound LiNX2 (LiNX squared) only proves the point.
With the release of the upgraded Made For iPhone hearing aids, ReSound is once again leading the pack in the Made for iPhone hearing aid space. The LiNX2 is available in the same 3 technology levels as the previous generation, that being the top of the range 9, the 7 and the 5, but they are offering an expanded range of new styles with this release.
The ReSound LiNX2™in The Ear Hearing Aids
New styles
Up to now, Made for iPhone hearing aids have only been available in the behind-the-ear styles. ReSound have been hinting that custom styles were in the pipeline, and now they have arrived! Along with the popular BTE and RIE styles, the LiNX2 is available in the following additional custom styles: IIC, CIC, ITC, ITE and MIH.
However, only the ITC, ITE, and MIH styles are wireless capable and compatible with the ReSound Smart™ App and can support direct audio streaming. In addition, the RIE and BTE styles have also had an updated redesign, with new casing and user controls.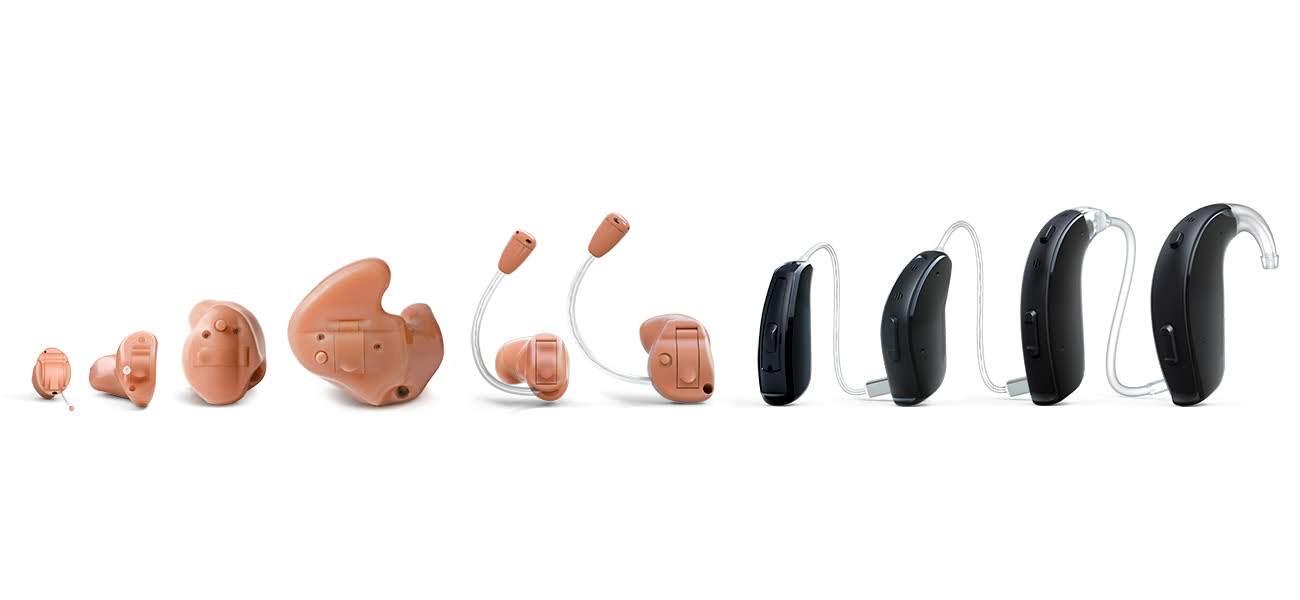 ReSound LiNX2 9 Hearing Aids
ReSound LiNX2 9 is the flagship premium hearing aid, ideal for people with an active lifestyle which takes them into challenging listening environments. ReSound LiNX2 9 includes every 2.4 GHz ear-to-ear technology, Made for iPhone connectivity, access to advanced sound enhancement features on the ReSound Smart™ app, and all the latest smart spatial features that deliver the effortless Surround Sound by ReSound™ hearing experience.
ReSound LiNX2 7 Hearing Aids
ReSound LiNX2 7 is a premium hearing aid for people who spend significant amounts of time in moderate listening environments. It delivers comprehensive ear-to-ear communication benefits, Made for iPhone connectivity, and smart ReSound technologies for spatial awareness and effortless speech recognition in complex listening situations.
ReSound LiNX2 5 Hearing Aids
ReSound LiNX2 5 is an advanced hearing aid ideal for people who are sociable, but are mostly active in less noisy environments. ReSound LiNX2 5 includes essential 2.4 GHz wireless benefits such as ear-to-ear communication and Made for iPhone connectivity alongside smart ReSound technologies for effortless hearing.
ReSound LiNX2 uses 3rd generation 2.4 GHz wireless technology to stream sound and data. This means that you can enjoy advanced binaural audiological features, stream stereo sound directly to their hearing aids and personalise your hearing experience with ReSound apps.


LiNX™ was the first of the new Made For iPhone hearing aids to reach the market. It is packed with features and ReSound have really thought about how to use the iPhone for outstanding communication results. It will be interesting to see how this technology grows and changes.
The Enzo2™ Super Power Hearing Aids
The First Made For iPhone Super Power Hearing Aids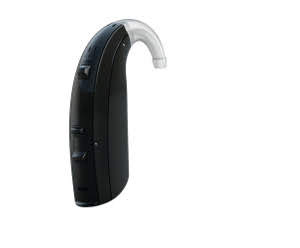 The Resound Enzo2™ is the newest super power family for severe to profound hearing loss, from GN Resound. ReSound Enzo2™ brings smart hearing technology to people with severe and profound hearing loss for the first time. This means you can experience sound with the clearest and most vibrant quality, even in the most challenging sound environments. It means you can connect to the sounds that matter most to you through direct stereo sound streamed from your iPhone, iPad and iPod touch, without any intermediary device. And it means discreetly adjusting your settings directly from your smartphone, matching your sound to your experiences without drawing attention to your hearing aids.
All of it through the world's most powerful and advanced super power hearing aid. Enzo2 is your direct connection to people, places and experiences. ReSound Enzo2™ is the only super power Made for iPhone hearing aid, which means you can stream stereo sound directly to your hearing aids just as if you were wearing wireless headphones. The Enzo2™ delivers all the power you need for amplified, clear and comfortable sounds on the go.
With ReSound Enzo2 you can hear more of what you want, because every part of the instrument is designed to give you a better hearing experience with a rich, balanced sound in all situations. It maximizes sound quality, audibility and speech understanding, while minimising listening effort.
Enzo2 9 Hearing AIds
The Enzo's Smart™ hearing technology takes all of the modern functionality you get from pairing the aid with your iPhone (or other compatible device) and combines it with a highest power output available. At time of writing the Enzo2 is the most powerful super power hearing aid on the market.
The Enzo2 9 is the flagship level device in ReSound's superpower hearing aid range. Like the Linx2 9, it has 17 frequency channels for fine tuning within. It also uses their latest feedback prevention strategy DFS Ultra II to provide the highest amplification without the hearing aid whistling. The hearing aids are packed with advanced features to ensure the important speech sounds. They will attack background noises and wind noise. The device use a particularly clever system to ensure that they adjust themselves automatically to the environment you are in.
While the device is a high power hearing aid, Resound has ensured that the Enzo2 9 is one of the smallest super power aids available. Resound uses iSolate nanotech™ coating to protect the components in the aid from dust and wax and moisture.
Enzo2 7 Hearing Aids
The Enzo2 7 is the mid-level aid in the superpower hearing aid range. Resound have done something a little different with their mid range products, it has 17 frequency channels which is exactly the same as the top of the range devices. It also uses the same anti-feedback system to ensure that you get the amplification you need.
However, the device has a reduced feature set which means you will miss out on Autoscope Adaptive Directionality, Binaural Directionality and Binaural Environmental Optimizer II. They have also reduced the effect of the Noisetracker II and Windguard features aren't quite as strong.
Enzo2 5 Hearing Aids
The Enzo2 5 is the entry level superpower hearing aid in ReSound's latest range. Although it has a lower specification and 9 channels rather than 17, it still has the same high power output as the other models.
The aid has the same effective feedback prevention (DFS Ultra II) system, providing the highest highest amplification in the industry, without the hearing aid whistling. This hearing aid is ideally suited to those with severe to profound losses who do not spend much time in noisy or windy environments.
As with the other devices in the range it is a tough and durable aid and it has been specially coated to repel wax, moisture and dust.
Back To Types

Updates to the Smart app
One of the biggest problems for individuals with hearing loss is hearing speech in noise and wind. New personalization options within the app that are only for ReSound LiNX2 users includes sound enhancement features to better personalize these difficult listening situations.
Improved Surround Sound
Surround Sound by ReSound has been around for a while. Surround Sound is ReSound's system for processing sound which helps users determine the direction sound is coming from, and automatically alters the output of the hearing aids to match the acoustic environment. In the LiNX2, ReSound have introduced a new improved Surround Sound system. The feature has been greatly improved with the introduction of Binaural Directionality™ II, and an all new feature, Spatial Sense™. Binaural Directionality™ was utilized in previous ReSound products, like the Verso, and the original LiNX, but its second generation is now available in the LiNX2. Spatial Sense is a brand new feature focused entirely on helping you as a wearer localize sound and have a better spatial awareness. In order to take full advantage of the new Surround Sound system , you'll have to invest in the LiNX2 9 in the BTE or RIE style.
Personalize your hearing experience with the Resound Smart app
If you own a ReSound smart hearing aid like the Linx, The Enzo2 or Linx2, the ReSound Smart™ app will enable you to discreetly fine-tune your
hearing aids
to your own taste. The app works with iPhone, iPad and iPod touch. It also now works with the Samsung Galaxy S5. Support for other Android devices will improve this year with more and more devices being added.
ReSound Smart app
The ReSound Smart app is available for free download from the App StoreSM for iOS devices and Google Play™ for the Samsung Galaxy S5.

Discreet control of volume
Adjust volume, treble and bass on the go discretely and easily from your phone screen.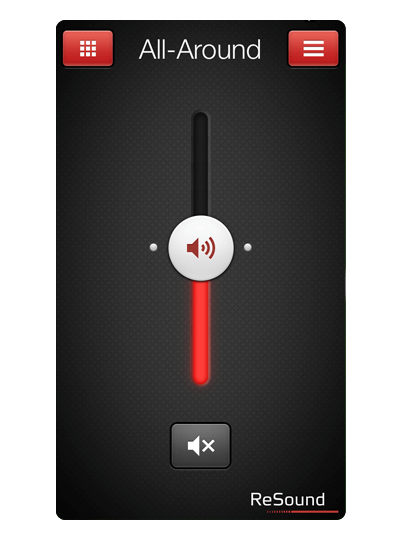 Change program on the go
Create favourite programmes and have your hearing aids switch to them in particular places – or activate them yourself wherever you are.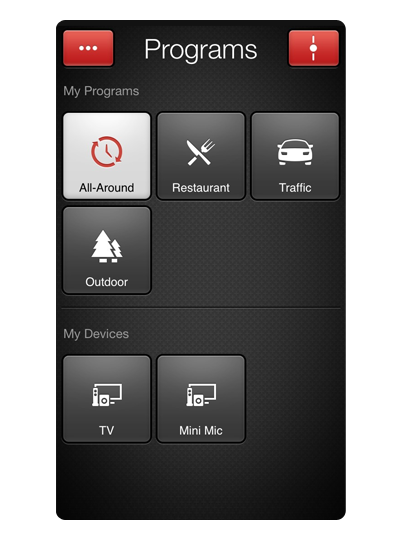 Easy-to-learn tips and tricks
Look up information about your hearing aid such as what each 'beep' means.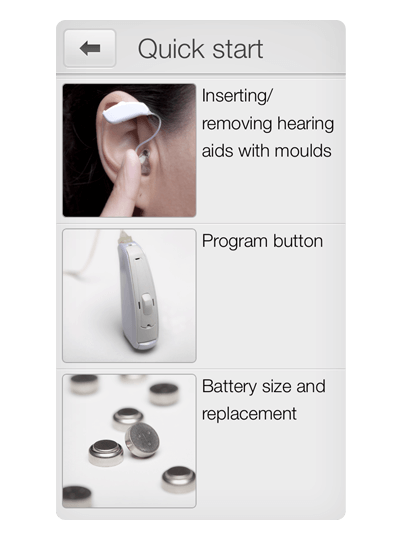 Find mislaid hearing aids
If you misplace your hearing aids, you can quickly track them down with the ReSound Smart app's 'Finder' function. No more lost hearing aids with the easy to use interface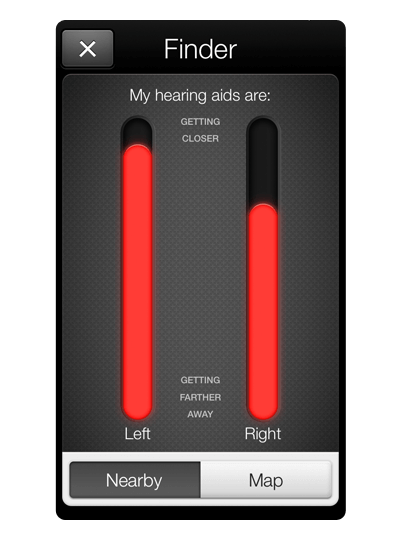 Balance your sounds
When you are streaming audio from your TV, music system or computer, you have separate volume controls for the audio and your surroundings. So you can bring complete balance.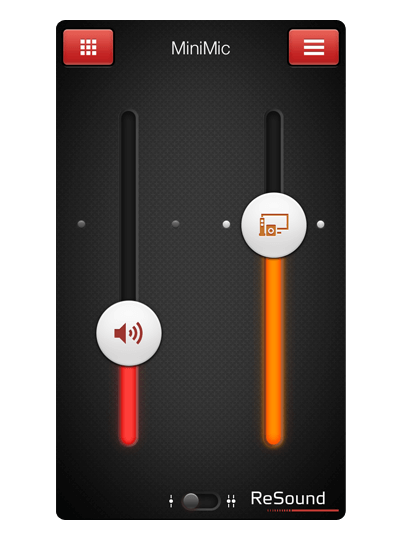 Save your favourite settings
You can save your favourite program settings in 'Favorites' so you can activate them when you want, and show them to your hearing care professional next time you meet.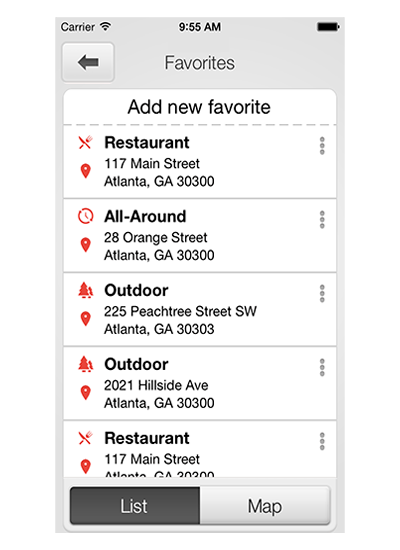 Enhance listening comfort on the go
For ReSound LiNX2 9 wearers: you can further enhance your listening comfort with Sound Enhancer. (Coming soon for Android users)
Comfort in noise
Reduce noise levels in loud environments so listening is more comfortable and speech easier to understand. The simple interface on your phone allows you greater control over the noise in whatever situation you are in.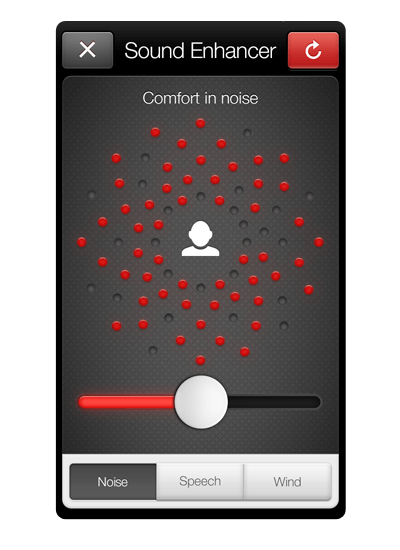 Speech focus
Choose exactly what you want to listen to. Imagine the focus of your attention as a beam that you project forwards. Speech focus enables you to adjust the width of this beam, so the speaker's words sound clearer even in tough listening situations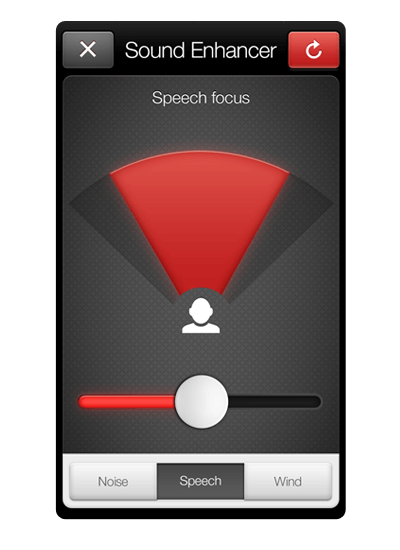 Comfort in wind
Activate the wind filter to reduce the amount of intrusive wind noise on a windy day for maximum listening comfort – with minimum effort. Golfing or walking in the park will become a pleasure as you can converse with your partner even in wind.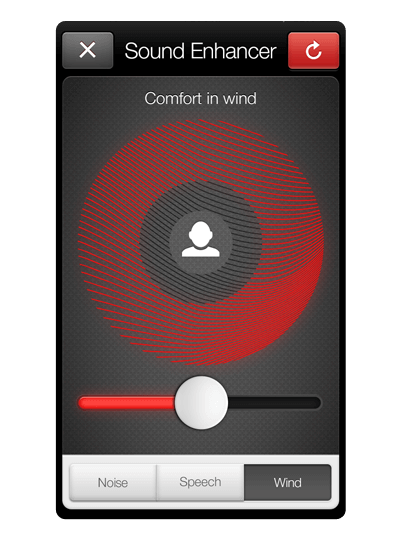 Tinnitus relief
The LiNX2 is ReSound's 5th generation tinnitus solution. All technology levels and styles of the LiNX2 have built-in sound generators and six different Nature Sounds to find the settings that bring them the most relief. Using the Smart app, you can control control the pitch and modulation of the sound and create the sound therapy that works best for you. If you'd like to gain even more control, you can of course download the ReSound Relief app and introduce sounds beyond those made available through the hearing aids.

Older Resound Hearing Aids
The LiNX Hearing Aids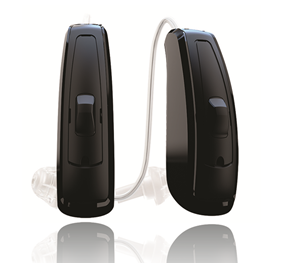 The GN Resound LiNX™ family is a three model BTE (Behind The Ear) family of hearing aids. Imagine that everything you hear is vivid and natural. Imagine speech that's clear and easy to understand. Imagine wireless stereo headphones for your iPhone® that just happen to be your hearing aids. You've only just begun to imagine ReSound LiNXTM.

Connect directly to who and what you love through your iPhone, iPad, and iPod touch. Enjoy high quality sound through your hearing aids that are also wireless stereo headphones. Most people are really blown away with the ease, stability and power of the GN ReSound LiNX. Made for iPhone has arrived and it really delivers.
A Hearing Aid For Most Hearing Losses
The hearing aids are surprisingly small, versatile, and amazingly powerful, the small. The slim design lets you hide your ReSound LiNX instruments if you wish, or show them off if you'd rather. Their truly versatile nature means that they can be fitted to even severe hearing losses. Regardless of your hearing loss, you'll experience how SmartRangeTM, the industry'sfastest chip platform, allows you to hear and understand so well and so easily. The ReSound LiNX hearing aids really are a direct connection to everything you love. They will allow you to chat with friends, family or colleagues with ease. Use FaceTime video calling on your iPhone to bring far-away loved ones into your living room without missing a word.
With Plenty Of Colours To Choose From

Power And Versatility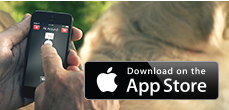 The power and versatility goes further than just the sound output. The accompanying app allows you to balance the tone of a concert or a conversation until it sounds just right. It will also allow you to find your lost hearing aids, just like that! With the GNReSound Smart app you can do this and much more. The app deliver comprehensive freedom and versatility for the very first time. Direct, Bluetooth® streaming of phone calls from your iPhone to your hearing aids enables clear,hands-free conversations, especially handy when in the car. You can stream any music or media played through your iPhone directly to your hearing aids for a more impressive listening experience. It is as simple as playing your favourite music and sitting back to relax.
The LiNX TS Hearing Aids
Break The Vicious Cycle of Tinnitus With The New LiNX TS Hearing Aids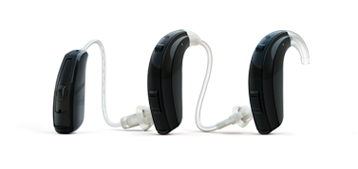 The New GN Resound LiNX TS is a BTE family with three models available designed for people with Tinnitus. Whether you have a hearing loss or not, ReSound LiNX TS offers solid solution for finding relief. ReSound LiNX TS combines a tinnitus therapy solution that's proven to be highly effective with the world's smartest hearing aid. ReSound LiNX TS lets us customise sound therapy to your needs to help in the relief of tinnitus. ReSound's 4th generation tinnitus solution combines advanced tinnitus sound therapy with the world's smartest hearing aid. This kind of sound therapy, together with informed counselling, has proven to be a highly effective way of managing tinnitus.
A Solution Unique To You
The LiNX TS puts you in control, because each case of tinnitus is unique, ReSound LiNX TS lets you personalise your sound therapy. There's a choice of four built-in options and the direct wireless connection to your iPhone, iPad or iPod touch gives you access to numerous sound therapy apps available on the App Store. You can also stream any other sound you like including music.
Verso™ Hearing Aids
The Resound Verso™ is a slightly older platform from GN ReSound, but it is a full family line up. The ReSound Verso™ comes in the widest range of models – so it's easy to choose one that fits your lifestyle and hearing loss. All ReSound Verso™ hearing aids are coated inside and out with iSolate™ nanotech to protect against moisture and ensure great durability. They also come with wireless connectivity options, which means that you can stream sound directly from TV, phone and other audio devices using ReSound Unite™ accessories – for a complete hearing system.
With all sounds audible and perfectly balanced, you get a more natural sense of what's going on around you. You know which sounds are loudest, how close they are, and where they come from. So you can react and respond naturally to what you want to hear. When you have full awareness, you have a much greater ability to focus on voices and other sounds you want to hear. Even in very difficult listening situations, like having a conversation in a noisy restaurant.
The Verso™ RIE Models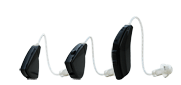 The Verso RIE (Receiver In Ear) line-up comes in three distinct models. All of them are fully automatic hearing aids but the larger two have extra controls to give you the freedom to manage your settings in differing situations. You can also do this via a handy remote control if you wish. They are ideal for people with hearing loss from Mild to severe

The Verso™ BTE Models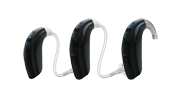 The Verso BTE line-up comes in three distinct models. All of them are fully automatic hearing aids but they also have extra controls to give you the freedom to manage your settings in differing situations. You can also do this via a handy remote control if you wish. They are ideal for people with hearing loss from Mild through severe to profound
The Verso™ Mini BTE is ideal for a discrete cosmetic solution. The Verso™ Standard BTE is ideal for you if your hearing loss is on the border of moderate to severe. The Verso™ Power/High Power BTE is ideal for you if your hearing loss is severe to profound.
The Verso™ Custom RM Models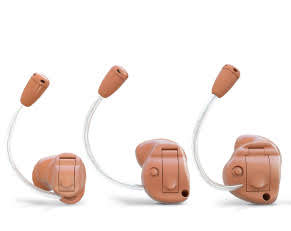 The RM or Remote Microphone style of hearing aid is exclusive to Resound. The uniqueness lies in its design, ReSound have moved the microphone out of the hearing aid to the top of your outer ear. Allowing it to receive sound the way your ear does. The line up comes in three models and most of them have the option to include controls for changing settings.
With the housing in the ear and the microphone in the rim of the ear they almost become invisible. The models are suitable for people with mild to severe hearing loss
The Verso™ Custom Models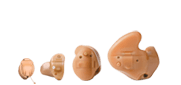 The Resound Verso™ Custom Models come in several form factors of differing size all the way down to their smallest the IIC (invisible In Canal)which is designed to completely disappear into your ear canal. They are custom moulded to the shape of your ear and easy to insert. Being completely in the ear they don't cause any conflicts with glasses hats or items of clothing. Most of the models come with extra control options and wireless connectivity. The models are suitable for people with mild to severe hearing loss.
Looking For Hearing Aids or A Hearing Test?
We can arrange a consultation with a trusted Independent hearing healthcare professional in your area