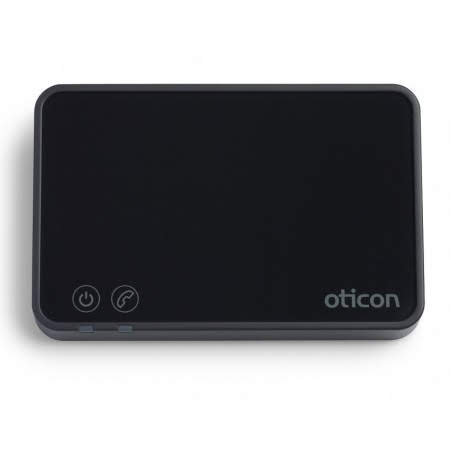 PLEASE NOTE:
We can only deliver this product in the United Kingdom.
Oticon Connectline Phone Streamer
Use your Oticon hearing aids as wireless headphones and stream your phone calls directly into your ear for optimal hearing ability
---
ConnectLine Phone breaks down the barriers to phone communication for the hard of hearing – you can listen and talk to your loved ones with total clarity and ease. With ConnectLine Phone, you will never have to worry about missing an important call or missing crucial details. ConnectLine Phone transforms hearing aids into a wireless handsfree solution for home use thanks to the Streamer's built-in microphone.

When the phone rings, you take the call simply by pressing the phone button on the Streamer – without having to go to the phone.

The phone adapter is installed in parallel to the existing domestic landline phone(s) – in effect turning the hearing instruments into a wireless headset.

When receiving an incoming call, you will hear a call alert in the hearing instruments. By pushing the phone button, the phone is picked up and transferred to the hearing instruments.

The Connectline Phone ships with a UK mains charger and the necessary cables to plug into your telephone wall socket. This product is designed to work on a standard home telephone line and is not compatible with business business lines and VOIP systems, if unsure please ask before purchase. If you're having trouble getting a dial tone using the existing instructions,

NB this product is version 2 of the Oticon Connectline Phone and has a far extended range, up to 30 metres as opposed to 10 metres from the original product.

NB. The Oticon Connectline products need to be paired to your Oticon hearing aids for them to work. Either you will need to arrange for this locally (you may be charged a fee for this service), or alternatively if you can ship your hearing aids to us we will pair the devices to your hearing aids and return your hearing aids at the same time as the purchased item. There is no charge for this service. Please note we can't pair NHS hearing aids to these accessories as NHS Oticon hearing aids are locked and we can't pair or program them. Connectline does not work with all hearing aids in the Oticon range, our suggestion is that you contact us via our webform on the Contacts page with details before purchase and we will advise accordingly.

If you are purchasing a Connectline Phone to add to an existing already paired Streamer you can pair this device to your Streamer yourself via Bluetooth pairing without the help of a hearing professional.

---

N.B. This product MAY be eligible for supply to UK customers as a Zero Rated VAT product, please read carefully before choosing whether to pay for your purchase at Zero Rate of VAT or including VAT from the drop down box below. If you feel you are eligible for Zero Rate of VAT for this product you MUST provide us with a declaration before we can ship the product, not doing so will delay shipment. Instructions of how to do this are in the link above.
Rate this article





Thanks!