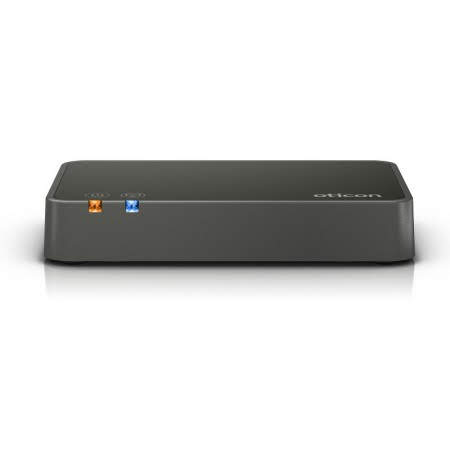 PLEASE NOTE:
We can only deliver this product in the United Kingdom.
Oticon Connectline TV Streamer
Enjoy watching the TV again, have the audio streamed directly to your Oticon hearing aids for the very best sound quality and speech understanding.
---
ConnectLine TV 2 lets you enjoy watching TV at your preferred volume without missing out on important calls from family or friends. With ConnectLine TV 2, you will be able to watch favourite films and TV programmes with new-found ease. You control the volume of the TV personally via the Streamer, meaning that the volume for the rest of the family can remain at a level which suits them.

Should the landline phone or mobile ring when the TV is on, you will hear a call alert, and can choose to talk or reject the call simply by pressing the phone button on the Streamer.

The ConnectLine TV 2 has various audio inputs – minijack 3.5mm, SCART, RCA plugs and TOSLINK Digital Stereo (PCM) / Dolby Digital. The device also has audio output via TOSLINK (buffered output of TOSLINK input).

To listen to the TV, all you have to do is to push the Audio button on the Streamer.

You can actually use the Connectline TV 2 with any audio source that has audio out, such as a hifi system or perhaps a laptop with the right audio cables.

The Connectline TV 2 ships with a UK mains charger and can also be powered via a USB to mini USB charger, also SCART to RCA converter, RCA to RCA stereo cable, minijack 3.5mm to RCA converter and TOSLINK 2 metre optical cable.

Note: this product is version 2 of the Oticon Connectline TV and has a far extended range compared to the older version, up to 30 metres as opposed to 10 metres from the original product.

The Oticon Connectline products need to be paired to your Oticon hearing aids for them to work. Either you will need to arrange for this locally (you may be charged a fee for this service), or alternatively if you can ship your hearing aids to us we will pair the devices to your hearing aids and return your hearing aids at the same time as the purchased item. There is no charge for this service. Please note we can't pair NHS hearing aids to these accessories as NHS Oticon hearing aids are locked and we can't pair or program them. Connectline does not work with all hearing aids in the Oticon range, our suggestion is that you contact us via our webform on the Contacts page with details before purchase and we will advise accordingly.

If you are purchasing a Connectline TV to add to an existing already paired Streamer you can pair this device to your Streamer yourself via Bluetooth pairing without the help of a hearing professional.
Rate this article





Thanks!