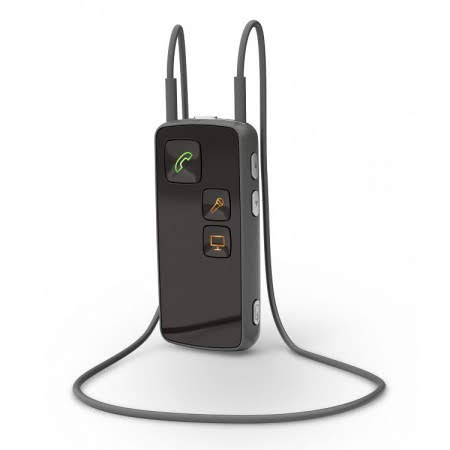 PLEASE NOTE:
We can only deliver this product in the United Kingdom.
Oticon Streamer Pro Bluetooth Streamer
Make telephone calls easy and stress-free again with Oticon's Streamer Pro - it streams your phone calls directly in to your hearing aids, vastly improving your ability to hear on the phone.
---
Make telephone calls easy and stress-free again with Oticon's Streamer Pro - it streams your phone calls directly in to your hearing aids, vastly improving your ability to hear on the phone.

More and more people rely on mobile communication, but for some users it is difficult, or even impossible, to use mobile phones. ConnectLine Streamer Pro changes this. As sound is transmitted directly from the mobile phone to the hearing instruments, traditional barriers to phone use are eliminated.

Streamer Pro empowers you to talk freely while driving, without compromising safety. The Streamer Pro's handsfree connectivity to mobile phones is more important than ever in a driving situation. The system is designed for easy and stress-free calls so that you can talk easily and safely, without taking your hands off the wheel.

When a call comes in, all it takes is the push of a button on the Streamer Pro to pick up the phone. Thanks to the neck-loop, the Streamer Pro is conveniently placed with a built-in microphone close to your mouth.

The Oticon Streamer Pro connects to a wide range of mobile phones with built-in Bluetooth and also is useful as a remote control for your Oticon hearing aids.

These Oticon Streamer Pro are version 1.3 which are 'Made for iPhone' and also Android compatible. Your Apple iOS 7.0 (iPhone, iPad etc) and Android devices can link to your Streamer Pro via Bluetooth and you can discreetly control program choice, volume and input source from your iPhone, hold hands-free phone conversations on the iPhone and many other benefits. You can download the free ConnectLine App from the App Store for Apple devices and via Google Play Store for Android. for more details.

Closed vs Open Streamer Pro

Closed version - must be paired to your hearing aids by your hearing specialist before it will work, it will work without a neckloop and sat in a shirt pocket for instance (although we still recommend using the neckloop and with the Streamer Pro sitting in your central chest area for best and most stable result). Will only stream to hearing aids paired to it so no chance of audio streaming into someone elses Oticon wireless hearing aids (within a metre of the Streamer). A good option if your hearing specialist is easily accessible and agreeable to doing the pairing, it's advisable to check with them first if you want this option.

Open version - does not need pairing to your Oticon wireless compatible hearing aids and works straight out of the box. It will only work with the neckloop attached, There is no option to not use the neckloop with the Open version. If your streamer is closer than 1 metre to another wearer of Oticon wireless hearing aids there is a possibility that they will hear some of the content streaming into your own hearing aids into theirs. It is not possible to later pair an Open streamer to your hearing aids down the line so if this is a concern a Closed Streamer Pro is the way to go. A good option if you don't want to involve your hearing specialist and want the equipment to work straight out of the box.

NB. Oticon Streamer Pro is backward compatible with all Oticon wireless products since 2007 – Epoq onwards (but not CIC / IIC versions)

Rise Platform – Oticon Epoq XW, W and V, Oticon Dual Connect XW, W, and V, Oticon Vigo Pro Connect and Vigo Connect

Rise 2 Platform – Oticon Agil Pro and Agil, Oticon Intiga, Oticon Acto Pro and Acto, Oticon Ino Pro (not Oticon Ino or the power ITC versions on the Rise 2 platform)

Inium Platform – Oticon Alta Pro and Alta, Nera Pro and Nera, Ria Pro and Ria

NHS hearing aids compatible with the Oticon Streamer Pro include Oticon Spirit Zest C, SP and Plus, and Oticon Synergy. (Not original Spirit Zest or models previous to that).

The Oticon Streamer Pro ships with a UK mains charger and can also be charged via a USB to mini USB charger.

NB. The Oticon Streamer Pro is an upgrade to the Oticon Streamer and has a number of enhancements compared to its superseded product. These include;

Up to 8 hours streaming time between charges, double compared to older model
Detachable neck loop
Europlug socket and 3.5mm two way audio jack
Built in telecoil facility to take advantage of loop systems
Noise cancelling microphone
Slightly smaller size than previous streamer

NB. The Oticon Streamer Pro (Open version) does not need to be paired to your hearing aids for it to work, it will work straight out of the box. However, if you state you require a Closed version then it will need to be paired to your Oticon hearing aids for it to work. You will need to arrange for this locally (you may be charged a fee for this service). Please note that if you order a Closed version of the Streamer Pro for NHS hearing aids it must be paired by NHS audiology staff – only they can pair or program NHS hearing aids. The Streamer does not work with all hearing aids in the Oticon range, our suggestion is that you contact us via our webform on the Contacts page with details before purchase and we will advise accordingly.
Rate this article
(Rated 5 stars by 6 people)





Thanks!