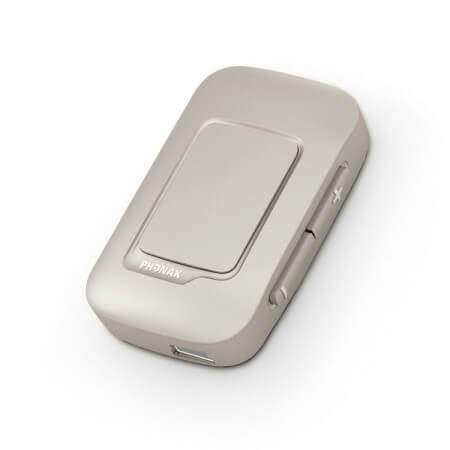 PLEASE NOTE:
We can only deliver this product in the United Kingdom.
Phonak ComPilot Air II Streamer
Phonak ComPilot Air II wireless audio streaming device for Phonak Venture wireless hearing aids. Hear quality audio from your TV, phone and other devices directly into your ears.
---
Phonak ComPilot Air II – the clip-on audio streamer. The small and stylish ComPilot Air II is focused on bluetooth technology, to connect Phonak Venture hearing aids wirelessly mobile phones or bluetooth enabled music sources. It can also be use with the Phonak TV Link II or the Phonak RemoteMic. N.B. Please note that ComPilot Air II is not compatible with the older Phonak Quest, Spice or Core wireless hearing aids, please contact us if you need clarification.

Phonak Venture hearing aids include Audeo V and Bolero V launched in 2015. Older incompatible Phonak Quest hearing aids include Virto Q, Audeo Q and Bolero Q. Older incompatible Phonak Spice hearing aids include Ambra, Solana, Cassia and Audeo S Smart, Naida S and Naida S CRT. The ComPilot Air II will not work with non wireless Phonak hearing aid models or NHS supplied Phonak hearing aids.

This product ships with a UK mains wall charger, the ComPilot Air II can also be charged via a USB to mini USB cable via your PC / laptop too.
Rate this article
(Rated 4 stars by 2 people)





Thanks!