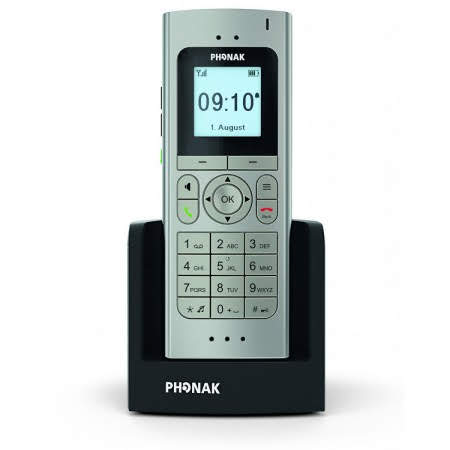 PLEASE NOTE:
We can only deliver this product in the United Kingdom.
Phonak DECT CP1 Wireless Cordless Phone
Phonak DECT CP1 Wireless Cordless Phone – A powerful and smart cordless telephone for the hard of hearing. Streams audio directly Phonak hearing aids for the very best listening experience
---
Phonak DECT CP1 Wireless Cordless Phone – This cordless phone looks like a regular phone, but is actually much more powerful, transmitting sound to both your Phonak wireless compatible hearing aids simultaneously, reducing noise and maximizing understanding – speaking on the phone is now VERY clear!

The phone includes a booster mode for those moments when you are not wearing your hearing aids, and thanks to the wireless streaming, you can hold the phone in a regular manner.

Family members without a hearing loss can use the cordless phone just like a regular phone.

Suitable for Phonak Core, Spice and Quest wireless hearing aids. N.B. The newest Phonak Venture range of hearing aids (Phonak Audeo V and Bolero V launched in 2015) use a different version of this product and the versions are NOT interchangeable, please click here if you want to order the Venture version of this product.

Up to 6 handsets to a single base unit. This allows some of the phones to be based and operate in a room where no BT telephone socket is available.

NB. The Phonak DECT CP1 does not need to be paired to your Phonak hearing aids for it to work, you just need to make sure your Phonak hearing aids are wireless compatible from the Core, Spice or Quest range. Petite models and CIC's will not be compatible with the DECT CP1.

Phonak Core hearing aids include Exelia Art, Versata Art, Certena Art, Naida, Audeo Smart, and Audeo YES. Phonak Spice hearing aids include Ambra, Solana, Cassia and Audeo S Smart, Naida S and Naida S CRT. Phonak Quest hearing aids include Virto Q, Audeo Q, Naida Q and Bolero Q.

Some NHS supplied Phonak hearing aids that are wireless compatible can work with this device too:-

Phonak Core – Naida SP, Naida UP, Nios Micro, Nathos Micro W (not Nathos Micro), Nathos M W (not Nathos M), Nathos SP W and UP W (not Nathos SP and UP).

Phonak Spice – Nathos S+ SP W, Nathos S+ UP W, Nathos S+ RIC W, Nathos S+ ITC W, Nathos S+ ITE W, Nios S H20, Naida S V SP, Naida S V UP, also Cassia micro M H20, microP and SP. Nathos S+ micro W and Nathos S+ M W but not Nathos S+ micro and Nathos S+ M.

If you are unsure please ask your local NHS audiology department about compatibility first before ordering the product, or supply us with the serial number to check suitability.
Rate this article
(Rated 5 stars by 5 people)





Thanks!