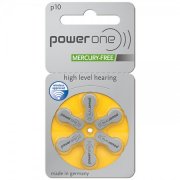 Power One MF Size 10 Hearing Aid Batteries
Power One size 10 mercury free hearing aid batteries – Colour coded yellow. Long tab useful for customers with limited dexterity. Used mainly for the smaller completely in canal (CIC) hearing aids. Up to 3 years of shelf life. 1.45v. Please select the
---
Power One size 10 mercury free hearing aid batteries – Colour coded yellow.

These batteries have an easy-to-grab tab. which makes them easy to put into your hearing aid. Each battey has an extra-long plasctic tab on them, much longer than competitor batteries, which makes Power One batteries ideal for anyone who finds it difficult to pick up and use small and fiddly objects.

Please select the quantity you require from the selection below.
Rate this article
(Rated 5 stars by 2 people)





Thanks!
Oticon Opn S
Whistling hearing aids are a thing of the past, try it for yourself at your nearest hearing aid centre
Simply put, no more whistling, so you can get as close as you like without worrying about the embarassing screech. And with a new lithium-ion rechargeable option and speech understanding on par with normal hearing, you can get on with enjoying life
Try The Opn S Yourself