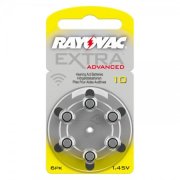 Rayovac Extra (Yellow / Size 10) Hearing Aid Batteries
Rayovac Extra Mercury Free size 10 hearing aid batteries. These batteries are color-coded yellow. Mainly used in smaller invisible and completely in canal (CIC / IIC) and some RIC hearing aids.
---
The world's number one selling hearing aid battery

Rayovac Extra Mercury-free size 10 hearing aid batteries, colour coded yellow. Used mainly for the smaller completely-in-canal (CIC / IIC) and some RIC hearing aids. Rayovac have been producing batteries for many years and can be relied on to deliver consistent, long-term power for your hearing aid.

Please make sure to select the quantity of batteries you require from the select box below - we supply single cards of batteries or packs of 5, 10 or 20 cards. The more you buy the more you save!

Up to 4 years of shelf life. Will power your hearing aid for 7-14 days once opened.

How do I know which batteries I need fo my hearing aid?

Hearing aid batteries come in standard sizes - no matter which make of hearing aid you have (Phonak, Starkey, Widex, Unitron, etc) it will use one of the industry-standard battery sizes. To make things easier to remember, batteries are color-coded, the ones on sale here are YELLOW, also known as size 10.

If you are not sure which size you need check the packet/card that your current batteries came in, the packaging will clearly show the colour. If you do not have a packet/card then you may have a battery with the "tab" still on, which will also be colored for the size. No packaging and no tab on your battery? Look closely at the battery itself, printed on one side will be the size of the battery - the text will be quite small to read. Once you've found the size of your battery use the chart below to determine the color you need:

| | |
| --- | --- |
| Size 675 | Blue |
| Size 13 | Orange |
| Size 312 | Brown |
| Size 10 | Yellow |

We also supply Rayovac size 675 / blue, Rayovac size 13 / orange and Rayovac size 312 / brown batteries.

How long will a battery last for?

The annoying answer is: it depends. I change my own hearing aid batteries every Monday and they last the 7 days without fail, I have a severe hearing loss so my aids are woking hard for me and draining the battery. You should expect a battery to last between 7-14 days, depending on how long you use them each day.

How do I change the battery in my hearing aid?

Battery care.

If you use a dehumidifier for your hearing aids you should always remember to remove the batteries before putting your aids in to dry out - leaving the batteries in can reduce their lifespan considerably.

Hearing aid batteries are "zinc air" batteries, which means that they are activated when you pull the tab off of them - they can hold their charge for years if the tab is left on but once you pull the tab off they are activated and their 7-10 lifespan starts ticking down regardless of whether you put them in your hearing aid or not. Putting the tab back on the battery once it has been taken off will not prolong their lifespan, as soon as the tab is off and they are exposed to the air they begin working.
Rate this article
(Rated 5 stars by 8 people)





Thanks!
ReSound LiNX Quattro™
Want To End The Frustration of Hearing Loss and Simply Get on With Living?
Trial the new LiNX Quattro at your local Amplifon centre in the UK now
Find Out More