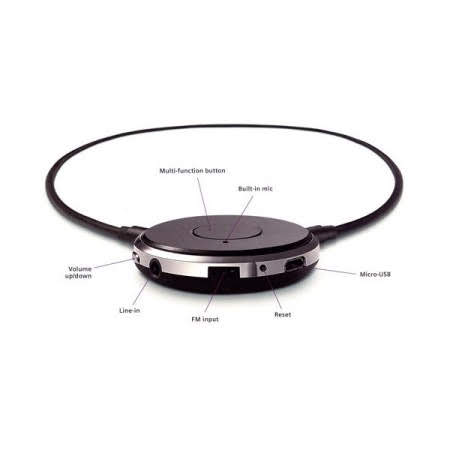 PLEASE NOTE:
We can only deliver this product in the United Kingdom.
Siemens easyTek Streamer
Stream audio from TVs, mp3 players, phones and other audio sources directly in to your Siemens hearing aids for a better hearing experience.
---
Siemens easyTek. – Connectivity for ultimate convenience.

Whether worn on top of your clothing or discreetly hidden underneath, the lightweight and stylish easyTek wirelessly connects your hearing instruments to many different Bluetooth-enabled devices.

Sound from TVs, mp3 players, phones and other audio sources that emit bluetooth audio is fed directly into your ears. Additionally, it acts as a remote control and lets you adjust all your hearing instrument settings. Simply enjoy easy listening with easyTek.

If you have a device that does not emit wireless bluetooth audio you can purchase a Siemens Tek Transmitter and hook it up to any device that has an analogue audio output such as a TV, hifi etc, and this well broadcast the audio via bluetooth straight into the easyTek and onward into your ears.

Siemens easyTek does not work with all hearing aids in the Siemens range, it works with the newest wireless compatible versions of the Siemens Binax range – 7bx, 5bx and 3bx (but not Siemens Ace which are non wireless). It is not backwards compatible with previous Siemens ranges.

Our suggestion is that if you are unsure you contact us via our webform on the Contacts page with details before purchase and we will advise accordingly.

Supreme connectivity

Remote control and streamer in one small and stylish device
Transmits audio signals to both ears in true stereo
Bluetooth® wireless line-in input and direct audio input provide connectivity to devices such as TVs, VoiceLink, music players, laptops, smartphones and more
Reliable audio streaming with minimum power consumption for exceptionally reliable Bluetooth® and FM streaming
Multipoint system works with two phones at once
Streams audio from two transmitters
Added functions and possibilities with the easyTek App

Easy Handling

Discreet and convenient one-touch operation with the intuitive multi-function button
Automatic situation detection and adjustment of the function and controls for streaming, phone calls, programs, and external audio sources
Correct placement for reliable operation and excellent sound quality thanks to the neckloop antenna

The Siemens easyTek does not need to be manually connected (paired) to your Siemens hearing aids for it to work, it will work straight out of the box.
Rate this article
(Rated 4 stars by 10 people)





Thanks!