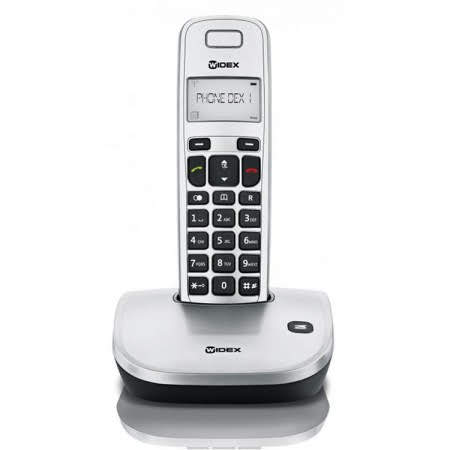 PLEASE NOTE:
We can only deliver this product in the United Kingdom.
Widex Phone DEX Wireless Phone
Stream phone calls directly into your Widex hearing aids and make it much easier and pleasant to hear on the phone.
---
Thanks to WidexLink technology, the sound from the phone is streamed directly into both Widex hearing aids when the phone is answered. Getting the sound from the phone streamed into both ears gives hearing aid wearers a better listening experience and greater ability to clearly hear what is being said.

The benefit is also that as a hearing aid wearer you can talk normally on the phone. You do not have to tilt the phone behind the ear. You do not need to switch to telecoil program. You do not need to turn on a special streamer. You just use it as a normal phone, as if you were not wearing hearing aids.

Other people using the phone use the Phone Dex in the normal way like any other cordless phone.

The Phone-Dex is easy to handle for everyone. It has: a range to base between 50-300 metres, a range to hearing aids of 30 centimetres, a phonebook for 20 numbers, battery for 80 hours stand-by time and eight hours call time. For the hearing aid wearer, no streamer is necessary. No pairing is required either. The Widex Phone Dex works straight out of the box with the more recent Widex wireless hearing aids. For example, Widex Clear, Dream and Unique, Fusion, Passion, Super.
Rate this article





Thanks!