Apple hosted its Worldwide Developer Conference (WWDC) today, 3rd June 2019, and unveiled the new watchOS 6 platform. Not usually newsworthy for a hearing-related website but in this update they released some health-centric features, one of which is a decibel monitor.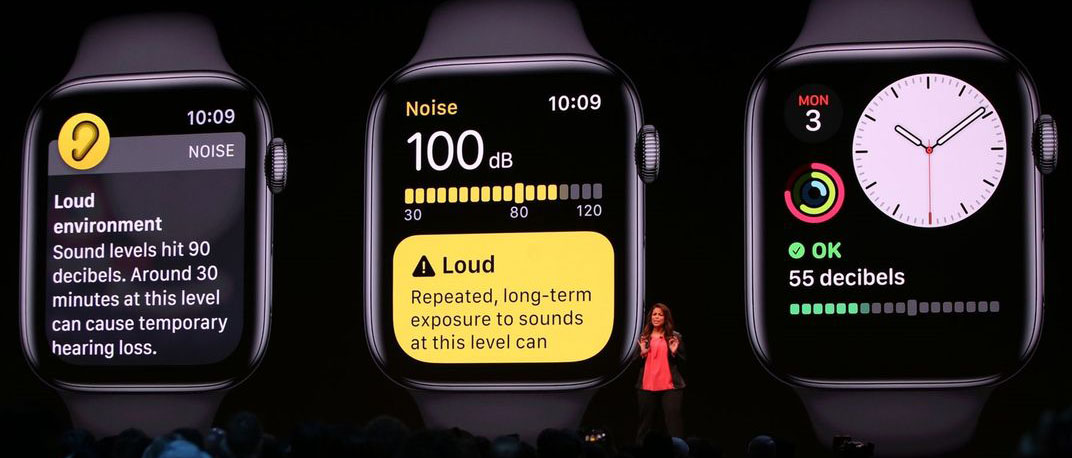 As you can see from the picture, the watch alerts the user when they are in a situation where the noise could potentially damage their hearing.
Our page on hearing loss and decibel levels shows how much time can be safely spent exposed to various levels of noise. I'm interested to see if the watch follows these kinds of guidelines, e.g. it'll warn someone when they are exposed to 90dB and let them know they can spend around an hour before it becomes a concern.
Apple has said that they do not collect any sound data from a watch, which is great for privacy but it would be very interesting to see some stats on how much time wearers are spending in a lot of noise, I think we'd be surprised how much of our daily lives contain dangerous noise levels - restaurants seem to be getting noisier all the time (or maybe I'm just getting old and cranky), you need to shout on the London tube, just life, in general, seems to be often too noisy. Won't surprise me if these watches start popping up warnings a lot, especially for people in living in cities.
Great that Apple is using its tech to try and improve out health. Looking forward to the new iEarPlug range hitting stores soon.