How the New Apple Watch Works in Conjunction with Hearing Aids
---
Disability rights groups have long been praising Apple for its dedication to developing accessible technology for people with visual and hearing impairments. Many people with these impairments have even gone as far as saying that iOS devices have dramatically changed their lives for the better.
Apple's newest device, the Apple watch, is the latest device to hit the headlines for its fantastic accessibility features, particularly for those with impaired hearing. The latest version of the watch can be used to set mono audio, sending both audio channels into a single ear, so that hearing aid users can hear missed music or notification sounds.
The watch also has a Taptic Engine, which can be configured with a specially designed Prominent Haptic setting, which pre-announces common alerts to those with impaired hearing.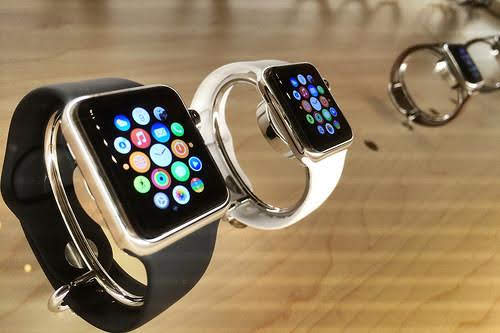 Fine-tuning sounds captured by hearing aids
Over the years, hearing aid technology has become more and more sophisticated. Today it's even capable of adjusting the sound it picks up, depending on the environment. Hearing aid users can simply press a button on their device, which allows them to switch between modes.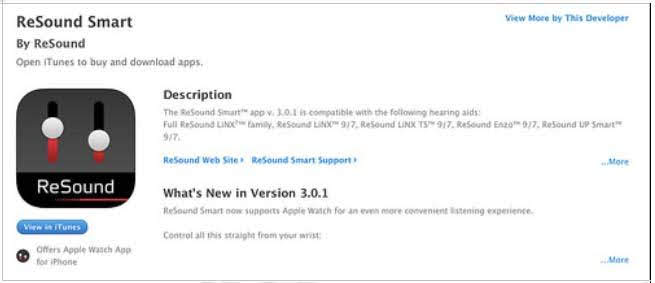 More recently, an app for the new Apple watch, known as the ReSound Smart App [1], has been developed to allow hearing aid users to fine-tune the sound captured by their devices. For example, when speaking with someone, they can use the app to block out all unimportant sounds.
The app also lets you choose between different modes, including one where your hearing aid acts as a Bluetooth music receiver. This means you wouldn't have to choose between listening to music and hearing other important sounds around you, like traffic.
This particular app is compatible with the ReSound LiNX2 hearing aid.
Streaming phone calls and music to your hearing aid
The Halo hearing aids by Starkey [2] have been designed for iPhone compatibility but the good news is that they also work with the new Apple watch. Using the TruLink Hearing Control App, hearing aid users can be used to allow streaming from your phone, music and much more directly from their Apple watch or iPhone, straight to their hearing aids.
Quick addendum here, a guy named Richard Theriault from Los Angeles was onto us about the Apple watch and it's streaming capabilities. In essence, Richard wanted to use his Apple Watch as the microphone when he took calls. So when he was in the car etc, he could talk easily to his watch. This is a feature with the Apple watch when you have their new iBuds connected. However, for some reason Apple have blocked this feature for hearing aids? Richard has a pair of Halo 2s (which he really likes) and he spoke to Starkey Support about it. They told him that their system is enabled for it but Apple doesn't allow it. Seems really odd that Apple would do that and I hope to follow up and ask them why? It would seem like a pretty cool feature. Richard was further talking to us recently and he said "I since have had many a conversation with Apple and they informed me that they are listening and recommend others interested in streaming to the hearing aids while using the watch as the microphone send them an email to: accessibility@apple.com"
The app is also designed to facilitate intuitive hearing. Using Geotagged memories, it automatically switches the modes of the hearing aids when the GPS features on the Apple watch detects you are in a tagged location. For example, when you arrive home, the Apple watch will send a signal to the hearing aids to switch to home mode.
Like with the ReSound app, Apple watch users can also adjust the sound quality of their Halo hearing aids using the TruLink Hearing Control App. This allows you to make little adjustments to sound quality to suit the environment you are in through your personal preferences.
Finally, the TruLink Hearing Control App has a great feature known as 'Find My Hearing Aids,' which shows their most recent location and the time recorded on the Apple watch.
Benefits of the Apple watch for hearing aid users
The Apple watch benefits hearing aid users in many different ways. For starters, they are able to control and fine-tune their hearing aids in a much quicker and more convenient way than using an app on their iPhone.
Molly Watt [3], a woman who is both near deaf and blind due to Usher Syndrome has found that the Apple watch also provides a way of communicating with others. The Apple watch uses tiny vibrations (known as taps), which communicate with the wearer. Molly intensified these taps and made them more frequent on her Apple watch, so she would never miss any notifications. She has also found that it is a good way for her Mother to communicate with her (using her own Apple watch), without the need for sound or sight.
Molly had also said that she often uses her Apple watch to communicate with her friends, when they're out and in a loud environment. Instead of speaking, she will send them a message using her Apple watch if she needs help or feels uncomfortable.
Conclusion
The Apple watch has a lot of potential to help those with hearing impairments improve their quality of life and we are already seeing evidence of this. Who knows what the future will hold? Maybe Apple will develop a full communication system for those with hearing impairments, on the basis of users like Molly and their experience with the tap technology?
Information written by Hearing Direct. UK based specialist of hearing aid batteries, accessories and devices.
[1] http://www.resound.com/en
[2] http://www.starkey.com/hearing-aids/technologies/halo-wireless-hearing-aids
[3] http://www.mollywatt.com/blog/entry/my-apple-watch-after-5-days
Image credits: Shinya and meganhunt03
---