A Custom Hearable, Tailored By Starkey
In a story I read many years ago there was a device that was implanted in your cochlea. A device that allowed you to interact with your world, giving you information, translating foreign languages and allowing you to communicate with other people in the manner of a phone or radio. I think the recent introduction of the Dash Pro by Bragi brings us one step closer to that day. An announcement recently revealed that Bragi are releasing a new updated Dash called the Dash Pro. Not only will it be an updated model, but thanks to their relationship with Starkey, it can be a custom fit product too. More comfortable, better sound, fit just for you.
Brag who are Munich, Germany based announced what it calls the next generation of true wireless devices, the result of a partnership brokered with Starkey Hearing Technologies. The two new members of the Bragi family include the Dash Pro and The Dash Pro tailored by Starkey, said to be "The World's First Custom-Made Wireless Ear Computer," featuring a unique, personalized experience.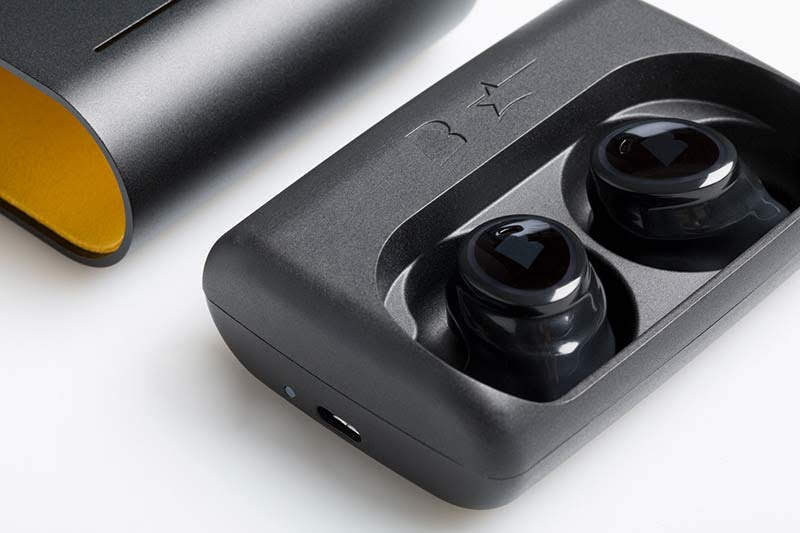 Bragi Dash Pro tailored by Starkey
This is an interesting development and it can be seen as the first time that a hearing aid brand is getting involved with a true hearable. According to a joint release from the companies, The Dash Pro tailored by Starkey and The Dash Pro aren't just headphones, hearables, or true wireless devices, but powerful ear computers.
The concept behind the devices is to bring together artificial intelligence, mixed reality, service enablement, and cognitive learning in a single product. Those are pretty high aspirations, but they make sense in the context of what Hearables could become. In essence, Hearables will only be effective and attractive if they are designed to improve the quality of life for its end user.
A partnership here makes a huge amount of sense for both companies. Bragi has real vision and a great deal of experience with modern sensors and their utilization in the ear. While Starkey have huge experience with audio processing and psychoacoustics.
Bragi have entered into partnerships with companies including IBM, BMW, and iTranslate to offer real differentiation between the Munich-based startup and its competition. Again, I think this element shows the roadmap to future Hearable functionionality. The devices will be designed to assist and interact with more and more parts of your life. So what can the new Dash Pro do for you?
The Dash Pro Details
The Dash Pro is designed to offer best-in-class Bluetooth connection quality and audio. It offers a simple one-touch setup to connect to Android, Apple, or Windows' devices in a matter of seconds. Battery life has been increased and the Dash Pro offers up to 5 hours of battery life on a single charge, and up to 5 charges on the go from the case.
The audio transparency feature carries over from The Dash, allowing desired sound to pass through The Dash Pro, or cancelling out what you don't want to hear. Using Knowles® Balanced Armature Speakers will deliver premium sound and Knowles Versant™ advanced voice technology is designed to deliver the clearest possible hands-free communication and voice commands in the most adverse sound situations.
There is an advanced audio codec with reduced white noise and and new foam tips for stronger bass and a better seal on the non custom device. Bragi FitSleeves are also included with The Dash Pro.
The Dash Pro contains more than 150 micro-components, a 32-bit Processor, artificial intelligence powered by Dash AI, and 27 sensors. Those sensors facilitate Bragi's Kinetic User Interface, which enables users to literally turn their body into the device with a tap of the cheek or a nod of the head through the Virtual 4-D menu. This is an interesting advancement and one that will reduce the need for audio commands.
In essence Bragi are trying their best to ensure that no other device will be needed to deliver the full functionality of the Dash Pro. It will be interesting to watch this functionality grow as it has a huge amount of possible uses in hearing aids themselves.
Bragi OS 3 (BOS3) is the fourth major OS update for The Dash and comes preinstalled on all new The Dash Pro tailored by Starkey and The Dash Pro editions. New features include the following:
iTranslate Compatibility. The Dash Pro tailored by Starkey and The Dash Pro are now integrated with iTranslate, bringing real-time, face-to-face conversational language translation to audio devices for the first time in around 40 different languages. Users wishing to access this feature will need to download the iTranslate Pro App in the Apple App Store. Users of The Dash Pro tailored by Starkey and The Dash Pro will receive a free 1-month trial with their purchase.
Virtual 4D Menu. The Virtual 4D Menu is a unique, hands-free, head gestures (and audio only) based, way of interacting with The Dash Pro tailored by Starkey, The Dash Pro and The Dash, giving users the option of accessing core features in situations where their hands are preoccupied with other things.
Easy Bluetooth Handling. A simple one-touch setup connects your Android, Apple, or Windows device in a matter of seconds. The 6-digit confirmation code has been removed while a secure connection is maintained. The menu for Bluetooth Classic and BLE connections can be now found on the right earbud, leaving the left earbud for third party apps integration.
Auto Tracking. The Dash now understands whether you are running, cycling, or swimming so the user can keep track of workouts automatically without ever pushing a button. This marks the first AI-powered skill that simplifies the UI and makes fitness tracking hassle-free.
Simplified Touch Interface. The Touch UI has been simplified and made more ergonomic to use. Additional "Use Guides" support the user to easily connect to The Dash and explore its smart capabilities.
Offline Storage and Data Transfer. Activity sessions are now stored and transferred to the Bragi app automatically so they can be accessed for future use.
Sound Improvements. Advanced tonal balance for natural sound.
Clearer Audio Transparency. The microphone's noise floor has been greatly reduced and improvements have been made in understanding the naturalness of the acoustic landscape.
Dash Pro Functionality
Listen to music, podcasts, and more via seamless, streaming Bluetooth audio.
Store up to 1,000 songs and/or podcasts on 4GB of internal storage. Carry just The Dash Pro and leave the phone at home.
Make or receive phone calls (even in noisy environments) with enhanced Versant™ advanced voice technology from Knowles.
Leave the USB cord behind; the products are said to deliver up to 5 hours of battery live and 30 hours on-the-go.
Carry a conversation in multiple languages. The Dash Pro tailored by Starkey and The Dash Pro are now compatible with iTranslate.
Go hands-free with the Virtual 4-D menu and access core features with just head gestures and audio commands.
Enjoy a run, swim, or bike ride with auto activity tracking. The device recognizes the activity so users can keep track of their workouts automatically without pushing a button.
Visualize workouts from within the Bragi app, including current performance and a detailed breakdown of past activities.
Get wet! The Dash Pro tailored by Starkey and The Dash Pro are waterproof in up to 3 feet of fresh water.
Hear what you want to hear. Audio transparency lets you block out sound, or let it all in.
The Dash Pro Tailored by Starkey
So how will you get your hands on the Dash Pro tailored by Starkey? At the launch it was announced that it will be offered exclusively through a personalized shopping experience at approximately 5000 audiologists throughout the United States and Canada. We would expect that network to expand to include Audiologists in Starkey networks in The United Kingdom and across Europe.
The Dash Pro tailored by Starkey device is manufactured in the same way a custom hearing aid is. The shape will be based on an exact impression of the user's ear canal taken by an Audiologist. This type of custom fit will offer the best isolation and fit which will offer better clarity, detail, and no loss of bass frequencies. The devices will use HearClear replaceable WaxGuards to allow for long-term wear, minimal cleaning and reliability. The devices are to retail at US$499 ($699 CAD) which puts them in the reach of many. The Dash Pro reportedly retails for US$329 (€349 including VAT in the EU) and is available right now through the Bragi Shop. Rollout to major retailers including Best Buy are taking place over the coming weeks.
If you like what you see, share it so others can benefit
Find An Independent Hearing Aid Centre in Your Area
Arrange a consultation with a trusted Independent hearing healthcare professional in your area