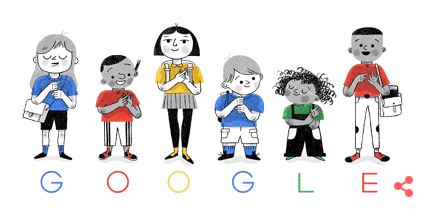 I was pleasently surprised this morning when I browsed Google (UK version) and saw that their daily Google showed a group of kids finger-spelling Google in British Sign Language (BSL).
For those outside of the UK, click on this link to see the UK version of Google's homepage.
The actual title Google have used for their doodle is "Celebrating British Sign Language and Braidwood's Academy".
Thomas Braidwood
Braidwood (1715 - 1806) founded the first British school for deaf children. He pioneered the use of sign language in learning as opposed to relying on lip reading and trying to get deaf kids to use the spoken word to communicate.
He began teaching at his home in Edinburgh and accepted his first pupil in 1760. As more pupils attended he focused attention solely on teaching the deaf and founded Braidwood's Academy for the Deaf and Dumb. He developed a system for teaching the students that included a type of sign language, which was the basis of what we know as BSL today.
In 1783 Braidwood moved to Hackney, London and established another Academy there - continuing to teach deaf students using his unique mix of sign language and lip-reading. All there of his daughters followed in his footsteps and became teachers of the deaf.
There's an interesting article on the history of deaf education here.

Looking For the Latest Hearing Aids or A Hearing Test?
Arrange a consultation with a trusted Independent hearing healthcare professional in your area