HearingTracker.com – find better hearing aids and better hearing providers
---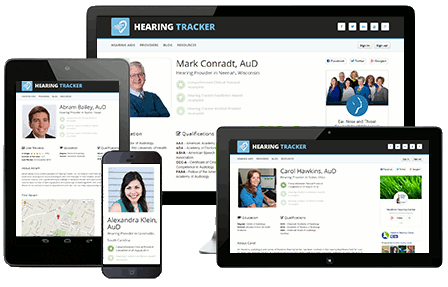 When buying hearing aids there are two things you need to get right: find the right hearing aid at the right price and find the right person to fit it for you. hearingtracker.com helps you with both, it's a website that contains a long list of hearing providers and hearing aids, with patient reviews of both.
Hearing Tracker was founded by Dr. Abram Bailey, a registered audiologist, to help bring information and data to patients that helps us to make an informed hearing aid purchase. "We are 100% independently-owned, with zero influence from the hearing aid industry. We recently partnered with the Hearing Loss Association of America. The HLAA will be directing it's members to our provider directory to locate nearby best-practice hearing providers, while Hearing Tracker will be educating consumers about the HLAA's extensive (online and offline) support network, resources for those with hearing impairment, and advocacy projects." he said.
Hearing Tracker has a directory of over twenty thousand audiologists and hearing aid providers, which can be searched by location, qualifications, services provided, hearing aids sold and so on. Us patients can leave reviews against any of the providers and rate them based on our experience – so it is a great way to find reputable local hearing aid providers. The find-a-clinic page has an interactive map, into which you can enter your preferred location and see ranked providers around that area.
The hearing list is incredibly thorough and contains a lot of information on each model along with reviews from users. Here, for example, is the Oticon Chili SP9 page, showing lots of info about the aid itself and user feedback.
Abram believes "that information is empowerment" and I very strongly agree, Hearing Tracker is a great resource to help you get the right hearing aids for you and the absolute best fitting to make sure they are working as best they can.
---