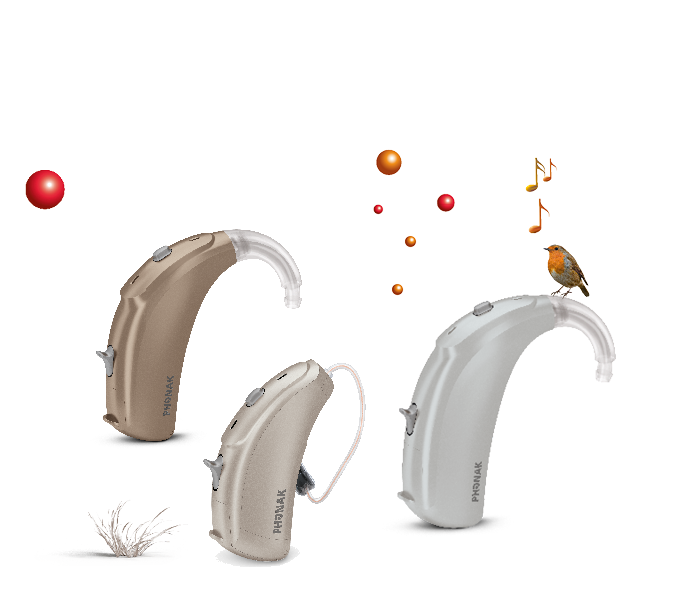 A Solution For Severe To Profound Hearing Loss From
Phonak
Naida Venture Hearing Aids
Phonak has a long history in, and is renowned for hearing device solutions for severe to profound hearing loss. They have just launched their latest addition at a launch event I attended in Dublin. Let's meet the Naida Venture range .
Best Solutions For Profound Hearing Loss
So as I said, Phonak have just launched the latest addition to their now famous Naida range in the UK and Ireland. I think the Naida has been accepted almost universally as the best solution for profound hearing loss. Although there are many contenders for the throne including the Enzo2 from Resound and the Super from Widex. First things first, the full launch cycle isn't finished and the devices won't actually be available for order until the first of May. Not too long to wait though for what seems to be an outstanding solution for people with severe or profound hearing loss.
Venture Platform Based
The new addition is based on the Venture chipset and finally brings all of the benefits of that platform to people with severe and profound hearing loss. The Venture platform has been exceptionally well received and even long term Phonak users are blown away by the improvements that it has brought with it. The new Naida V range is available in four levels of technology which include the V90, V70, V50 and V30. A little bit of history here, the original Naida was first launched in 2007 and it quickly became the go to hearing aid for treating people with severe to profound hearing loss. I remember when it was first launched and the response to it when I first fitted it.
It really was a breakthrough device although we would expect that from a company who has a long history with hearing solutions for people with severe to profound hearing loss. The new range brings new styles with much smaller and more powerful devices than available in the older Naida Quest range. It also introduces some great updated features with a new SoundRecover strategy to deliver as much speech information as possible without causing distortion.
Matt Gilbert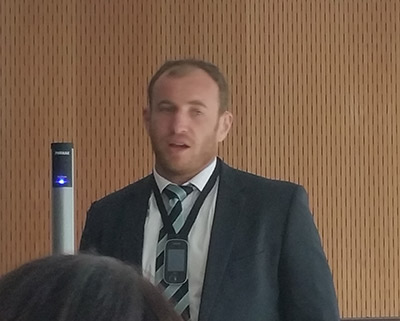 The launch event was attended by Matt Gilbert who I had actually never met before, he is an English rugby union footballer currently playing at Flanker and number eight for Worcester Warriors in the Aviva Premiership. Matt is the only deaf professional sportsman in England. Funnily enough, Matt is being looked after by our friends at Worcester Hearing Centre and was just recently in there to get new moulds and be fitted with the new Naida V range. In 2012 Matt was fitted with a Phonak Naida hearing device. Since then he has worked as a celebrity ambassador for Phonak, helping to raise awareness of hearing loss. He discussed his experiences with The Naida devices and his deafness, he also explained how the ancillary wireless devices had changed his life.
Difficult hearing loss
Matt has a left hand audiogram or profound hearing loss, he has little to no high frequency hearing. This type of loss is difficult to treat because you can not deliver amplification to areas that just don't exist any more. In the case of Matt's hearing loss we could not help him with the high frequency cues in speech with a tradional fit. He can't receive the information,
With people like Matt, frequency compression or transposition comes into it's own. With this strategy, we can move those high frequency cues down to an area where he still has hearing. This is why Naida using the SoundRecover strategy is the right fit for Matt and others like him. This type of hearing loss causes major issues with the things that we take for expected like using the phone and listening to TV. Even with a decent set of hearing aids, both of these situations can be problematic, that is why we need to look at an integrated solution.
With this type of loss, even the best hearing aids won't do it all, you need an integrated solution to deliver better hearing in all situations
Integrated Solutions
Matt uses an integrated solution set, he has a com pilot which allows him to connect to his mobile phone and other bluetooth solutions and he uses the DECT Phone and the TV Link. He said that Phonak devices and Phonak's wireless accessories like the com pilot, the DECT Phone and the TV Link offer him a fully integrated solution. Without it, he would not be able to use his mobile phone and watch television with his wife without subtitles. Something that he was unable to do before, he felt that this integrated solution based strategy really made the difference for him, giving him real freedom. A freedom that had been restricted by his hearing loss.
He can take his own mobile phone calls now, as opposed to having his wife do it for him. Matt also discussed using his hearing aids on the field when he was playing. He said that the robustness of the Naida gave him the confidence to use them on the field where they were bound to get knocked about a bit. He said generally there has been no issues and they have held up very well. He spoke about how he tried to protect his hearing aids from sweat and rain before they became water resistant. The best solution was a torn up plastic bag which he taped around the hearing aids. He is quite an inspiring figure who has not allowed his profound hearing loss get in his way.
The hearing aids
Naida V RIC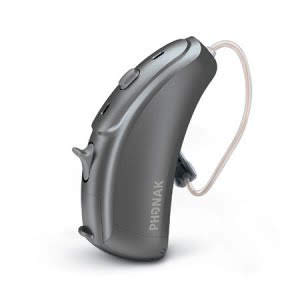 The Naida V RIC (Receiver in Canal) offers amazing power in a small package, it will deliver outstanding benefits for people with mild to severe hearing losses delivering power with discretion. The device which is a new form factor with a size 13 battery comes with three possible receiver options, the XS, the XP and the new X UP (for Ultra Power). The X UP option is a newly designed receiver which offers more output than the previous one. In essence the option will cover a more severe hearing loss.
With the introduction of a newly designed X UP receiver, the hearing aid will cover a hearing loss down to a flat 100 dB. This means that even people with a severe to profound hearing loss can avail of a very discreet solution without compromise in power or functionality. If this might be an attractive option for you, you need to be aware that there is some extra clean and care steps with a RIC device. As a RIC device, you will need to ensure that you take care of the receiver and follow a daily drying routine to ensure taht it does not fail from wax ingression or moisture build up.
Naida V SP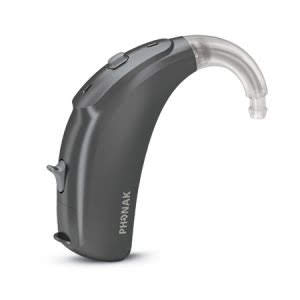 The new Naida V SP is 25% thinner than its predecessor, it is also a much smaller hearing aid. It runs on a size thirteen battery and can be fit with a power slim tube and tip which offers real discretion. The power slim tube can be fit with either acrylic or silicon custom tips. The device can also be fitted with a standard thick tube and mould configuration. The power slim tube has been re-designed by Phonak and it now sits lower on the top of the ear and hugs the face in a better way. This means that it is slightly more discreet than the last generation tubes.
The power output on the new SP has been increased and it now matches the power output of the older Naida Quest UP. This means that more people with severe to profound hearing loss can now avail of a more discreet option. The SP runs on a size thirteen battery which accounts for that smaller size, but the power management system that Phonak uses ensures that the battery drain is controlled. The device is a little bigger than the RIC but it is still a very small hearing aid. All in all it is a very discreet option which delivers a lot of power, something that many people with profound hearing loss really want.
Naida V UP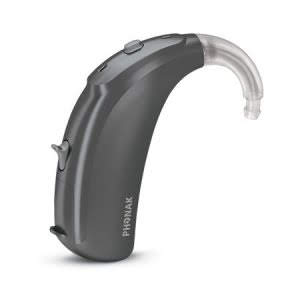 The new Naida V UP is again thinner and smaller than its predecessor with a new form factor. The power output on the hearing aid has been increased giving it even more performance for even the most profound hearing loss. It is powered by a 675 battery and can also be fitted with a power slim tube and custom tip. This is definitely one of the smallest 675 traditional type hearing aid solution for profound hearing loss. It will give people with profound hearing loss a more discreet solution.
Naida Features
Sound Recover 2
With a new version of Phonak's sound Recover strategy the Naida offers more high frequency cues than ever before. This allows access to the nuances of sound that you may not be able to hear. It delivers more speech information without causing distortion.
Water resistant
The range is rated to IP68, which means it will survive immersion in one metre of water for sixty minutes without damage. Phonak are circumspect about calling it water resistant, but another manufacturer calls this level waterproof. One way or the other this range will quite happily get in the shower and the pool with you without having to worry about it failing.
More robust
The casing is made with a new glass fiber reinforced material, the Naída V is now 60% more robust than its predecessor which together with its resistance to water should really give you confidence it won't fail you. Phonak know that this is important for people with profound hearing loss because without there hearing aids they are in a bind.
AutoSense
As part of the Venture platform the new Naida range benefits from Autosense and all of its features. This allows it to deliver the best possible experience in a range of sound environments.
Talking about integrated solutions
As we said earlier, with very difficult hearing losses we need to look at more than just hearing aids. For people with severe to profound hearing loss the strategy has always been integrated solutions. A couple of years ago Phonak launched the Roger devices. In line with the new Naida launch they have also launched some new Roger devices which we will discuss later.
The launch event and speaking to Matt about his experiences really brought home the need to think about a comprehensive solution for someone with hearing loss. We have spoken elsewhere about wireless hearing aids and wireless accessories and why we think they are the most amazing thing to happen to hearing aids. Hearing aids are just that, an aid to hearing. They do not correct hearing and can not deliver the hearing you have lost. However, a good hearing aid combined with a wireless accessory will give you the best opportunity to hear in every situation you need to.
As always, if you have any questions, or if you are looking for a hearing test in the UK or Ireland from a professional you can trust contact us.
If you like what you see, share it so others can benefit