A recent Twitter conversation with one of our followers got us thinking. She was replying to an article we had done about Bluetooth hearing aids and Bluetooth compatibility. She mentioned that she has NHS stuff that isn't Bluetooth compatible but she still managed to stream music and TV via a cleverly put together system. We thought it was worth exploring what she was using, and what is available for like-minded people.
You can by a T coil neck loop for £15 on eBay & a £30 avantree saturn Bluetooth receiver/transmitter & connect to NHS aids

— Sue (@eleonorasfalcon) June 5, 2017
So, as you can see from the tweet she uses two separate devices to deliver the joy of streaming. As Nerds, with a Capital N, it really appealed to us. So we decided to investigate a little further. The Avantree Saturn is pretty much freely available, apparently you can even buy it in Tesco! You can buy it online on Avantree's website as well.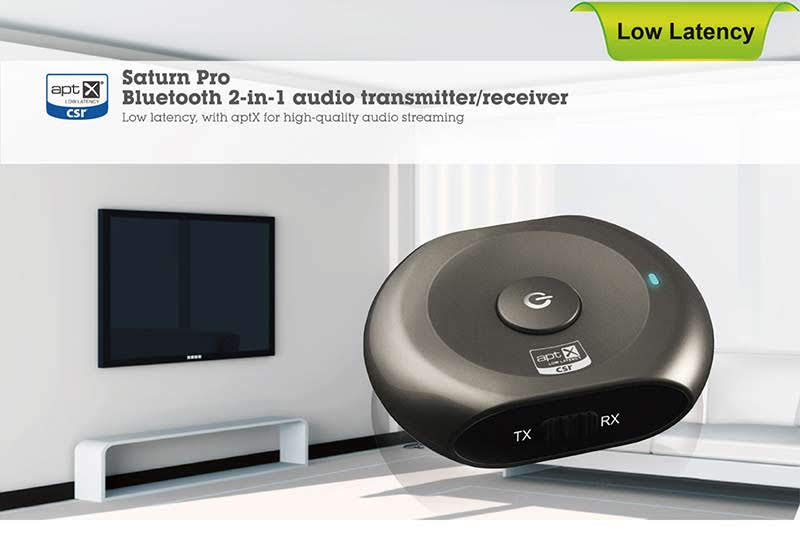 The blurb says "Avantree Saturn Pro is a 2-in-1 Bluetooth receiver and transmitter incorporating the latest "aptX Low Latency" technology for Bluetooth High-quality audio streaming. Saturn Pro is simple to use and enables any audio device to transmit and receive. It can be used to enable a phone to transmit music to a home stereo system or just as easily, to allow a CD player or other device to transmit music to a Bluetooth enabled speaker system or headphones. With its low latency technology, Saturn Pro also supports online game playing; TV/Movie audio transmission; real-time music recording, etc. The compact design and internal rechargeable battery provides long play time and versatility in use. Saturn Pro is the ideal solution to stream audio without bounds or limits".
The Telecoil will set you free!
So, nuff said really, Sue says the device does the job, in spades. Sue uses it plugged into a home loop system that she receives through the telecoil on her hearing aids. However, she has also paired it with a suitable neck loop system for more mobile use like in the car. Let me explain, you can connect the device to the phone and use it as a transmitter, or the car radio, or your stereo system or, well the applications are endless. Alternatively, you can connect it to your home loop system and use it as a receiver and play music or audio of your Bluetooth enabled device through your home loop.
Sue is sending me some details about her system and I will add them to the article later.
Have a Telecoil, Stream That Music
So, the point is simple, if you have a telecoil on your hearing aids, most NHS hearing aids will have, you can stream audio or phone calls to your hearing aids easily. Let's take a look at a few other solutions.
The Widex T-Dex
The T-DEX from Widex is a hands-free, wireless neck loop for use with any hearing aids with a telecoil. Doesn't have to be a Widex aid, but it can still use some really solid technology and sound quality from Widex. The device allows you to easily connect with Bluetooth mobile phones. The T-DEX comes with a built-in rechargeable battery, as well as a charging cord.
Because it amplifies the sound from the mobile phone, the T-DEX is perfect in situations where there is a lot of background noise. And its hands-free operation means that it is easy to talk on the phone while driving for example. Of course for it to work, you have to have a t-coil programme activated on your hearing aids, if you do, it is pretty simple. Simply place the T-DEX around the neck and activate it. The sound is transmitted wirelessly to the hearing aids so you can hear and converse directly. Calls can be easily answered and ended by means of a single push button.
Lot's of options
There are a lot of options out there to convert any t-coil enabled hearing aid to Bluetooth streaming out there. Have a look around, do your research and buy one, unleash the power of streaming in your life! If you are looking for help with it, you can find a local hearing aid store here to help you out.
If you like what you see, share it so others can benefit
Find An Independent Hearing Aid Centre in Your Area
Arrange a consultation with a trusted Independent hearing healthcare professional in your area