The Limitations of Hearing Aids
I'm often heard voicing the opinion that Phonak Roger is the best-kept secret in audiology, and I'd like to spread the word a little bit more what the hoo ha about Roger is in this article! So regarding the title of this post, you might ask what I mean by overcoming the inherent limitations of hearing aids? Particularly if you are new to hearing aids, you might not be aware that hearing aids do not and cannot offer a perfect solution to hearing loss, but they aim to get you as near as possible to that. Let's talk about why, and how devices like the Roger system can help.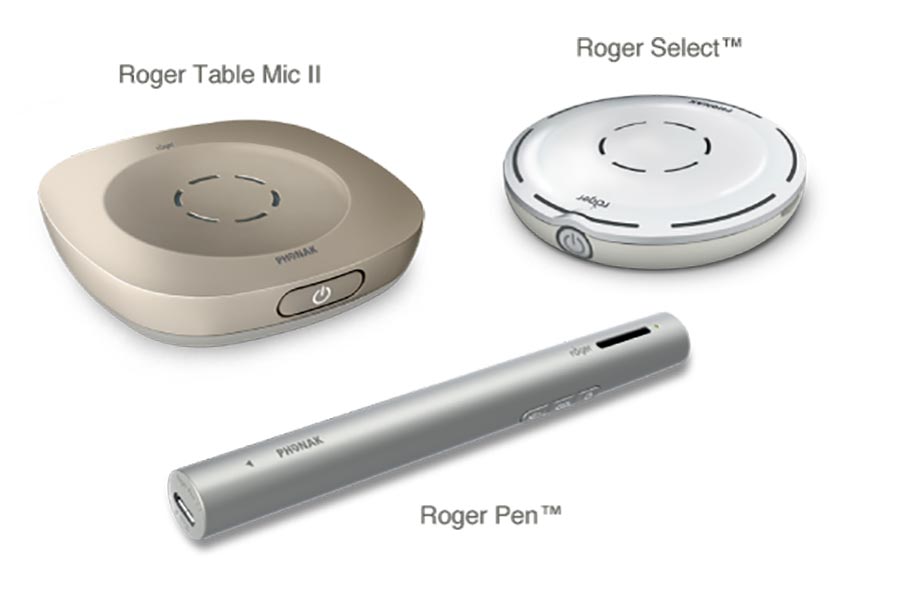 Hearing aid technology, particularly over the last few years, has improved markedly, but there are always going to be limitations to what can be achieved, and frankly, its harder to get closer to natural hearing the more your hearing levels drop.
Areas where you can see shortfalls in what hearing aids can provide

Hearing at distance – once you get past around as far as your fingertips can stretch. ALL hearing aids start to struggle to match natural hearing due to the inherent limitations of microphone technology. The more distant the sound source, the more difficult it is to hear with hearing loss compared to average natural hearing.

Hearing in a reverberant environment – when you go into a room with lots of hard surfaces (without carpets or curtains etc to absorb sound reflecting around the room) it can become very difficult to hear clearly. With hearing loss, it becomes so much harder to cope with that echo.

Hearing in noise – there has been a LOT of research and development and good improvements over the years gained by the hearing aid manufacturers to try to overcome how difficult it is to hear in noisy situations with hearing loss. However, even with the best hearing aid technology, it can still be a challenge without additional assistance and perhaps using coping strategies.

Meetings and communication at work and socially – we as a company supply a LOT of equipment to the UK market particularly to people struggling at work. Even with decent quality hearing aid technology we have many stories of how we have made a massive difference supplying radio aid technology to supplement what hearing aids alone can achieve. Here are some good news stories from our archives.

Listening to audio devices – TV, telephony, sound on a PC or tablet, radio or sound system, the list goes on. If you can send the audio from a device wirelessly straight to your hearing aids it is SO efficient in comparison to hearing at any kind of distance. Having a conversation on the phone can be transformed from difficult to easy.

In a simple sentence wireless direct audio streaming (and particularly with Phonak Roger equipment) turbo-charges your hearing aids.

So how does it all fit together?

There are two main parts to a Phonak Roger Radio Aid System – the Transmitter and the Receiver.

Phonak Roger Transmitters
Primary Transmitter – Roger Pen or Roger Select?
When considering a Phonak Roger system the most important building block that needs careful thought is deciding which Primary Transmitter to choose. The two main primary transmitters to consider are the Roger Pen and the Roger Select. Depending on how the equipment will be used defines which primary transmitter is most suitable for you. Both are discreet and will connect wirelessly to TV, phones, media, computers etc.
Both are great for small meetings and challenging acoustic environments. Roger Pen is best suited to more mobile situations where your primary transmitter needs to be hand-held and you need to direct what and who you hear. Whereas Roger Select is best where you can work hands-free and place Roger Select on a surface such as a desk or a table.
*Roger Pen is better for hand-held use and Roger Select is better hands-free sat on a surface!

Phonak Roger Clip-on Mic
The Roger Clip-on Mic is a secondary transmitter and is sometimes used to extend the range of the Phonak primary transmitter, it is lapel worn and might be used where you need to hear the people close to you and also a person at a distance. A good example would be using the primary transmitter for close quarters and a Clip-on Mic (more than one can be used) for the chairperson of a meeting a distance away that you really need to hear.
Phonak Roger Table Mic II
The Roger Table Mic II is a wireless microphone specially designed for larger corporate type meetings, enabling people with a hearing loss to focus on work rather than on hearing. Roger Table Mic II picks up sound at a large meeting in a way that no other product on the market is able to. It's super smart and fast switching technology captures sound from the participants at a larger table of more than 8 people, and if 15+ a second Table Mic II may be considered. Table Mic II's work great together in a network and in conjunction with Roger Pen and Roger Select.
Phonak Roger Touch Screen Mic
The Roger Touch Screen Mic works in conjunction with one or a number of Phonak Roger Pass Around Mics. The Touch Screen Mic shares a lot of the functionality of the Roger Select with an appearance more akin to a smartphone. The TSM is really good on a table in noise and can be used with a landline / mobile. A little less discreet than a Roger Pen or Select and used primarily in educational settings, it can also be considered for corporate settings where the functionality of a Pass Around Mic (the clue is in the name!) can be passed between speakers and would be beneficial.
Phonak Roger Receivers
Phonak Roger X
The Roger X is an ear level universal Roger receiver which can work with most brands and models of hearing aid, BAHA or cochlear implant. The Roger transmitter processes and transmits high-quality audio. Then the Roger X receiver collects audio transmitted and via a DAI shoe (interface) matched to the brand and model of hearing aid, high-quality audio is input directly into the ears. The audio is matched to the hearing loss and overcomes distance, noise and reverberation.
Phonak hearing aids also have available Roger Integrated Receivers that are a combination of a DAI shoe and a receiver, colour coded to the aid, more robust and cosmetic BUT less transferrable should the hearing aids be changed to a different brand or model.
Phonak Roger Mylink
The Roger Mylink is an inductive neckloop universal Roger receiver.
 Roger Mylink tends to be supplied when ear level receivers are not an option and can be used with any hearing instrument that has a telecoil (loop) program available and enabled. (When direct audio input shoes are not available for a hearing aid, or perhaps for 'in the ear' hearing aids that have a telecoil available). There are some compromises using a Mylink including reducing the audio quality a little and being prone to a little electrical interference, but a good option nonetheless.

An alternative to Roger Mylink is a Streamer Bundle. Streamer bundles are only suitable for wireless compatible hearing aids, but where appropriate are also a viable alternative. You plug a Roger X receiver into a streamer if it has the right connection interface (europlug) and the transmitter sends to the receiver which is powered by the streamer. The streamer then sends the audio transmitted directly into the hearing aid, achieving the same aim of Roger transmitter audio wirelessly entering the hearing aid via a different route.

Here is a nice video that pretty much sums up what it's all about;
If you have problems in certain areas of your life that your hearing aids just can't overcome, well then the Roger system may be the answer. As I said earlier, it is the best-kept secret in audiology, but no matter what particular Roger combination might be right for you, it will be worth the investment.