Resound Assist, A New Hearing Care Experience
With the launch of their latest range of Smart Hearing Aids, GN Resound have also introduced a brand new way to access hearing care. They call it Resound Assist, and it allows you to access help when you need it, without attending the clinic. ReSound Assist is in the new ReSound Smart 3D app. It works with ReSound LiNX 3D – the first Smart Hearing™ aid with cloud enabled remote assistance.
Help when you need it
As good as the first fitting of hearing aids is, sometimes the hearing aid settings you like in the clinic perform differently in in the wild. Up to now, that has meant a trip to the clinic for fine tuning. With the introduction of Resound Assist, instead of trying to explain the situation at your next clinic visit, you can ask your hearing care professional for help right from an app on your phone.
Resound Smart 3D™ App
The ReSound Smart 3D™ app gives you more power over your hearing aids than ever before. Allowing you to optimise many of the settings yourself. The idea is to allow you to control your hearing experience. However, if you experience problems that you can't fix, issues that need additional fine-tuning. Reosund Assist is just a click away and may even save you a visit to the clinic.
While the app delivers power of your hearing aids, Resound Assist delivers freedom to experience hearing care your way.
Updated settings at your fingertips
Your initial experience with your hearing aids is always about simply getting used to them. Once that period is over, we start to think about making the sound right for you. This is normal, the first month or two is just about getting used to amplification, only then can we work on real customised settings. So over time, your sound preferences can and will change.
This new concept puts you in touch with your hearing care professional via a safe and reliable cloud connection. It allows you to get help on your terms. If you don't want to, or simply can't, visit the clinic, you can still get the help you need. No matter where you are, if you experience a problem, you can send a request for assistance right to your hearing care provider.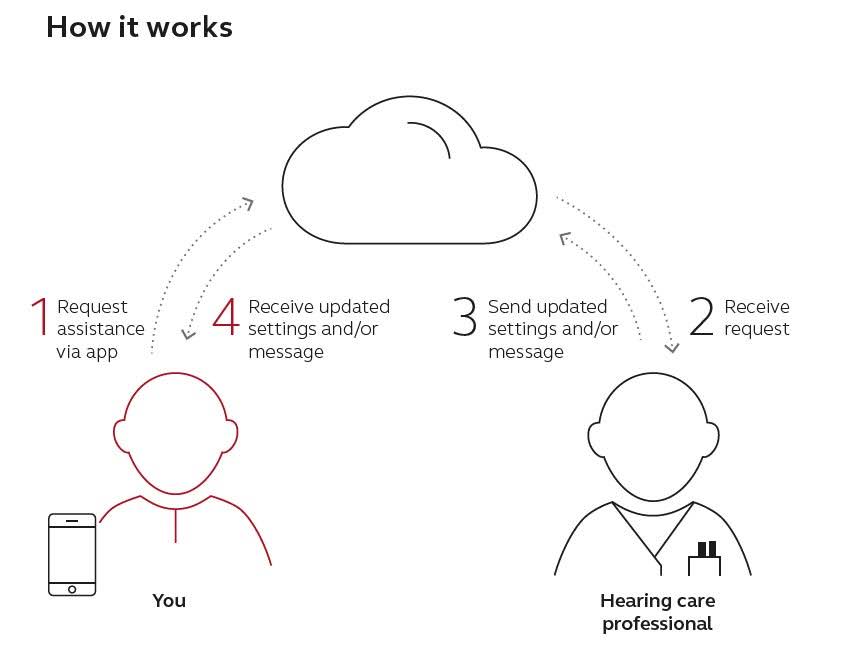 Request assistance anywhere
If you need improved settings for just one particular listening situation, it can be hard to describe the exact issue. The app is designed to help you work around the understanding gap. It actively helps you to create an accurate description (one your hearing care professional can really understand) so your hearing care professional can make precise adjustments based on that info.
The information that is sent is completely secure and consists of:
- A diagnostic assessment
- Your description of the issue
- An automatic record of your hearing aid settings
Receive updated settings anywhere
The Professional receives your request and all the details, they simply make changes on your settings on their fitting softare and send those settings changes back to you. You get a notification when your hearing care professional sends your new settings. Just place your hearing aids on top of your smartphone, tap install and try them out.
Go Back
Resound have also thought of a Go Back feature. If you don't like the way the new settings sound, you can always go back to your previous settings.
We think this is a big step forward for users, it delivers freedom. While the app delivers power of your hearing aids, Resound Assist delivers freedom to experience hearing care your way. This feature might not be for everyone, in fact the power of the app might not be for everyone. I think though that for the people who want more control, these advancements will deliver it. You can take a look at the latest Resound hearing aids here.
You can find out more about the LiNX 3D hearing aid range here.
If you like what you see, share it so others can benefit
Experience The LiNX 3D For Yourself, Visit Your Local Hearing Professional
Arrange a consultation with a trusted Independent hearing healthcare professional in your area