The Sign Language Interpreter of the Rappers
---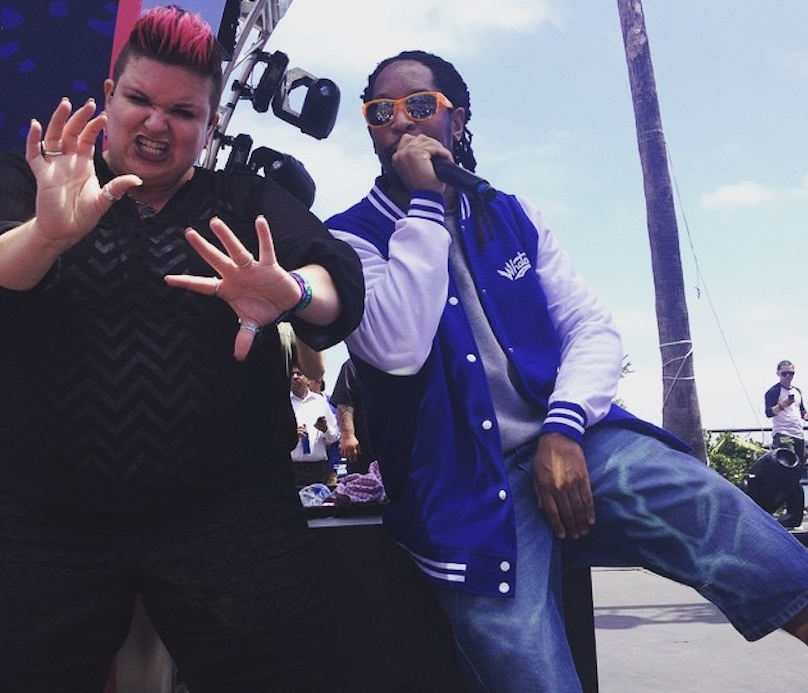 On an overcast Chicago afternoon in August 2013, hip hop artist Kendrick Lamar sauntered out onto Lollapalooza's Bud Light stage. As thousands of twenty-somethings roared with approval, he grabbed a gold-plated mic and cut straight into the intro of "Backseat Freestyle:"Martin had a dream / Martin had a dream / Kendrick have a dream…
Just off to the side of the stage, on a raised platform, 36-year-old Amber Galloway Gallego thrust her hands in the air, and twisted her body to the rhythm. Clad in a purple shirt, and sporting a pink-tinted pixie haircut, she was also in the midst of a dream: to make music — particularly rap — accessible to deaf people.
As an American Sign Language interpreter who specializes in music performance, Gallego has interpreted over 300 rap, R&B, and rock concerts, and has worked with everyone from Aerosmith to Destiny's Child. After a deaf friend told her that "music wasn't for deaf people," she embarked on a quest to prove otherwise; today, she's hired by major music festivals all over the United States to make auditory performances more relatable for the deaf.
To do so, she employs a tireless mixture of hand signs, facial expressions, body movement, and sensibility.
Read the full text of this excellent article at Priceonomics.
---