For years, Widex has helped people with tinnitus via the ZEN program, which is available in most Widex hearing aids. In a clinical trial of the effectiveness of Zen, it was found that approximately 75% of people using it had a marked decrease in the impact of their tinnitus within two months. Now Widex has released a Widex Zen app for smartphones to deliver Zen to a wider base. You can read more about Tinnitus, its causes and treatment here.
Prevalence of tinnitus
Research from the American Tinnitus Association shows that over 50 million Americans experience some form of tinnitus. Roughly 90% of tinnitus cases occur with an underlying hearing loss, and 16 million people seek medical attention, according to the Hearing Health Foundation. Widex introduced Zen many years ago and over time developed the WZT (Widex Zen Therapy) program which is a tool for professionals to assist customers with tinnitus reduce the impact of the sound in their head.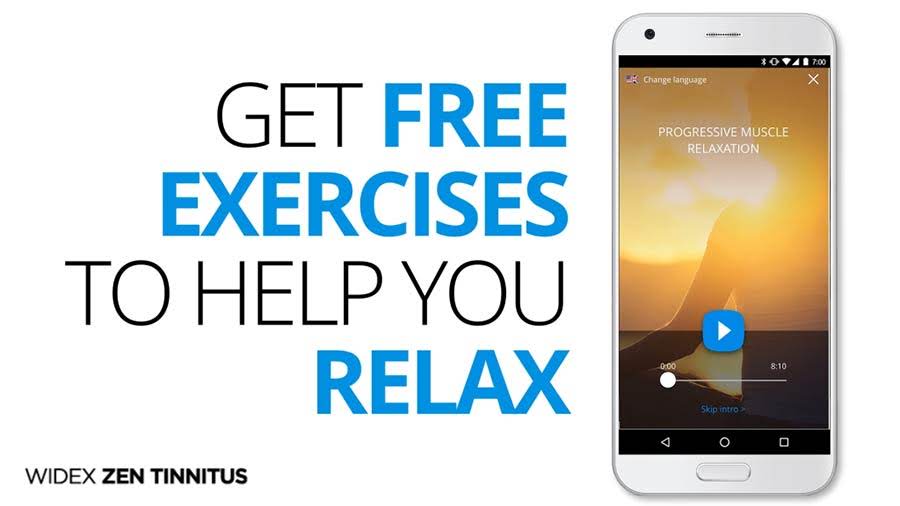 The effectiveness of Zen
Zen has proven quite effective in the relief of tinnitus, although, like other effective sound therapies, it only works in about 80% of cases give or take. The most effective use of Zen is undertaken with the strategy loaded on your hearing aids and the committed help of a professional. But, how are you to know that you will be one of the 80%?
The Zen App
Widex has introduced a new app that will help you to make up your mind, it should also help you with some relief of your tinnitus. Widex say that this app includes a wide range of relaxing and soothing sounds including relaxation and sleep exercises. So we decided to take a look at it.
The App is free to download on Google Play and The App Store, the app is relatively intuitive and easy to use. It provides you with a player with preloaded sounds which include Zen sounds. The Zen sounds presented on the playlist are intended to provide a relaxing sound background for people to listen to in quiet.
Sound Therapy on your Smartphone
Widex have designed the app to be used as a complimentary sound therapy tool in a tinnitus treatment program. The idea is simple, you listen to the Zen sounds in quiet perhaps at the end of a long day or as a refuge during the day. The sounds are intended to provide a relaxing sound background for those who suffer from tinnitus.
The app also provides you with access to educational tools, which are intended to increase your awareness about how to live with your tinnitus . The information covers the basics of tinnitus as well as relaxation exercises that can help.
Intended for Hearing Aids, but can be used alone
The app is intended to be used with Widex hearing aids (either with streaming capability or via a COM-DEX or UNI-DEX). However, you can use it with an set of headphones or wireless headphones if you wish. Widex advise that you listen to the selected sound for at least 2-4 hours a day, at a soft level.
They say that it is important that you choose a sound that you find is pleasant, to help you shift your focus away from your tinnitus. Listen to the sound while you are in quiet surroundings doing other things: reading, relaxing, working, etc.
Sleep Timer
One pretty cool feature is the sleep timer, many people find it quite difficult to get to sleep with the sound of their tinnitus ringing in their head. You can set the app to countdown specific levels of time and turn off after it hits it. So you can be distracted by the soothing sounds and get on with your falling asleep and the app will automatically turn off.
The 'Widex Zen, Tinnitus Management' App can help you relax. With a selection of Zen music and relaxation exercises. It isn't a replacement for tinnitus therapy or a committed professional, or indeed even for a set of well fitted hearing aids with the Zen protocol on them. However, it is a good introduction to the benefits of Zen, why don't you give it a go? Download it for free on the App Store & Google Play
If you like what you see, share it so others can benefit
Find An Independent Hearing Aid Centre in Your Area
Arrange a consultation with a trusted Independent hearing healthcare professional in your area