What happens when a financial behemoth enters the ear space with intent? We can only guess really, but we are probably about to find out. Amazon announced the introduction of Echo Buds yesterday at their big yearly event. It is an interesting development because it is their first true step into the ear space. The new buds will be wireless and will feature Bose noise reduction technology. They will also work with the company's popular Alexa voice assistant. Amazon says the Echo Buds will cost $129 for a pair, with preorders beginning today (25/09/2019). However, they have not said when they will be released, other than before the holidays (Christmas). The new buds firmly fall within the category of hearables and they are designed to compete directly with Apple Air pods. Let's talk about the Echo Buds.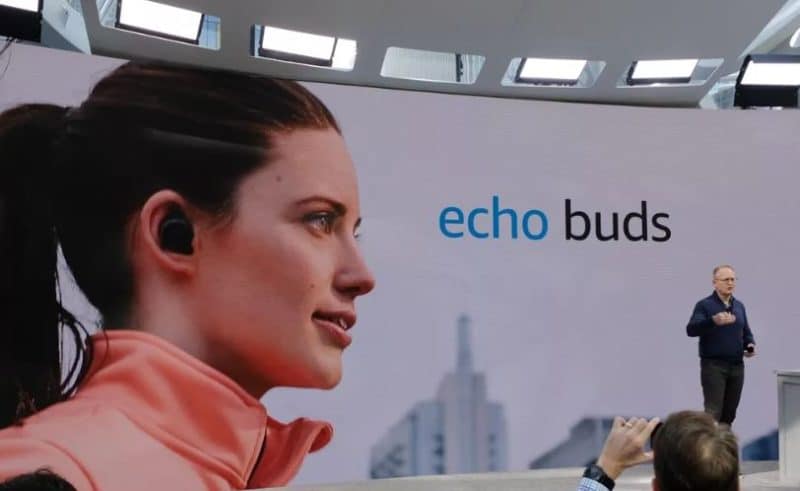 The Low Down
Amazon says that the new headphones will provide five hours of battery life from a single charge and up to 20 hours of use with the charging case. The new buds will feature voice wake up, tap gestures: double-tap to adjust the Bose noise reduction so you can better hear the outside world, and a tap and hold gesture to access your phone's voice assistant (like Siri or Google Assistant). The earbuds will have double armature drivers to deliver quality sound reproduction and will be rated with IPX4 against splashes, sweat, or light rain.
Natural Competitor
The devices are a cheaper alternative to Apple Airpods and we can probably expect them to make a dent in the 50% market share that Apple has in this space. While the devices are cheaper, the quality of sound and features appear to make them a pretty consistent challenger.
Future Integrations With Alexa
The company said that they plan to roll out future integrations between the Echo Buds and Alexa starting soon. It is probably the opportunity here that is most exciting. The scope for integrations is only narrowed by the imagination of the developers. Alexa and Echo Buds could prove to be the first step towards an integrated virtual assistant. Something that I have been speaking about for some time.
Voice First Expands
Just a short time ago here on Know, I spoke about voice first and what it might mean for hearing aids. The Echo Buds really represent a massive step forward for voice-first technology. With integration with Alexa and expanding Alexa abilities, they represent the beginning of a sea change in how we will interact with our computing devices and indeed our world. They will also drive a roadmap for the integration possibilities for voice-first in hearing aids.
Amazon Hearing Aids?
The Echo Buds represent the first step into the hearing space, they offer noise reduction but don't offer any amplification as far as I can see. Will Amazon be happy with carving out market share in the consumer electronics end of hearables, or will they also be interested in the growing market of hearing aid type hearables? To be honest, I think that the hearables and hearing aid market are going to merge in the future.
The functionality of hearing aids and hearables will merge and eventually, consumers will probably consider all of them hearables. Many of the existing hearable device manufacturers will offer some sort of amplification strategy but probably as a side offering as opposed to the central core of the device. The question really is will Amazon see any benefit in focusing on hearing and amplification as core functionalities?
They may, however, the integration of Alexa into hearing aids moving forward may well mean that they don't see the need. It makes sense for the hearing aid manufacturers to integrate Alexa into their devices and that will give Amazon access to the people who wear hearing aids. For Amazon, that's a win, their core strategy is to ensure as many people as possible have access to Alexa and therefore their product offerings.
For hearing aid users, the introduction of Echo Buds is a winner, not because of what they are, but because of what they represent and what they will lead to. I have said it before, I for one can't wait. Like us on Facebook by clicking the button below to keep up with our latest utterances. Alternatively, if you don't like the book of face, sign up to the newsletter below. Oh and remember, a hearing aid isn't properly fitted unless they do Real Ear Measurement.