Budget Bluetooth Hearing Aids
We would all like a top of the range something, for me, it would probably be a laptop. Unfortunately, when it comes to purchasing something, we have to cut our cloth to our budget. When it comes to hearing aids, sometimes that makes for tough decisions. However, with the introduction of a slew of new devices from hearing aid brands, losing out on Bluetooth connectivity is not one of them. Let's talk about Bluetooth hearing aids on a budget.
Zerena 3 and 1 Hearing Aid Ranges
With the introduction of the Zerena 3 and Zerena 1 hearing aids from Bernafon, it is now possible to purchase Bluetooth hearing aids on a budget. The new additions to the Zerena platform are billed as budget options, but what does that mean and what can you expect from them? Let's take a closer look at what you can expect and what features are on offer.

The Zerena 3 and 1 hearing devices were introduced as part of a Budget range of Zerena hearing aids in 2018. While they are not quite as advanced as the higher levels of Zerena hearing devices, Bernafon has ensured that they are still pretty solid hearing aids.
Bluetooth Hearing Aids
Even though the Zerena 3 and 1 platforms are Budget hearing aids, they still use that super-fast and powerful chip that is inside the higher levels. That means that just like the rest of the Zerena range you can enjoy direct audio streaming from your iPhone straight to your ears. It also means that you can use the SoundClip-A remote microphone and streamer and the TV-A streamer. They offer huge benefits with direct streaming to the hearing aids for different situations.
Automatic Hearing Aids
The Zerena 3 and 1 hearing aids are fully automatic and dynamically change to reflect the sound environment. Neither the Zerena 3 or 1 range uses the brand new Dynamic Environment Control System™ or DECS™. However, they do both use elements of the new system.
Premium features
Both the Zerena 3 and 1 use Dynamic Directionality, in both ranges, it is set to low focus and both have Dynamic Noise Reduction but there are no changeable settings. While the Zerena 3 has the Transient Noise Reduction feature which handles sudden impact sounds, the Zerena 1 does not. Basically, that means that the Zerena 3 range has a strategy to handle sudden impact sounds and the Zerena 1 range does not.
Both the Zerena 3 and 1 range offer an 8 kHz Frequency Bandwidth and while the Zerena 3 range provides 10 Fitting Bands, the 1 offers just 8. That means that the 3 can be better customised to your hearing loss as you would expect.
The Zerena 3 range has the Bernafon Frequency Composition nxt feature, while the Zerena 1 range does not. The frequency composition feature allows you to hear high-frequency sound information at lower-frequency regions even if you cannot process the high-frequency information.
Tinnitus SoundSupport
Both the Zerena 3 and 1 ranges offer amplification and tinnitus relief together in one solution.
Zerena Budget Models
The Zerena 3 and 1 range are available in the full range of hearing aid types, two Receiver In The Ear (RITE) models, one of which has a rechargeable option. A Behind The Ear (BTE) Model and finally five custom or In The Ear models (ITE). All of the hearing aids in the range except the two smallest, the Completely In Canal (CIC) and the Invisible In Canal (IIC or Invisible hearing aid) are direct connection Bluetooth enabled hearing aids.
A Strong Budget Offer
All in all, the Zerena Budget ranges add up to a very strong budget offer. Where else could you purchase a Bluetooth hearing aid in any model type you wished at a bargain price? While the feature sets are reduced, they are pretty solid. The Zerena 1 range is very basic, but when combined with a SoundClip-A or the TV streamer it offers the ability to hear in many of the situations that people find difficult.
The Zerena 3 range is quite a robust offering and I would expect it to help you in some noisy situations, of course, you would also have to use coping mechanisms to get the best effect. However, if you combined it with the SoundClip-A, I think you would be surprised by how well you could hear your companion.
Phonak Marvel 30 Hearing Aids
Phonak has just introduced a brand new range of Bluetooth enabled hearing aids called the Marvel. The entire range will connect directly to any Bluetooth enabled device, that means a phone, a TV even a computer. The devices fall under the Sonova concept of Made For Any Phone. That means they don't fall into the traditional concept of Made For iPhone or even Made For Android. But that doesn't mean they won't work with both!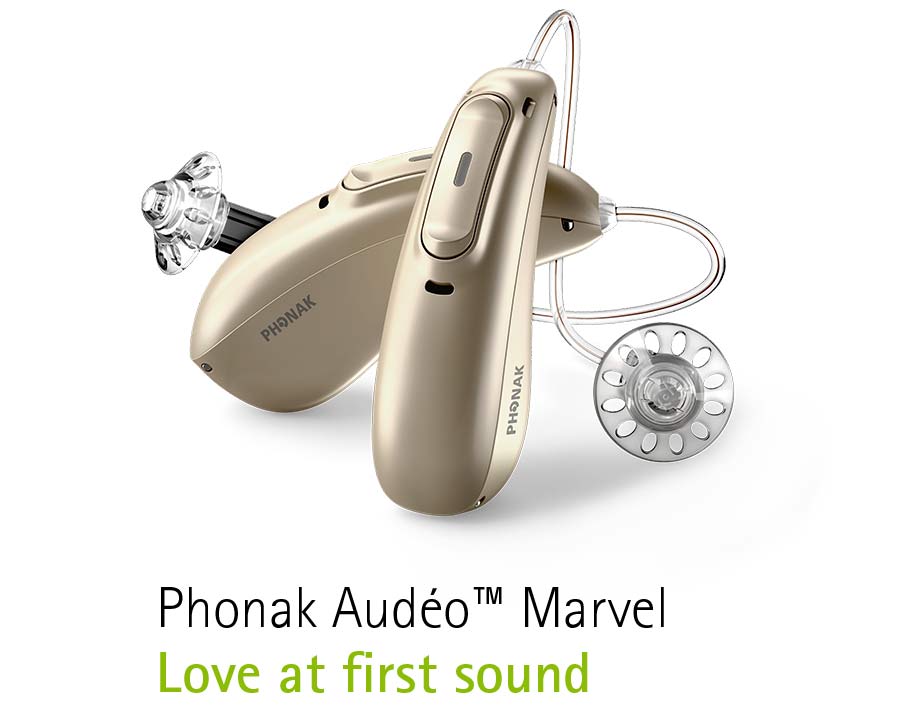 Unique Bluetooth Hearing Aids
Because the Marvel uses a very unique Bluetooth protocol the Marvel range will allow you to stream audio and phone calls from any Bluetooth enabled mobile phone whether that be a Smartphone or not. Phonak have also brought the new range out in their typical four levels of technology. That means there is a Marvel 30 range, which means there will eventually be a full line of models at the entry or budget level device with outstanding connectivity.
Automatic Hearing Aids
Phonak Marvel hearing aids use AutoSense OS 3.0, which is Phonak's latest hearing aid management system. In essence, the system blends and merges the features of the hearing aid to give you the best hearing possible within the sound environment you are in. At the thirty level of technology, the system only uses four presets, they are calm situation and speech in noise and the new streaming programmes streamed speech and streamed music.
However, they do offer three extra slots that can be filled from a pick of five additional programmes. They are Speech in noise, calm situation, comfort in noise, music, acoustic phone and finally a custom programme. That is a decent selection at this level of technology. In fact, it may actually be industry leading, I will get back to you on that.
Strong Feature Set
The Marvel 30 range has quite a strong feature set as well. It offers Phonak's latest frequency compression system, SoundRecover 2. The frequency compression feature allows you to hear high-frequency sound information at lower-frequency regions even if you cannot process the high-frequency information. The devices also have WhistleBlock which suppresses feedback (nasty whistling), NoiseBlock which helps to turn down the background noise and QuickSync which keeps everything synced between the two hearing aids. They only offer 8 fitting bands, which means the customisation of the hearing aids to your loss should be pretty solid.
Tinnitus Balance
The Marvel 30 range will come with the Phonak tinnitus support feature called Tinnitus Balance. Because it is stereo streaming enabled, it will also allow you to design your own tinnitus sound therapy playlist to stream to the aids from your phone.
Marvel Hearing Aids Budget Models
Right now, the Marvel is only available in two Receiver In Canal hearing aid type, a lithium-ion powered rechargeable device and a traditionally powered device. However, this is pretty typical of Phonak introductions to the market and we would expect them to introduce BTEs and custom hearing aids over the next 12 to 16 months. When they do, it will mean that you will have a full range of budget Marvel Bluetooth hearing aid types to choose from.
A Strong Budget Offer
The Phonak Marvel 30 hearing aids are an exceedingly strong budget offering. The devices have already been well received across the industry and a lot of people are really excited about them. You will need to consider battery life though, as with all Bluetooth hearing aids, these will be power hungry. They aren't quite in the marketplace long enough to get a clear idea of how hungry.
Having said that, you need to balance that up with functionality, if the hearing aids deliver everything that you need but demand new batteries every three to four days, how bad would that truly be?