We have been quiet for a bit lately as we have been concentrating on a few other matters. While we were away, a lot happened which we will update you on over the next few days. One rather interesting event was the introduction of the new KS 10 hearing aid from Costco. There had been a lot of speculation that the new aids would be introduced in April and that they would be made by Sonova as were the last ones. The speculation was correct on both points. The KS 10 is available in Costco stores in the US and it is indeed made by Sonova. I have taken a long look at the specs and features of the KS 10 and there is no way to hide it, for all intent and purpose, the KS 10 is a Phonak Paradise 90. There does not appear to be any differences between the tech, just the model offerings. Here is what you need to know.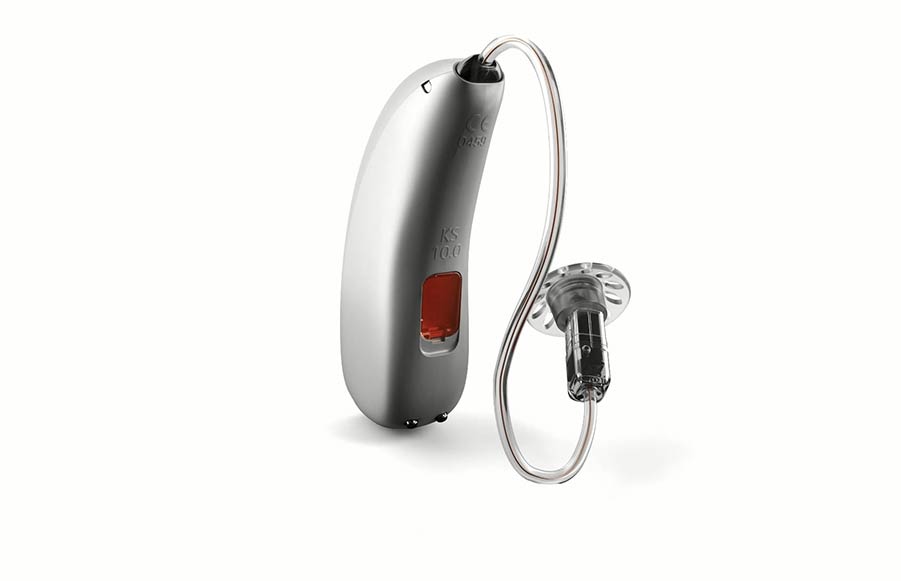 Rechargeable Bluetooth Receiver In Canal Hearing Aids
The KS 10 is a rechargeable receiver in the canal hearing aid that is powered by the Sonova lithium-ion cell. The device has the new motion sensors, introduced with the Phonak Paradise, which ensures they offer the Tap control feature which allows you to answer phone calls, pause/resume streaming and activate voice assistant with a simple double tap on the aids.
The devices have a multi-function button, are nano-coated and iP68 rated. Connectivity is covered with the new updated version of the Sonova Made For Any Phone Bluetooth protocol first seen with Paradise and they also have a telecoil onboard. That means that the KS 10 will simultaneously connect to two Bluetooth sources and easily switch between them. The addition of a telecoil means that you can access public loop systems where they are available. There is, of course, just one single model available but it comes in five colours.
Four Levels of Receiver Power
The KS 10 product information leaflet states that the KS 10 is compatible with the usual four levels of receiver power, the S, M, P and UP. The UP covers severe to profound losses and it is enclosed in a custom shell. The rest can be used with either generic domes or custom tips. It means that the KS 10 will cover most losses from mild to severe to profound. It appears though that if you need the UP receiver, you will need to pay extra for the custom shells.
The Feature Set
The feature set of the KS 10 is similar if not the same as the Phonak Paradise 90. Looking at that list, it is hard to deny that the KS 10 is similar functionally to the Phonak Paradise. All of the premium features like Echo Manager and Speech Boost and Speech Enhancer are there, as is the 20 fine-tuning channels we would expect from premium Sonova products. It is even programmed with Phonak Target software. While there is a reference to Tinnitus in the feature set, it appears that Costco does not offer any Tinnitus support nor do they activate the feature. The details are as follows:
Automatic programmes: Quiet, Noise, Comfort, Music, Loud Noise, Car, Echo, Streamed speech, Streamed music.
Additional programs: Max. additional programs 4, Echo, Loud Noise, Speech Direct (similar to Speech in 360 on Paradise), Noise, Quiet, Comfort, Music, Acoustic phone, Custom program.
Streaming programs: Phone call + mic, PartnerMic + mic, Remote Control (which sounds a little weird).
Features: Directional Microphone, Speech Boost, SNR-Boost, Touch Control (Tap Control), DuoTel, HiFrequency Protect+, User Preference Tuning, Real Ear Effect, 20 Finetuning Channels, Dynamic Noise Manager, Feedback Manager, Noise Manager, Wind Manager, Echo Manager, Motion Sense, Impulse Manager, Binaural Sync, AOV, Tinnitus, Adaptation Control, Balance.
The Price is Amazing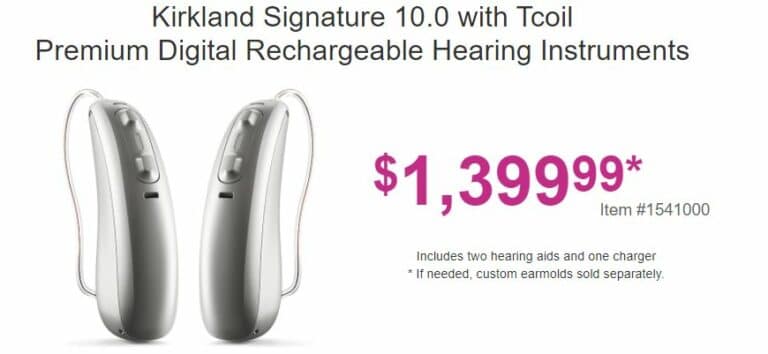 The price for two KS 10 hearing aids is quite an amazing $1399.99, which is a whole lot of hearing aids for fourteen hundred dollars. The price includes one of the large type Sonova chargers which will accept an accessory battery pack. The battery pack will allow the charger to be used on the go and offers a couple of charges without plugging the charger in.
The Easy Line App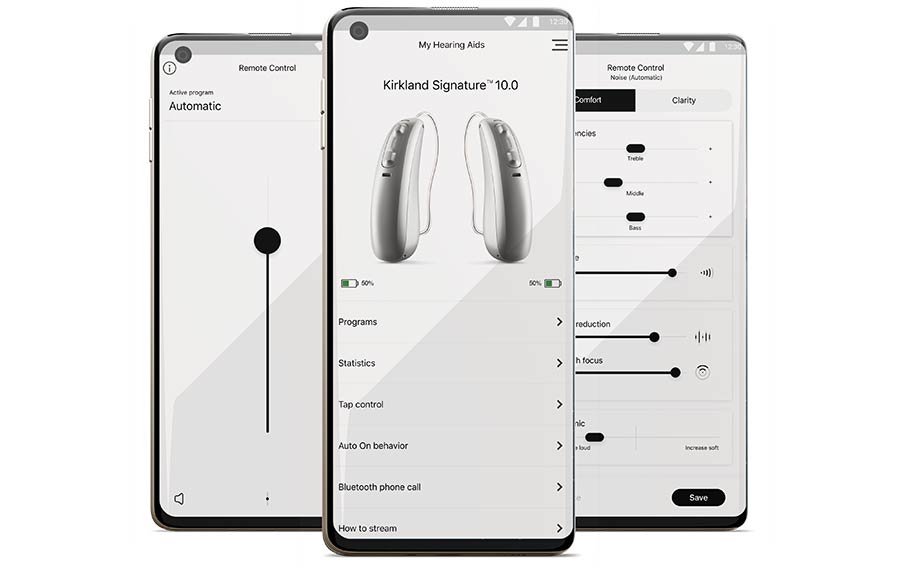 The KS 10 is offered with an updated Easy Line app which offers in-depth power, control and customisation of the hearing aids on the go, it also enables remote services. The app is pretty much a skinned myPhonak app for Paradise and offers the same functionality.
Remote Fine Tuning
It appears that Costco has decided that remote support makes a lot of sense for them as a business. To be honest, I think it makes a lot of sense for all of retail audiology, even if some have not accepted the fact yet. Remote support has a place in the journey to hearing better and I would imagine that Costco is going to find out exactly what that place is.
To be honest, the KS 10 is an outstanding offering at the price and if I had the option to purchase, I probably would. It uses the very pinnacle of Sonova hearing aid technology and costs about a quarter of the price of its direct like for like Sonova product.
If you watch the forums and speak to Costco customers it appears that Costco has a strong reputation in general for service and care. While there can be some mixed comments, it appears to be down to one or two localised problems as opposed to a wider systemic issue across the organisation.
Like us on Facebook by clicking the button below to keep up with our latest utterances. Alternatively, if you don't like Facebook, sign up for the newsletter below. It is important to remember, a hearing aid isn't properly fitted unless they do Real Ear Measurement.