I was given an opportunity to test some Eargo Plus devices recently, I told them what I tell everyone, I am pretty honest with my articles so if the stuff isn't great, just don't send it to me. This has in fact put off other people, Eargo seemed undeterred. For me, that has to be a good start, if they choose to make them available to a big mouth like me, they probably believe in them. They promptly arrived, I have been impressed, let's talk about Eargo.
Small instant fit hearing device
I noticed Eargo a couple of years ago, I was really impressed with their concept and their approach. It was and still is different to most of the herd. They aimed their devices squarely at the Boomers, with marketing and communications to match. I was impressed by their willingness to be playful while dealing with a serious issue. I said then, that Eargo was a company that I would happily do business with.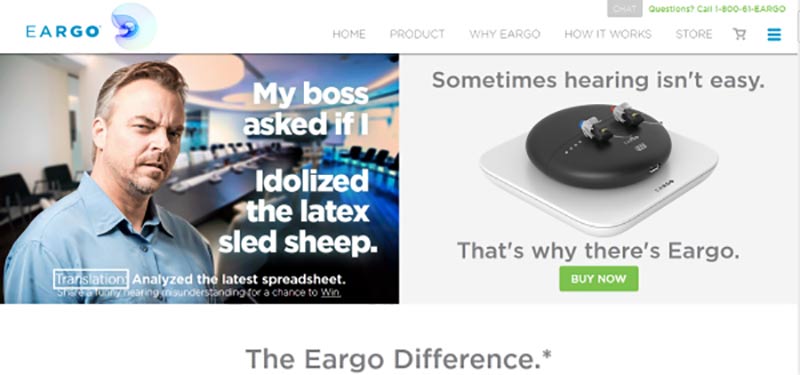 But, company culture and outlook is not enough, the hearing devices have to deliver. By all accounts they seemed to, but I had no experience. Recently I was talking to the guys and they said, hey, why don't you try them out? Back to the earlier paragraph, we don't take cash or inducements on Know to review stuff. (offer it, offer it you fools). So, what you get is a pretty much-unvarnished commentary on whatever we are reviewing. I told Eargo that and they were still happy to let me try them out. Other companies, who will remain nameless, have not been so happy to do so.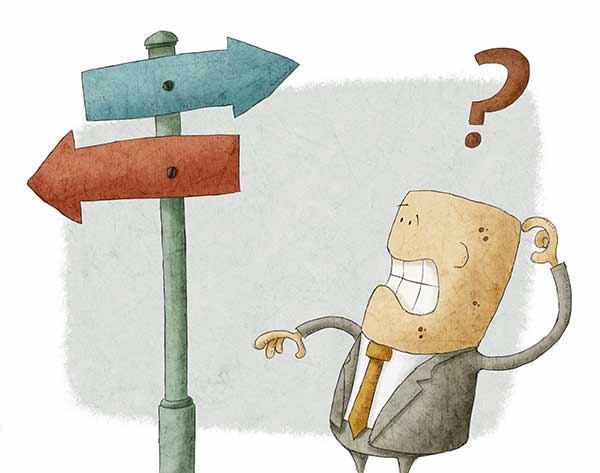 Confused About The Right Hearing Aid For You?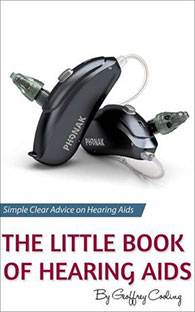 Our buying guide, easing the confusion with clear easy to understand info, we guarantee it will help you pick the right hearing aid for you.
A Thing of Beauty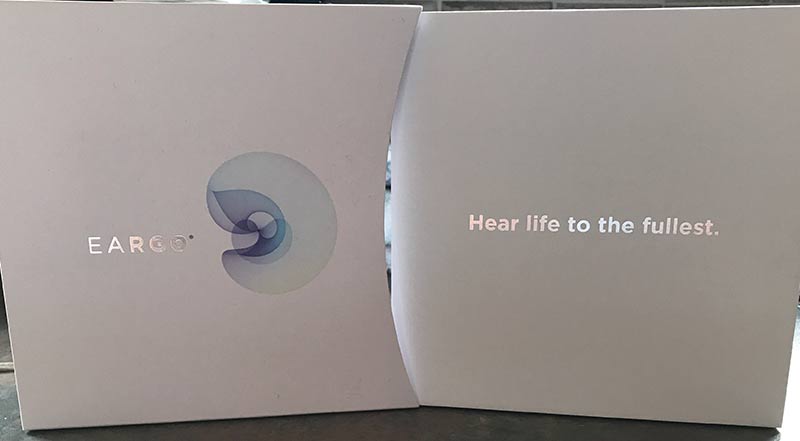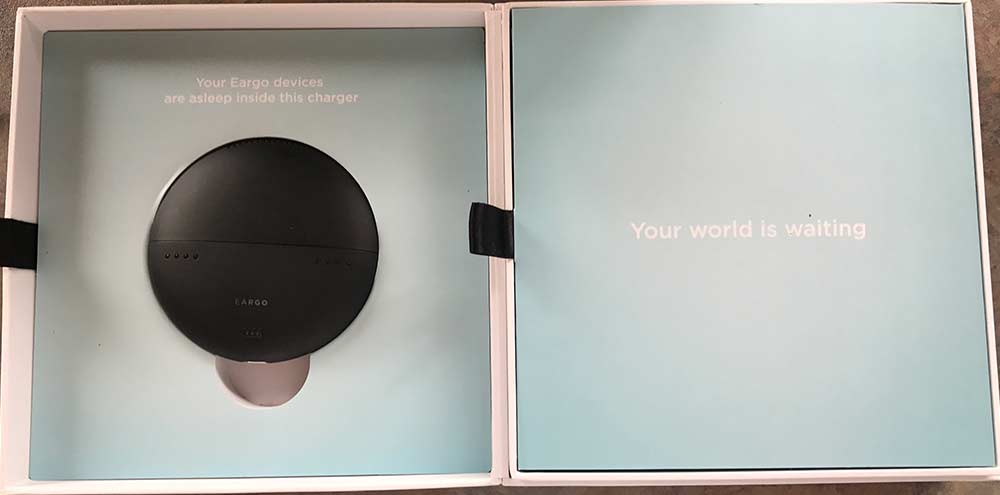 I swear when they arrived I almost didn't want to take them out of the box. The packaging that Eargo use is exceptionally well designed, almost a thing of beauty. This feels like quality, real quality and traditional hearing aid manufacturers could really learn a thing or two here. The presentation is faultless and it drives warm, fuzzy, happy feelings (that might just be the nerd talking). Yes, yes I know, get onto the damned hearing devices fat lad.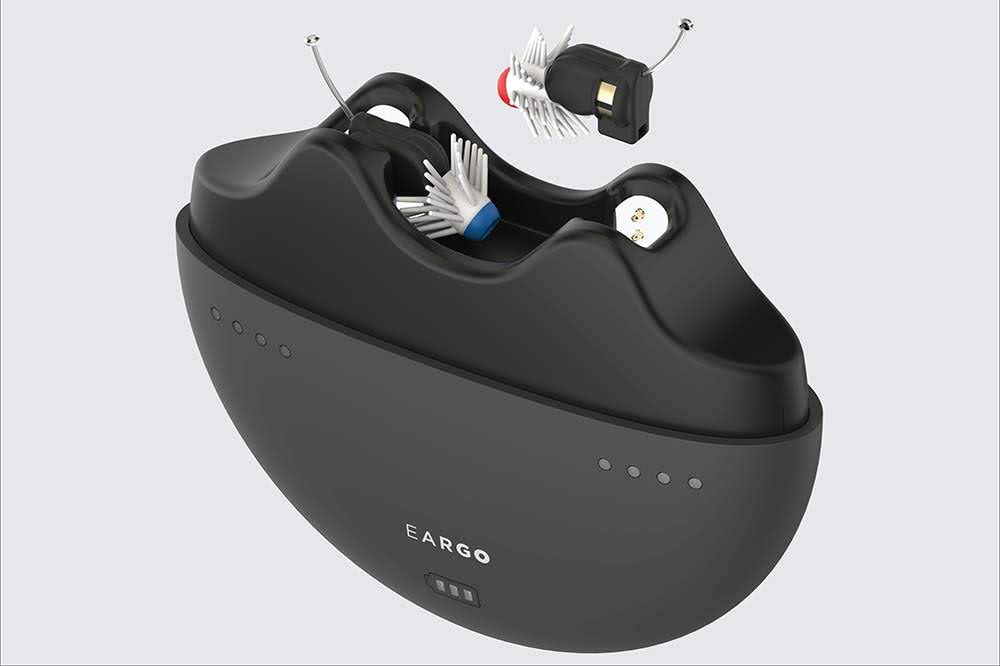 They were pretty damned good, I really mean that, I was impressed with the quality considering mine were bog standard pre-sets. Not changed in any way or customised to my hearing loss. Both the hearing aids and the charger feel substantial, as does the charging cord. Again, there is quality and thought in the design process. The devices are set up to go from the start, so you simply take them out of the charger and pop them in your ear.
The physical fit was good for me with the supplied tips which I think were large. They sat in the ear well and deep enough to be well hidden. They were also pretty secure in there, no real danger of falling out. When you first put them in, they take a moment to set up and set the feedback calibration for your ear. They whistle for a second when doing so but it quickly shut off.
Four Pre-sets
The feedback management system they use is interesting, in my ear, the aids were on the cusp of feedback, but they never did. so I got max gain, without any feedback which again, for an off the shelf job was pretty impressive. The devices come with four pre-sets, basically four different high-frequency boost programmes. You change the programmes with a clapping motion to the side of your head. Takes a little getting used to, but once you have done it right, it just gets easier.
The second pre-set seemed to be more or less right for me, although I probably could have managed with the third one. Volume and sharpness weren't too high but the sound was a little strange. Again, this was simply because the fitting was a general type fitting and not customised.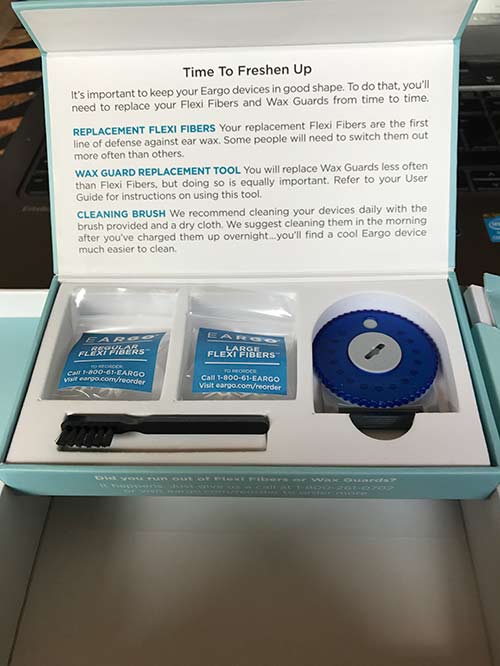 What's in the box?
So, what is in that beautiful box, you get the devices and charger (so pretty). The charging cord (USB Cable) and plug, a cleaning kit, your quick start guide, your manual and shower stickers. Yep, you read that right, shower stickers, cool idea, You ain't nude until you take your eargos out!.
I paraphrase but you get the idea. Going to show a picture of the cleaning kit here, just because, it's pretty. The cleaning kit contains replacement flexi fibres, wax guards and a cleaning brush. Pretty standard stuff, right, but look at how it is presented. I mean who wouldn't want one! (yep, that's definitely the nerd talking)
So, that pretty much wraps this article up, I will do a couple of follow-ups as I play with the devices and get a clearer idea of performance in different situations. In the limited environments I have been in, they work out pretty well.
I wear a set of top of the range hearing aids every day. While I am aware that the sound of the Eargos aren't exactly right for me, they perform pretty well in non-difficult sound situations as compared to my usual set. I will put them through their paces over the next while, I really want to see how they manage complex noise. Hell, I really want to see how they manage any real noisy situation.
At some stage, once I am finished with my experiences, I will have a chat with the Eargo guys and get some technical answers as well.
If you like what you see, share it so others can benefit
Find An Independent Hearing Aid Centre in Your Area
Arrange a consultation with a trusted Independent hearing healthcare professional in your area