Bluetooth hearing aids have really captured the imagination of the hearing aid consumer. Since the launch of the original LiNX from Resound in 2014 the Made For iPhone hearing aid segment has just grown. Almost every one of the big hearing aid brands has a Bluetooth hearing aid or entire range at this point. Originally when I conceived this article I thought I should cover the 5 best for 2019. Of course, the hearing aid brands conspired against me and introduced a few new contenders. So I will cover more than 5, they are in no particular order and I am not outlining the best hearing aid. Simply because your hearing and your needs are complex, too complex for me to say one is better for you than the other. So what I am going to do is talk about the latest offerings from the brands, lay out the pros and cons and my experiences where possible. At least then, you have a clear idea about what might be right for you.
Question 1 of 4
How important is having good Bluetooth connectivity when choosing a hearing aid?
As the year progressed, I needed to change this article, the hearing aids I will cover are:
Resound LiNX Quattro
Phonak Marvel
Widex Evoke
Oticon Opn S
Starkey Livio AI
Signia Styletto Connect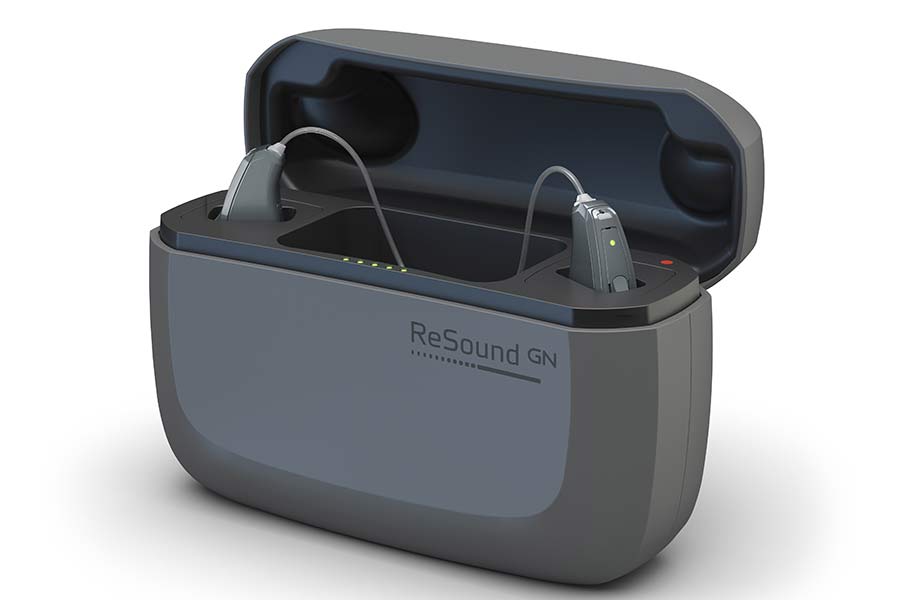 The Resound LiNX Quattro Rechargeable
Resound delivered the Quattro range late in 2018, I have been wearing the rechargeable version and I have to say I am exceptionally impressed with them. They offer really good sound, solid streaming and amazing battery life. I am going to concentrate on the rechargeable version here because I think if you are getting Quattro, you should strongly think about it. Let's take a look. Initially, the Quattro range was just two devices over two levels of technology. They quickly expanded that to three levels of technology. Just recently in early September, they also expanded the model types.
Battery Life
They offer an amazing 24 hours of use with 12 of those hours streaming! No one else even comes close to those figures. You can expect between 4 and 7 days of use from the zinc-air powered device. In general, most of the Made For iPhone hearing aids will provide 4 to 7 days of use.
Direct Connectivity
Resound always had pretty solid connectivity, but with the introduction of the Quattro, they took the opportunity to re-design the wireless radio and antenna. They say it is the best set up they have ever had and I would tend to agree. They appear to offer the most solid direct connectivity I have ever experienced with the iPhone. I haven't experienced any real problems with connectivity. By direct connectivity, I mean that the hearing aids connect to an iPhone and Android phone without an intermediary streamer.
Apple & Now Android
While the direct connectivity is solid, it was only available for Apple devices initially. However, since September the 3rd 2019, the Quattro offers direct connectivity to Android 10. Initially the Quattros will only connect to Pixel 3 and 3a phones from Google. However, One Plus are updating their 7 range to Android 10 and it is reported that the Quattro will connect directly to them as well. Many of the other phone brands such as Samsung and Nokia should be releasing Android 10 very soon and some of their phones will be compatible with the Quattros.
Connecting to Computers & Other Devices
The Quattro does not offer direct connectivity to computers or Bluetooth enabled TVs or other Bluetooth enabled audio devices. However, you can connect to all of these devices through one of their wireless accessories. The beauty of these devices is that they connect directly to Quattro hearing aids without an intermediary streamer. By that I mean you can connect their TV streamer to any audio device and it will stream the audio directly to your hearing aids with a range of up to thirty feet. You can also get access to a choice of two remote microphones for use in noisy situations.
The Charger Case
I have to mention the charger case here, mainly because I love it. It is really discreet, small enough to throw in a pocket. Yet it holds three more charges for your hearing aids. It means that you can go on a long weekend and forget your plug, and still be able to hear perfectly well until you get back.
The App
The Resound app is amazing, I can say without a doubt that it offers the most power and personalisation available on the market. It is an amazing piece of work and I am on record telling the designers that they damn rock. I think this is a really good thing, however, you might not. For me, having real control over my hearing aids is important, but I understand if you just want to put them on and forget them. I think though, that you may actually be pleasantly surprised by the app if you give it a whirl.
AI Introduction
Resound are introducing an integration with Siri on the iPhone that will deliver a very easy way for you to make changes to your hearing aids. There are two ways to do it, either you tell Siri to make the changes, or Siri will give you a suggestion for changes and you simply swipe to accept them. This is pretty smart thinking from Resound, it ensures that it is easier for you to get more from your hearing aids.
They have said that they will also use Artificial Intelligence to learn more about user preferences in different situations. They will use anonymised data from their app to learn about user preferences in different sound environments. They will then begin to apply that learning in upgrades to the app. This type of thinking means that the hearing aids will be better tomorrow then they are today.
What About Disadvantages?
Originally when this article was first written I said that the limited nature of the Quattro range was one of the only disadvantages I saw. However, since early September 2019, they have expanded the range to include custom hearing aids at every technology level. In fact, they are the first hearing aid brand to have a Bluetooth enabled Completely In Canal hearing aid.
Of course and as with other Made For iPhone hearing aids on this list, connectivity to other devices has to be done with a streamer. While this has changed for Android phones this year, connectivity to other Bluetooth enabled devices will always be through a streamer. Some people may see this as a disadvantage. Finally, the rechargeable version doesn't have a telecoil, however, you can get access to loop systems with the extra Multi MIc accessory if you want that.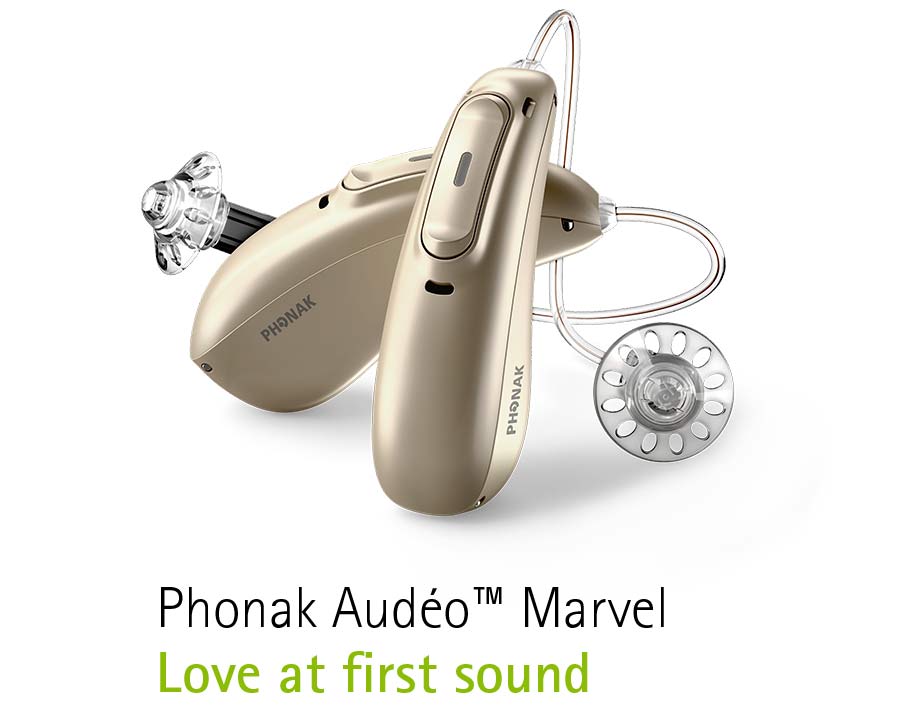 The Phonak Marvel
The introduction of this hearing aid has caused big waves. The hype has been huge, but does it deserve it? I would have to say, yes. It is a pretty cool hearing aid with some really amazing features and apps to go with it. I have worn them and I have been impressed with them, they sound good, the apps that accompany them are excellent and the connectivity is pretty mind-blowing.
The Marvel will eventually be a full range of hearing aid types and they will be available at four levels of technology. That means that there will be a Marvel for everyone eventually no matter what style you like or what your budget is. Of course, there is a chance that not all of the custom hearing aids, when they arrive, will have the connectivity, we will have to see. Let's talk about the Marvel, again, I am going to concentrate on the rechargeable version.
Battery Life
The battery life of the Marvel is in line with many of the rechargeable devices available. You should get sixteen hours of battery life with up to four hours of phone streaming and four hours of streaming from their TV connector. The 312 zinc-air should offer 62 hours of use.
Direct Connectivity
The connectivity of the Marvel is amazing, it can basically connect to any audio device with Bluetooth. Any phone you care to mention, TVs, computers and Macs. That is a direct connection with no need for a streamer. More than just the typical direct connection we are used to, the Marvel also offers hands-free calls. That's completely hands-free, you don't even have to touch your phone to answer a call, simply press the button on your hearing aid to answer and end the call.
Connecting To Computers & Other Devices
Connecting Marvels to a computer or Mac is simple, one warning though. If you have paired your Marvels to your phone, you need to turn off the Bluetooth on your phone before you try to pair them. Marvels will not connect to more than one device, so if you have them connected to your phone, your laptop or Mac won't find them. Connection to the computer may seem inconsequential, but it allows you to use the likes of Skype or Google Hangouts while hearing the audio directly in your hearing aids. The hearing aid mics also feed your voice back to the computer. That's pretty cool and all without a streamer.
The Charger Case
The Marvel comes with a small clamshell charger case. While it is small and discreet, it doesn't offer any extra charges, it is simply a charging cradle. There is a larger additional case that can be purchased, it still doesn't carry any additional charges but you can buy an additional power pack that attaches to it that will. It's an additional charge and I have said here before that I think that is a mistake.
The App
Well, it is actually the apps with the Marvel, the new remote app released in August 2019 is really outstanding. It's highly functional and offers not just programme and volume changes but also deeper power over the function of your hearing aids. You can also change the balance between streaming audio and the microphones or the tinnitus sounds and the microphones. The phone call transcription app is pretty amazing. It transcribes to text the phone call as it happens. That is outrageously cool and it delivers the ultimate opportunity to understand every phone call you ever make or take.
What About The Disadvantages?
Again, the disadvantages are in the eye of the beholder. The Marvel is only available in two Receiver In Canal models right now, one which is rechargeable and the other which is powered by a traditional battery. While we expect this to change in 2019, we only have the release dates for more of the Receiver In Canal range.
Update 26/02/19: Phonak has just announced the release of two more Audeo Marvels, the M-312T which is a size 312 battery powered hearing aid with a telecoil and the M-13T which is a size 13 battery powered hearing aid with a telecoil. Both have to be welcomed as they improve accessibility for Marvel. The size should be popular as it isn't a very big device and it should ensure a full week's use out of the battery.
Update 27/09/19: Phonak has now released all of the Audeo Marvel hearing aid range and has introduced two new Behind The Ear Marvel devices on the Bolero Marvel range.
We have no idea when Phonak will introduce the Custom In The Ear devices.
Oticon Opn S Hearing Aids

Oticon released the new Opn S platform in March 2019, initially, the Opn S range will consist of four models and three technology levels. The devices are internet enabled and Bluetooth enabled just like the previous and original Opn. Oticon has made the Opn S even better with new and upgraded features which build upon the original.
Battery Life
Battery life across the range is reported asdecent, you can expect anything between five and seven days depending on streaming from zinc air batteries. The rechargeable hearing aid should provide you with a full day of use with decent streaming levels on a single charge.
Direct Connectivity
The Opn S range will only directly connect to iPhones and iPads. To use audio streaming and call streaming with Android phones, you will need an intermediary streamer.
Connecting to Computers & Other Devices
The Opn S range does not offer direct connectivity to computers or Bluetooth enabled TVs or other Bluetooth enabled audio devices. However, you can connect to all of these devices through one of the Oticon wireless accessories.
The App
The Oticon app is relatively simple but offers the ability to change volume and programme. Oticon is introducing another app to work with the Opn S range at some stage this year which will increase functionality and the efficacy of the hearing aids.
What are the Disadvantages?
Primarily the lack of choice of styles really, you are limited to either Receiver In Canal hearing devices or a traditional BTE at the minute. The app doesn't offer great functionality at the minute in comparison to some of the competitors. However, some people aren't really bothered by that.
Starkey Livio AI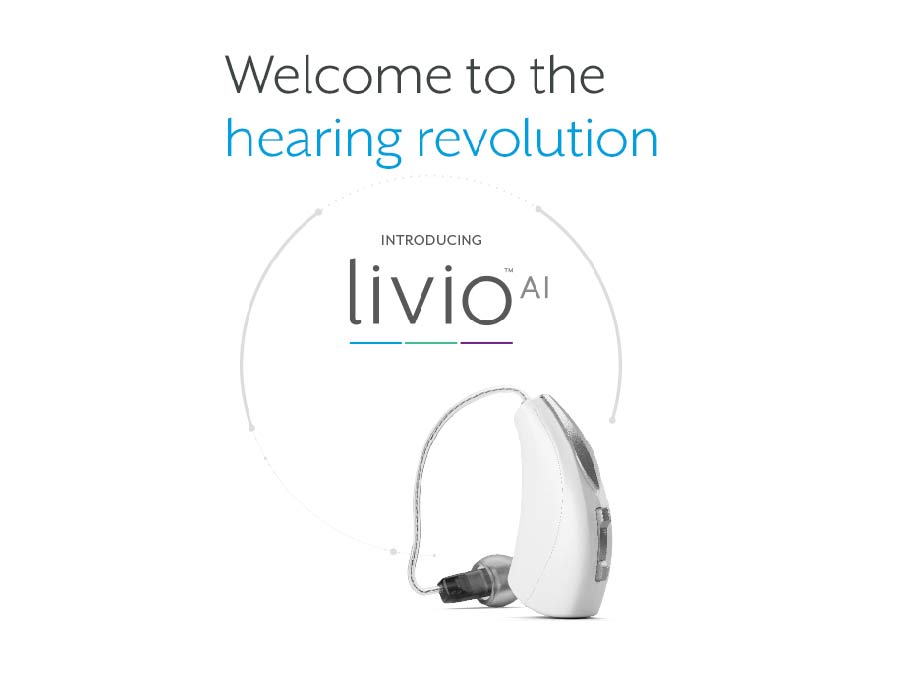 A New Use Case
The Livio AI from Starkey is a fascinating hearing aid that is unique in many of its functions. It presents users with a completely new use case for hearing aids. Starkey has set out to merge different technology so the device offers far more than just better hearing. In early 2019 they announced that the aids will be upgraded to offer fall detection and alerts and heart rate monitoring on top of its existing sensor set. The hearing aids also offer the real-time translation of 27 languages through an accompanying app. We haven't used the devices at all, so we have no personal experience with them.
Battery Life
While the existing Livio AI is powered by traditional zinc-air batteries, Starkey has announced a lithium-ion rechargeable device will be introduced soon. We know nothing about it right now, but we will update the article. They say that you will get 4 to 7 days out of the 312 RIC and 7 to 11 days out of the size 13 BTE.
Direct Connectivity
Starkey, like Resound, offers pretty solid connectivity to iPhones. There are of course the usual Bluetooth issues but they really are inescapable for the most part. By direct connectivity, I mean that the hearing aids connect to the iPhone without an intermediary streamer.
Android Connectivity
The Livio will connect to an Android device but only for the use of the app. The Livio will not stream audio from an Android phone. There have been no announcements or indications that Starkey will offer true Made For Android connectivity, however, we would expect that to happen once Resound and GN are finished their design partnership.
Connectivity to Computers Etc
The Livio AI can only connect to other devices using a streamer device. The streamers will connect directly to the hearing aids though, so you don't need an intermediary streamer hanging around your neck.
A Hearing Aid That's a Health Tracker and More
The Livio AI is truly a multifunctional device that combines features from wireless headsets, fitness trackers and health apps, and finally, language translation programs. That's right, language translation. The keys to all of this are a brand new chipset, an embedded sensor on the chipset and 2.4Ghz communication between the hearing aid and a smartphone. This allows the monitoring of movement and a deeper instantaneous communication between the hearing aids and a smartphone which has been leveraged to deliver real user benefits. The addition of the new Valencell and Sonion Reciever with the embedded biosensor will bring heart rate tracking and the upgrade of the chipset will deliver fall tracking and alerts.
The Thrive App
The health monitoring element of the Livio AI is offered via the Thrive App. At present, it offers two measurements that both deliver the possibility of a score of 100 points. It focuses on a Body score and a Brain score. The body score is calculated through a combination of activity, steps and overall movement. This information is tracked daily and accessed easily in the Thrive app.
As I said, a daily score of 100 points is possible. The app also offers a pretty in-depth remote control feature that rivals Resound's. Starkey has also announced that the will offer text transcription of phone calls in a similar way to Phonak. We aren't sure if that will be via the Thrive app or a separate app.
AI Introduction
Starkey has announced a deepening AI integration to the Livio AI but the details are scant at the moment. They have mentioned integration with the Google Assistant, but it remains to be seen what form that takes and how it will work
What are the Disadvantages?
Primarily the lack of choice of styles, you are limited to traditional zinc-air devices at the minute and only two Receiver In Canal models and one BTE Model. The new heart rate functionality will only be available on the RIC devices I would imagine as it is dependent on getting the sensor in the ear canal. Starkey up to now has not gone down the custom Made For iPhone hearing aid route before now. It will be interesting moving forward if that changes. I think if they offered In The Ear hearing aids we would see some trade-off in functionality.
Widex Evoke Fusion 2 Hearing Aids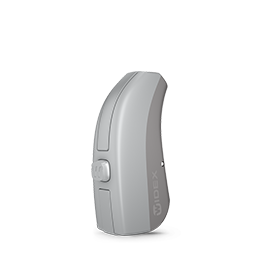 The Evoke Fusion 2 is the latest Bluetooth enabled hearing aids model from Widex. The Evoke platform or E-Platform was the first ever range of hearing aids to introduce machine learning capabilities. The machine learning feature is only available on The Evoke Fusion 2 which is a direct connection or Made For iPhone hearing aid. Widex said that the Evoke began the era of intelligent hearing, where the quality of your listening experience will evolve in real time and real life.
They were right, it was the beginning and more than a few hearing aid brands have taken notice. With machine learning enabled, the Evoke range will continue to learn from you (and millions of others) as you use them so that you will hear sound perfectly.
The Evoke hearing aids evolve in real life to keep getting smarter.
Widex new SoundSense Technology means that every time you use EVOKE hearing aids, they evolve in their function. That's why they call them the world's first smart hearing aid. The machine learning system works by learning from you (and others across the world) when you personalise your listening experience. The EVOKE learns from sound information from the different sound situations and your inputs. Widex uses anonymous data from your changes to create a better listening experience for everyone. That means that the hearing aids you buy will be better tomorrow than they were today.

Battery Life
In general most of the Evoke Fusion 2 devices sold appear to be non-rechargeable devices using a traditional zinc-air battery. There is a rechargeable upgrade for it, but most professionals are staying away from it. The battery life for the 312 zinc-air is anything between 5 and 7 days.
Direct Connectivity
Widex initially suffered from some connectivity problems with the Beyond, however, they quickly fixed the issue with a firmware update. Since then, they have generally had pretty solid connectivity to iPhones. By direct connectivity, I mean that the hearing aids connect to the iPhone without an intermediary streamer. While Evoke Fusion 2 hearing aids will connect to Android phones, they only do so for the use of the app.
Connecting to Computers & Other Devices
The Evoke Fusion 2 does not offer direct connectivity to computers or Bluetooth enabled TVs or other Bluetooth enabled audio devices. However, you can connect to all of these devices through one of the Widex wireless accessories.
The App
The Widex app is really good, it offers strong control over the hearing aids allowing you to not just change programmes and volume, but also allowing you to change the frequency response of the aids and control the focus of the directional microphones. The app is also the central part of the machine learning system.
What are the Disadvantages?
Primarily the lack of choice of styles, you are limited to a single Receiver In Canal hearing devices at the minute if you want a Widex Bluetooth hearing aid. It is available in four levels of technology though. While there is a rechargeable option, many professionals are staying away from it because it has been problematic in the past.
Styletto Connect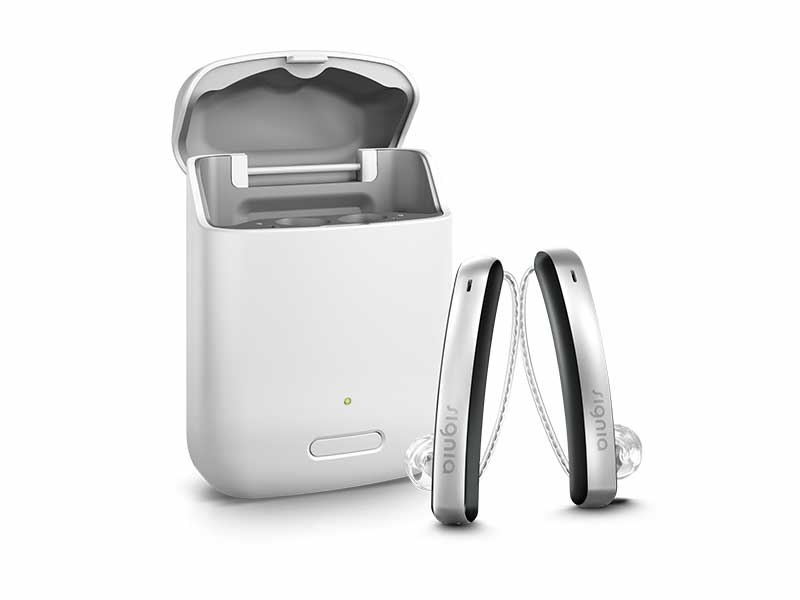 The Styletto Connect hearing aid is a strong contender for a place in the top five. Signia introduced it this year and it was actually a big hit with many consumers. It is a discreet device that offers coverage for mild to moderate hearing losses. It is an attractive hearing aid and the design reminds you of high-end electronics as opposed to traditional hearing aids. The charger case is outstanding and it delivers four extra charges for the devices which means you can go away for a long weekend and forget your plug.
Like the original Styletto, the receiver is fixed in the hearing aid and can not be replaced in the clinic, it will have to be a factory repair job. That means that you will need to take care of it to ensure it doesn't fail. Generally, people do not take care of their receivers, we see them failing all of the time through user negligence. They get full of wax and moisture and die.
Battery Life
Signia says that you will be able to stream up to five hours per day and still benefit from 16 hours of battery life before needing to recharge. That's pretty good streaming time and battery life. So for a quick overview:
Up to 16 hours of battery life with 5 hours of streaming
Just 3 hours to fully charged
30 mins of charging gives 6 hours of use
Easy wireless charging, drop them in the charger and voila
In my personal experience, I got 16 hours of use with 5 hours streaming. However, I am a heavy user of streaming and I found the battery life could not quite keep up with me. The handy charger case though meant I could just drop the aids into it to give me another few hours at the end of the night.
Direct Connectivity
The Styletto Connect is a Made For iPhone hearing aid and will connect directly to iPhones and iPads for audio streaming. While the device will connect to an Android phone, it will only do so for the use of the app. You can not stream audio from Android phones.
Connecting to Computers & Other Devices
The Styletto Connect range does not offer direct connectivity to computers or Bluetooth enabled TVs or other Bluetooth enabled audio devices. However, you can connect to all of these devices through one of the Signia wireless accessories.
The App
The Signia app is relatively simple to use and offers some powerful customisation beyond the ability to change volume and programme.
The Disadvantages
For me, the fixed receiver is a disadvantage, receivers fail, it is a fact of life. Having said that, Signia offers a double protection system for their receivers with a pepper pot wax trap in their ear tips and a wax trap in the receiver itself. Unfortunately though, if the receiver fails on the Styletto Connect, it will need to go back for a factory repair. The only other issue I have is the battery life, as a power user, the battery life is not long enough for me. Having said that, most people would not stream audio nearly as much as I do, so for them, it should be fine.
I believe that this article will change as 2019 progresses and there are new introductions from manufacturers. So bookmark it an come back from time to time. Like us on Facebook by clicking the button below to keep abreast of our articles.