Need Help With Your Marvel Hearing Aids, Ask For Remote Support
With the restrictions of movement in place worldwide and the closure of many hearing care outlets to face to face appointments, many people are wondering how they may get support with their hearing aids. Most outlets are offering a drop-off and pick up service for problem hearing aids. Many outlets have also activated the remote support features for hearing aids that support it. If you have Phonak Marvel hearing aids and you need support but are afraid to leave the house, remote support is an option for you. Phonak have been one of the frontrunners in live telecare in hearing aids and they introduced it with the Phonak Marvel, this is how it works.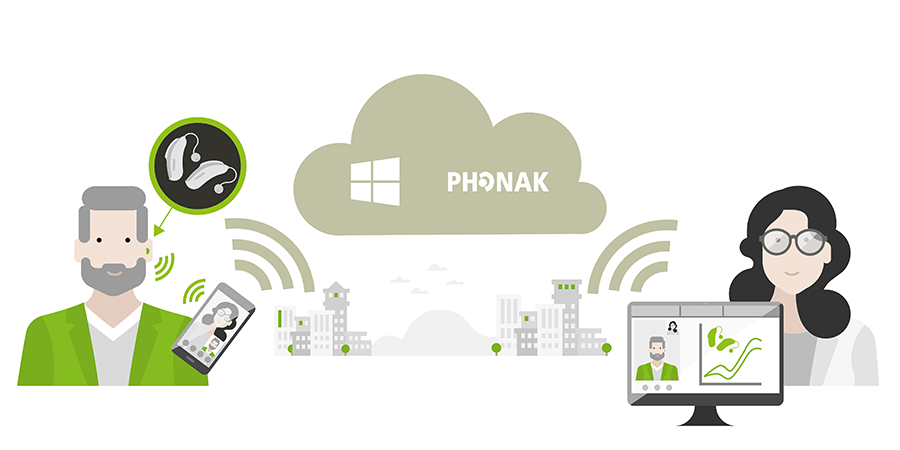 The Phonak smartphone app is used to enable the remote care element. The system offers video calling which enables the user and their hearing care professional to see and hear each other while the hearing care professional makes simultaneous real-time updates to the hearing aid programs. It means that you can have your hearing aids adjusted while sitting on the couch at home. Your hearing care professional will have to enable the system for you though to use it. The system offers:
Full fine-tuning capabilities. The audiologist can make nearly all the same changes remotely as in the clinic.
Real-time adjustments. The audiologist makes the tweak and the patient instantly hears the difference—enabling efficient fine-tuning in a variety of listening settings.
Video chat. Face-to-face interaction between professional and patient results in much better communication. At the same time, the audiologist controls the hearing aid adjustments from the desktop computer.
Android & Apple
The app will work on both Android and Apple phones and you can download it from their respective app stores. The system is available across the world right now and maybe an ideal solution for getting help from your professional right now. If you have Phonak Marvel or Audeo Direct hearing aids, call your hearing care professional to find out whether they can offer you help remotely.
The system currently does not allow professionals to remotely fit hearing aids, so it isn't ideal if you are looking for a replacement set of hearing aids. Although, technically, if you are changing from one set of Phonak hearing aids to another, we can force the settings onto the new hearing aids if they are compatible.
Please stay safe during this time, limit your contact to only the people you live with and only make essential journeys. Take care.