New Addition To The Hearing Aid Know Hearing Center Network
A Combined 50 Years Experience
Steve Romeo and Kent Davenport offer a combined fifty years of experience recommending and providing hearing solutions. They have built a reputation for providing outstanding hearing aids and dedicated and committed aftercare in Las Vegas. Their Practice, Quality Hearing Aids, is the latest addition to the Hearing Aid Know Network.
Meet The Team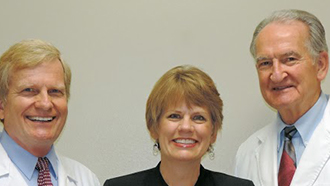 Steve Romeo has been choosing, fitting and fine tuning his own hearing aids for over twelve years. So he has an intimate understanding of hearing loss and what he needs to do to help people hear better. Kent Davenport has been in the business for over 34 years and has an estimated 4,600 hearing aid fittings under his belt. So both of these guys have a good idea of how to fit hearing aids and make sure people are happy.
They are joined by Shelly Higham who brings outstanding customer service to the business. These guys are committed to delivering outstanding levels of care, because they understand that it allows their Patients to excel with their solutions. As you can see from the review below, they are pretty successful with their approach.
"Five Stars to Steve Romeo, Hearing Instrument Specialist and owner of Quality Hearing Aids. His patience and knowledge of hearing aids and hearing sciences are both amazing. Purchasing your hearing aids from Quality Hearing Aids will be a very rewarding and pleasant experience."
T Ruppert
Hearing Aids
Hearing aids supplied and fitted to patient's individual hearing loss

Offering Custom Hearing Aid Solutions
The business is Independent so it has access to the very best hearing aids from all of the leading hearing aid brands. They concentrate on Starkey hearing aids and Oticon hearing aids primarily because they believe that they offer nearly everything they need to keep their Patients happy. However, if someone is really interested in any other brand they are happy to provide it.

A Free Hearing Test
They also offer free hearing consultations, so if you are worried about your hearing, you can simply give them a call mentioning Hearing Aid Know and asking for a free consultation. They will happily check your hearing and explain exactly what is going on. They will also give any recommendations that are suitable for you.
Hearing loss is not about not being able to hear, it is about not being able to understand! If you can hear, but not understand, call them today on +1 702 369 1321 for your free hearing test
Hearing Aid Repairs
The business prides itself on offering all make hearing aid repairs, that means no matter what the brand of your hearing aids, they can organize a repair. They even offer a hearing aid coupon that will give you 20% off the price of your hearing aid repairs. Simply mention Hearing Aid Know when you are discussing the repair of your hearing devices and they will apply your 20% discount.

Two Hearing Aid Stores in Vegas
The team has two state of the art hearing centers in Las Vegas, one in the beautiful VeiwPointe Executive building in Henderson and the other in 10161 Building in Hughes Office Plaza at Charleston and Hualapai. Between them they serve Patients from across the greater Las Vegas area.
Their combined experience and the care and attention they offer Patients is what attracted us to them. The fact that Steve Romeo has intimate experience with hearing loss and wearing hearing aids means that he is in an outstanding position to understand the needs of others. If you are looking for hearing aids in Las Vegas, Quality Hearing Aids is a really good place to start your journey to better hearing.
If you like what you see, share it so others can benefit
Find An Independent Hearing Aid Centre in Your Area
Arrange a consultation with a trusted Independent hearing healthcare professional in your area