I have been wearing Lexie Lumen hearing aids for a couple of weeks now and I have found them to be really good. They offer the support I need to hear better in differing situations. At least, the different situations I found myself in over the last couple of weeks. I don't think any of us is really getting into noisy situations at the minute, certainly not in Ireland. Am I going to give up my ReSound Ones for them? No, I am not, the biggest reason for that is the streaming of audio. Of course, the Ones provide a better listening experience, but you would expect that after spending anything up to four and a half grand on them. Having said all of that, the Lexies got me by, very happily. The consumer experience offered is also outstanding, I think that the hearing aid quality, combined with the consumer experience, makes these the best online hearing aids available. Let's talk about how they worked.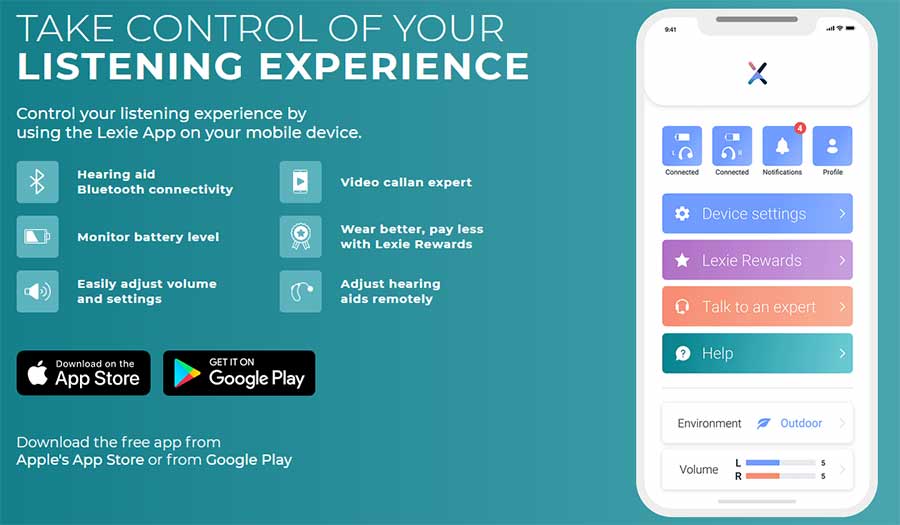 The heart of the Lexie experience is the smartphone app, it offers remote control over the hearing aids, and is the centre of the ongoing experience. The app is well designed and easy to use. The connection between my phone and the Lumen hearing aids proved pretty solid after the initial issue I had connecting to them. Changing either the volume or the programme of the aids is a very quick and simple task.
Signing up for the Lexie Rewards system is a no brainer, it will give you a discount on your subscription fee and will help to make your experience better. This is where Lexie Hearing is way ahead of the game, they provide an in-depth guidance experience designed to help you maximise the benefit you receive from your hearing aids.
The Guiding Experience
It started with my first notification titled "Starting With New Hearing Aids". It offered an outline about being accustomed to new hearing aids with a read more link to a well-written article on their website. The notifications came daily, and they were all targeted at ensuring my experience with the hearing aids was as optimal as possible. Some were experience-based, to which you gave feedback. These notifications one of which was Inserting your hearing aids allow Lexie to understand how you are getting on. Without going too in-depth into each notification, here is a list of titles:
Inserting Your Hearing Aids
Hearing Aid Batteries-How to make them last
Keep your hearing aids dry and safe
Protect your hearing aids from moisture
Learning about your listening experiences (another experience-based notification to give feedback)
Managing earwax
Hearing aid feedback
Show us how much you know (checking your learning)
Can a hearing aid damage my hearing?
Should you wear hearing aids all the time?
This is a sample of the notifications that came within the first few weeks of wearing the aids. They were all designed to support me and educate me during my journey with Lexie hearing aids. I think this is where Lexie Hearing gets it so right. As a new hearing aid user, having this information delivered in manageable bite-sized chunks promptly is excellent.
The communication strategy that Lexie uses and the content they provide is outstanding. Whereas other online providers in the past have sold you their product and run, Lexie cares about both your experience and the benefits that you get from their hearing aids. In this way, they offer a guided experience that is almost in the moment. I really like that.
I said on my original review that on my sound experience alone, I wouldn't hesitate to recommend these hearing aids to someone. The subscription model also makes it easy for the unsure consumer just to give them a good try. They don't offer everything I would want from a hearing aid, no Bluetooth audio streaming apart from their remote microphone.
The app doesn't offer me the in-depth control of my sound that I am used to. Will I be giving up my ReSound Ones? No I won't, but having said that, I was very happy with the sound support Lexie offered when I was wearing them. If you are a new user, who wants to suck it and see as it were, I would recommend both the hearing aids and the guided experience that Lexie offers. I don't believe there is anything for you to lose and perhaps much to gain.
Like us on Facebook by clicking the button below to keep up with our latest utterances. Alternatively, if you don't like Facebook, sign up for the newsletter below. It is important to remember, a hearing aid isn't properly fitted unless they do Real Ear Measurement.