The Naida was the premium hearing aid offering for people with severe to profound and profound hearing loss for many years. It remained unchallenged until the introduction of the Enzo from ReSound which has been updated consistently and the Xceed from Oticon which was introduced in the recent past. Many professionals still like to rely on the Naida range and Phonak has consistently updated the platform over the years. In February 2021 they updated the Naida range with the latest Paradise technology, bringing all of the features and functionality to the Naida platform.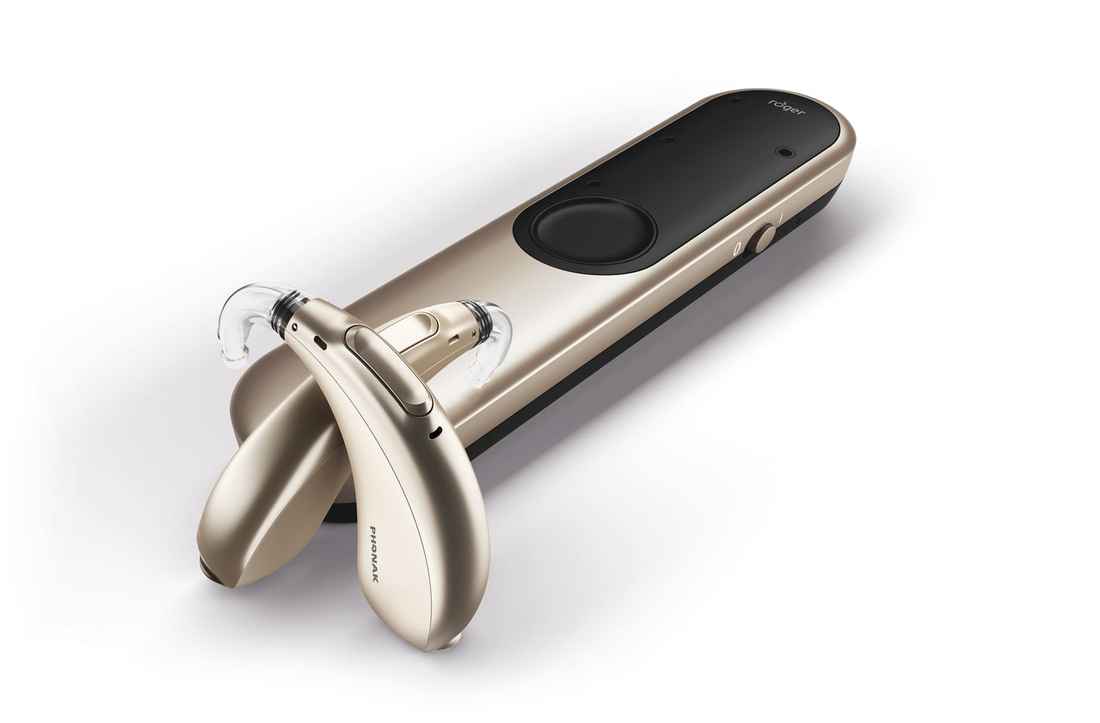 Smaller, Lighter, Even More Features
The new Naída Paradise devices are 14% smaller, 27% lighter, and packed with Paradise features and technology including next-level, powerful sound, industry-leading connectivity and a new custom program memory feature which will be introduced soon with the new myPhonak 5.0 app.
Two Models, One Rechargeable
The new Naida Paradise platform is made up of two Behind The Ear Models, a Naida Ultra Power which is powered by a 675 battery and a Naida Rechargeable Power hearing device. The Naída Paradise UP model features a powerful double receiver that delivers up to 141 dB of peak gain and up to 130 dB in the rechargeable model.
It's powered by the new PRISM™ sound processing chip and features AutoSense OS™ 4.0 for a host of premium features that work together seamlessly. Like the original Paradise devices, the hearing aids can automatically enhance soft speech in quiet places, reduce noise in loud environments and built-in accelerometers detect movement to automatically steer the microphones to improve listening when on the move.
Interestingly, the Naida P Rechargeable is billed as covering losses from mild to severe. It makes me wonder about Phonak's plans for Bolero hearing aids. Will there be a Bolero Paradise range if the Naida P-R pretty much covers the needs?
Full Connectivity
The Naída Paradise offers the full connectivity delivered by Paradise. The Phonak system means that users can wirelessly stream audio directly into both hearing aids from virtually any smartphone, TV, laptop, tablet, eBook and more. They also provide two active Bluetooth® connections at the same time, so users can stay connected to their two most important devices without having to manually switch back and forth.
Like the rest of the Paradise range, Naída Paradise hearing aids also offerRogerDirect™. It means that users can receive the signal from Roger devices with no additional accessory required. Of course, the devices will also come telecoil equipped for connection to loop systems and t-coil enabled equipment.
Tap Control
The Naida Paradise range also offers Phonak's new Tap Control2 which allows users to double-tap on their ear or the aids to accept or end a call, pause or resume streaming and activate smartphone voice-assistants like Siri® or Google Assistant™.
myPhonak Memory feature & Roger On™
According to Phonak, the myPhonak app's 5.0 update in late Spring will include a new myPhonak Memory feature, which Phonak says has been requested by consumers and hearing care professionals alike. The new feature will allow users to save a custom program from the app to the hearing aids.
It will also allow them to access the last used custom program using the hearing aid's multi-function button. Of course, users will also be able to access other custom programs via the app. In the past, users would have to switch back to their custom programme after a notification manually through the app.
The issue was that the aids would default to the autosense programme after a notification, something which isn't necessarily desirable. This update eliminates the need to switch back to a custom setting after a notification alert which was driving many Paradise users to distraction.
Roger On
Phonak also announced the introduction of a new member of the Roger family called Roger On. The new Roger On remote microphone will feature MultiBeam 2.0 technology and an improved pointing mode that allows the user to zoom into a speaker by simply pointing. Roger On will be compatible with most hearing aids and cochlear implants and will be able to stream a variety of audio content.
All in all, it's good news for users with severe to profound and profound hearing loss. The connectivity is something that they could badly do with. The new Roger kit will also be most welcome as Roger has proven to be outstanding for people who need all the help they can get. Like us on Facebook by clicking the button below to keep up with our latest utterances. Alternatively, if you don't like Facebook, sign up for the newsletter below. It is important to remember, a hearing aid isn't properly fitted unless they do Real Ear Measurement.