Australian audio device maker, Nuheara, announced the launch of IQbuds™ MAX at this year's Consumer Electronics Show (CES) in Las Vegas. They also announced the release of their new TV streaming device: IQstream TV. Nuheara seems to be determined to provide a range of options for people with hearing loss and they definitely appear to be here to stay. Nuheara says that the new IQbuds have five times more processing power than the company's popular IQbuds BOOST. That's a leap forward in processing power and it sounds like a company that has decided to get pretty serious about its core mission. Let's take a look at what we know so far.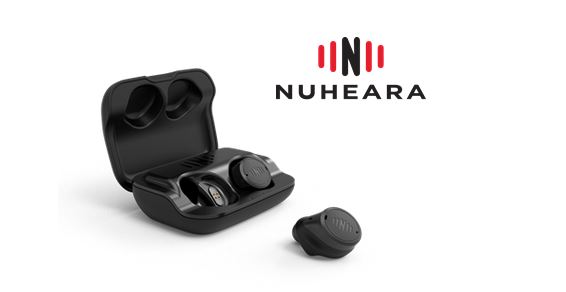 "One in six people are hearing-challenged and the majority of them with mild to moderate hearing loss are currently unserved. We have created IQbuds MAX for them. With IQbuds MAX you can do your own hearing assessment and auto-calibrate your buds using EarID from the comfort of your home. In just 10 minutes you can start to hear better with the world's most advanced hearing bud personalized for you."

–David Cannington, Nuheara co-founder
Expanding Their Range
Nuheara says that they are committed to offering an affordable and accessible way to hear better. This is the third ear level device from Nuheara that is designed to help people hear better. The last device the IQbuds Boost introduced the hearing aid prescription NAL NL2 to their products and their proprietary EarID system which allows you to test your own hearing and set up the device to reflect it. As with their other devices, the IQbuds Max will come with a carry case that doubles as a charger. It will provide up to 32 hours of hearing enhancement and 20 hours of Bluetooth audio streaming.
Nuheara says that the IQbuds MAX are the first earbuds with active noise cancellation. Like their predecessors, the IQbuds MAX will come in a carrying case that doubles as a charger. The case will provide up to thirty hours of hearing enhancement and twenty hours of Bluetooth streaming. The full press release mentions the following features:
Hybrid Active Noise Cancellation: They say "Advanced filtering circuitry creates cancellation waves in the ear to reduce distracting sounds. With the tap of a finger, users can block external noises."
Advanced Digital Signal Processing: They say "Using three microphones to analyze and process sounds both inside and outside the ear, the IQbuds MAX triple core DSP system delivers optimal hearing fidelity and the most natural enhanced sound ever in a hearing bud".
Sonic Accuracy: They say "A large 9.2mm dynamic driver is said to deliver improved sound quality, especially bass, which can be an issue with some smaller earbuds."
Dual Noise Isolation: They say "Noise mitigation is achieved using passive isolation and hybrid ANC. For example, high-frequency traffic noise is blocked through passive noise cancellation, while low-frequency aircraft noise is isolated and eliminated with active noise cancellation."
Smart Sensors: They say "Automatically enable or disable sound based on when the user is wearing the IQbuds MAX."
True Personalization: They say "Nuheara's proprietary EarID allows the user to assess their own hearing from the comfort of their home and then automatically calibrate the IQbuds to their own personal hearing profile. IQbuds MAX optimizes a 12-band wide dynamic range compression (WDRC) system for hearing augmentation."
Progressively Better
Nuheara products have become progressively better at doing what they do and it is obvious that Nuheara sees real value in including hearing aid like features in their hearable products. This device builds upon the foundations of the IQbuds Boost to offer even more help to hear in complex sound situations. I liked the IQbuds Boost and I still wear my pair on a regular basis. They deliver what I want when I need it.
IQstream TV
Nuheara recently announced the launch of their IQstream™ TV but they will be showing it in action at CES. The device is an innovative adapter for watching TV. It delivers crystal-clear sound to IQbuds BOOST and the new IQbuds MAX hearing buds, without affecting the audio from the TV or home theatre speakers. It means that you can independently adjust your volume, and balance the level of the TV with other sounds in the room, so that you can participate in conversations while catching every word on the TV.
Not Hearing Aids, Not Supposed to be
These devices aren't hearing aids and they aren't supposed to be. They are occasional devices that are designed to give you occasional help. They provide products that give you assistance in specific situations. The introduction of the IQstream is really interesting, they have recognised the problem areas and moved forward with a solution.
Having said that, with the focus on increasing innovation and technological advancement in Nuheara, I think they are heading towards what we may consider a true hearing aid, albeit one you just wear for a few hours, every now and then. I am very interested in where they go next.