I came across an exciting company, and website recently called Tuned Care. The site is the first-ever online hearing care marketplace dedicated to the purchase of hearing solutions and virtual consultations. They offer remote sessions with registered hearing care professionals to answer questions and give advice. The site also provides a marketplace where consumers can purchase situational solutions for differing hearing issues. The critical thing is that the consultation services are separated from the marketplace, so none of the hearing care professionals profits from the devices' sales. So that is virtual hearing care sessions where the professional is not invested in selling a device. It is a fascinating premise and similar in concept to one Steve has discussed here on Know. The key to their success will be how you, the consumer, will react to it. Let's talk Tuned Care.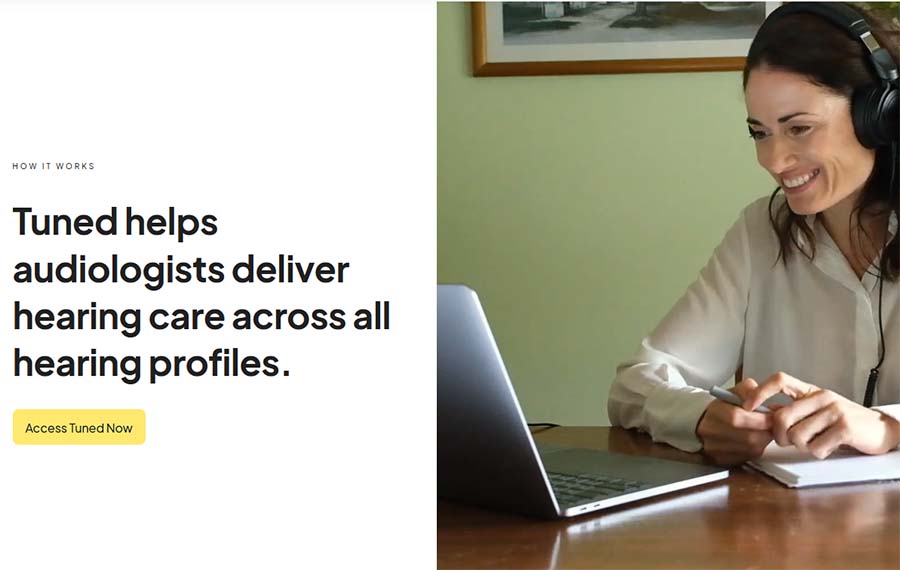 The site offers consumers different virtual consultation types and times, everything from a full hearing workup to a sixty-minute or thirty-minute consultation. The consultation types are typical of regular hearing care consultations. General advice, tinnitus consultations, hearing test and in the future, possibly hearing aid support. It is expansive hearing health, going beyond hearing loss and into tinnitus, hearing preservation/conservation with a virtual clinic arm.
The company say they offer End-to-End Wellness Benefits that include:
Hearing Screening
Diagnose hearing loss and identify early trends with our proprietary hearing screening. Tuned's online test is HIPAA-compliant and accessible on any device.
Telehealth Visits
Book a visit with a licensed hearing health professional whenever it's convenient. Tuned's team of audiology experts can meet with you anytime, anywhere.
Vetted Solutions
Look beyond hearing aids and find solutions that work for everyone. These audiologist-approved products cover all types of modern hearables.
The marketplace is full of solutions for different situational needs, from a conversation, through music to protection and more. They say that the beauty of all of these devices is that they are vetted by their audiological professionals.
At present, they are signing up hearing care professionals to offer those virtual appointments and they say that there is a lot of interest. Many hearing care professionals see the benefit of providing virtual consultations but would have difficulty with providing the platform for it to happen. Tuned Care takes care of that with a stable platform that facilitates all of the technical needs.
The company says that consumers are loving the expert guidance/consultations/opinions/education, the interactive portals (like the chart notes), the ease of telecare, and importantly, not being sold to. Their concept is that Tuned Care will be the most unbiased audiological counselling, care, and recommendation experience that consumers can find.
I like the idea, and I know Steve does, he believes that he should be able to pay someone for some help with his hearing aids. He hates the fact that he has to pay for bundled care that he feels he doesn't need. As the concept of Tuned Care grows and hearing aids change moving forward, the platform may well be positioned well to deliver just that.
In a way, Tuned Care brings Audiologists back to where they started, offering advice and care, utterly separate from selling a solution. Like us on Facebook by clicking the button below to keep up with our latest utterances. Alternatively, if you don't like Facebook, sign up for the newsletter below. It is important to remember; a hearing aid isn't fitted adequately unless they do Real Ear Measurement.