Phonak announced the launch of a new hearing aid platform they are calling Lumity on August 23rd. As is their custom, the initial devices launched on the new platform will be Audeo Receiver In Canal devices. Interestingly, the three devices launched are all rechargeable devices. Phonak says, Meet the first fully rechargeable product range from Phonak. I would have expected some traditional zinc-air battery-powered devices to be added to the Audeo line-up. However, the act of launching rechargeable devices only makes me wonder whether traditional powered devices may be a dying breed. In my own experience, I find that fewer people are interested in devices that use traditional batteries, it will be interesting to see how manufacturers respond to that. Anyway, let's illuminate Lumity!!! Who picks the names, that's what I want to know.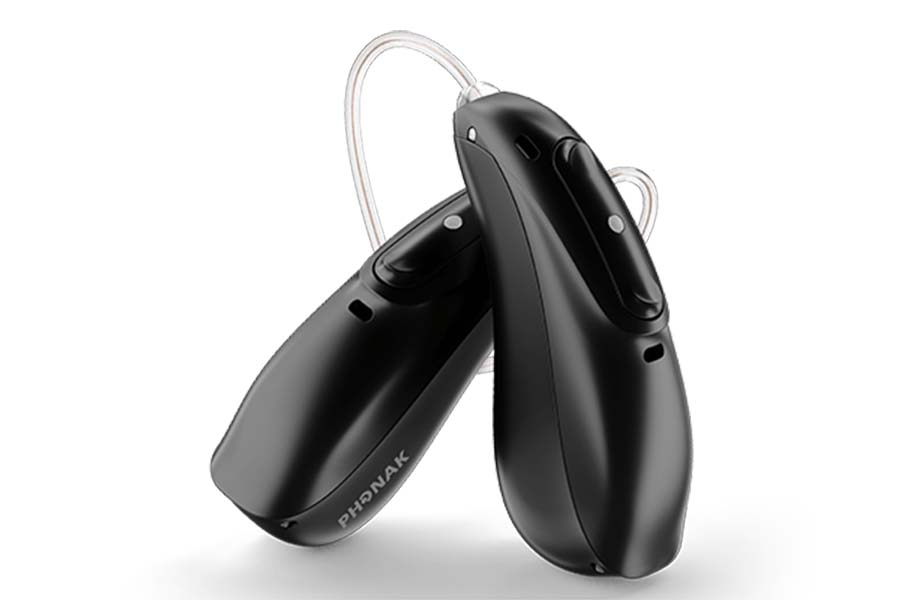 One Device Type, Three Models Initially
Okay, as I said, three separate RIC models all rechargeable and all Made For Any Phone. There is the Audeo L-R, an Audeo L-RT (which has a telecoil), and an Audeo Life Lumity. This is what they have to offer:

Audéo L-R
• Built-in rechargeable hearing aid
• Mild to profound hearing loss
• Health data tracking**
• Direct connectivity to iOS and Android
• Tap Control
Audéo L-RT
• Built-in rechargeable hearing aid
• Mild to profound hearing loss
• Health data tracking**
• Direct connectivity to iOS and Android
• Tap Control
• Telecoil
Audéo LifeTM Lumity
• Built-in rechargeable hearing aid
• Mild to profound hearing loss
• Health data tracking**
• Direct connectivity to iOS and Android
• Tap Control
• Waterproof*
New Management System
Phonak has introduced a new device management system, an upgrade on their AutoSense to 5.0. AutoSense manages all of the other features, deciding what parameters change as your surrounding sound environment and listening intent change. The system is getting smarter as advances in chipsets and both Artificial Intelligence and Machine Learning in audiology increase.
SmartSpeech Technology
The new platform is using a new upgraded speech-focused technology that they are labelling SmartSpeech. The technology consists of two changes in the aids themselves and the use of the external Roger system. You still get the benefit without a Roger device, they have just lumped them in with the concept of SmartSpeech Technology.
Onboard the aids, they have upgraded and changed the parameters in their proprietary directionality strategy StereoZoom 2.0 and changed the implementation of that strategy with an upgraded sound scene analysis system focused on speech that they call SpeechSensor.
16% Better Speech Understanding Front
Stereozoom 2.0 is in essence one of the features at work in noisy environments through the directional microphones. Phonak's latest clinical evidence shows that it enables better speech understanding from the front by 16% in a noisy environment.
15% Better Speech Understanding Back & Sides
SpeechSensor is designed to provide 360-degree speech detection by monitoring your surroundings for speech and allowing you to hear it better from the back and the sides. It is an automatic feature that detects the main speech source and adjusts the aid's microphone modes to ensure that you have more access to speech from the back and sides. They say that SpeechSensor provides an average of 15% better speech understanding from the side and behind.
Two Chargers
The Lumity is introduced with a new shape charger for the L-R and L-RT and the Charger Case Go for the Audeo Life. The Audeo Life is going to be the slightly dearer model, however, the Charger Case Go may be worth that extra money if you are an active, on-the-go type. The Charger Case Go can charge the Life aids three times without plugging in. Handy little feature if you travel a lot or like camping in the great outdoors.
myPhonak App
Lumity pairs with the myPhonak app, the app gives you the ability to make adjustments on the go and create customised programs. The app also allows you to track personal health data, including step count, wearing time, activity levels, distance walked and ran, and optional goal setting. In addition, myPhonak app allows you to connect directly with a hearing care professional who can remotely assist in personalising their hearing experience.
Available Right Now
The devices are available for order in Europe and America right now in the usual four levels of technology, the premium 90, the 70, the 50 and the 30. I will undertake a more in-depth piece on the differences across the technology levels soon.
Please like us on Facebook by clicking the button below to keep up with our latest utterances. Alternatively, if you don't like Facebook, sign up for the newsletter below. It is important to remember; a hearing aid isn't correctly fitted unless they do Real Ear Measurement.