Phonak has just announced the introduction of three new models on the Audeo Paradise range. While they had discussed the introduction of one of them in the past, the other two have been kept under wraps up to now. The announcement said "Phonak today announces a new series of Paradise-powered hearing aids with specialised lifestyle features and designs – Phonak Audéo FitTM, Phonak Audéo LifeTM and Phonak SlimTM. Each product is based on the company's best-selling Paradise platform, which features universal Bluetooth connectivity and delivers crisp, natural sound and an unrivalled* hearing experience. The expanded Paradise line was designed to unlock today's active lifestyles, especially those who are health conscious, enjoy outdoor recreation, or are fashion forward".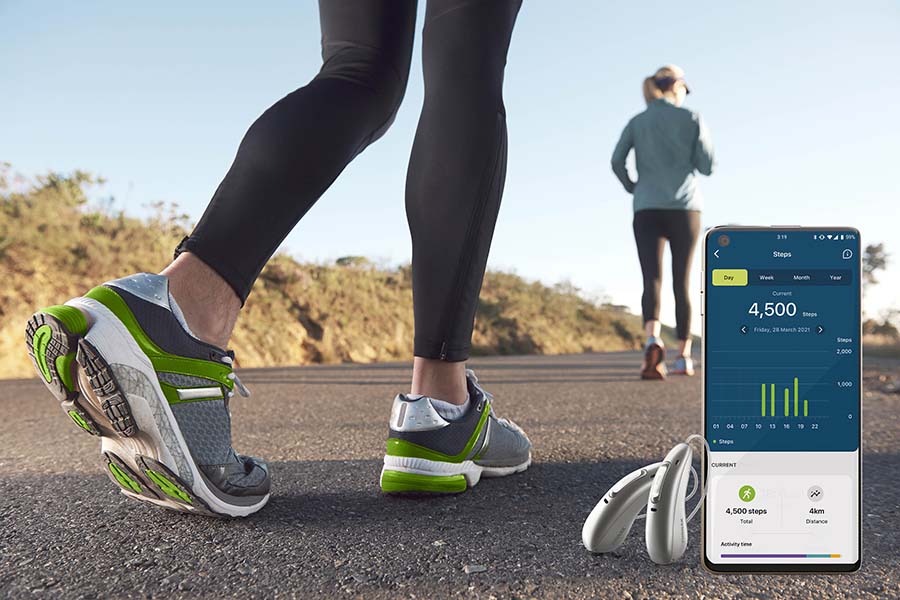 Hearing Aids and Holistic Health
The idea that hearing aids may develop to be focused on wider health has been around for quite a while. Two things have driven this idea, the first is that hearing aids are generally worn for the full waking part of a day. The second is that the ear is a fantastic place to assess many different bio-readings and therefore overall health.
A First For Hearing Aids
While we have seen another manufacturer driving forward with the concept, Phonak will be the first hearing aid manufacturer to place sensors in the ear canal to assess bio-readings. At present, it will be heart rate, which can deliver decent information to both assess overall health and give early warnings of problems. While we don't yet know what facility the heart rate sensor will offer, it could be just a random check every ten minutes, the key for me is that it is being done at all.
It represents a huge step forward for the functionality of hearing aids and their use case. Hey, it could be crap, but that won't matter because they will work hard to improve it. That is the joy of technology, each iteration gets better and widens the use case. Consider if you will, many heart rate features once could just assess your heart rate, now they can give you and your Doctor an early warning of an adverse event.
So Many Possibilities
This is the start, but in the future, we can expect so much more. As I said, the ear is a fantastic place for bio-readings, heart rate, temperature, oxygenation of the blood, an ECG (Electrocardiogram, one of the simplest and fastest tests used to evaluate the heart), and even an EEG (Electroencephalography, a non-invasive method for recording signals from the brain). The sensors to facilitate these assessments are getting smaller and smaller, so placing them in the ear on a hearing aid receiver will become easier and easier.
Science Fiction?
Imagine a hearing aid that helps you hear better and assess your overall health. One that gives you an early warning about oncoming illness or identifies the possibilities of an adverse cardiac event long before it happens. Imagine a hearing aid manufacturer could use EEG information to assess your listening intent? To understand what you were trying to listen to and better help you hear it? Sounds like science fiction, and right now it is, but so were hearing aids with heart rate sensors up to today.
Anyway, I have prattled on enough, let's take a quick look at what they said about the aids becoming available:
Phonak Audéo Fit is paired with the myPhonak App that will let the user know about various health indicators, including heart rate, steps, activity levels and distances walked or run. With access to personal activity data from sensors that are built into this innovative hearing aid, users can also pursue healthy habits and set personal goals to the sound of their own fitness.
Phonak Audéo Life is designed to help people get immersed in their experiences with a hearing aid that is waterproof** and tested beyond IP68 rating for not only fresh water, but also salt or pool water and sweat. Furthering its seamless quality, Audéo Life comes with a portable battery-powered induction charger, called the Phonak Charger Case Go™, so that the user can easily recharge the hearing aids at home or on the go.
Phonak Slim is stylish and designed to look and feel different. Phonak Slim comes in a variety of two-tone colours - silver/black, graphite/black, and copper/black - and its design follows the natural contour of the head such that it is delivered exclusively as a pair with a unique right and left ear piece.
I will cover the aids in a little bit more detail in different articles over the next few days. One last word before I go, the functionality of hearing aids can be just expected to increase over the next few years, which will continually offer new use cases.
I wrote many years ago about multi-functional hearing aids that would give a holistic health overview but that would also keep older people at home for longer. I envisioned hearing devices as one part of networked sensors in a smart home that would mean older people could stay in the home while safety concerns were met.
We are facing a large ageing population and western governments are busy planning what they will do to deliver health care and care for that population. If we can keep older people at home longer in a safe manner, that is good for them and society as a whole. I know that I would feel much happier if I received updates on things like movement, falls, and general health readings if my Mam was living alone.
The technology to deliver it isn't that far away, it just takes a hearing aid manufacturer with vision to make it happen. Please like us on Facebook by clicking the button below to keep up with our latest utterances. Alternatively, if you don't like Facebook, sign up for the newsletter below. It is important to remember; a hearing aid isn't correctly fitted unless they do Real Ear Measurement.