When slim-fit RICs were introduced by Signia a couple of years ago, the audiology world was divided. Some liked the new model type while others hated it. The Styletto was obviously successful for Signia because they have continued to develop it. Phonak must have liked it because they have now introduced their own rechargeable slim-fit RIC, which funnily enough they call the Audeo Slim. Let's take a look at it.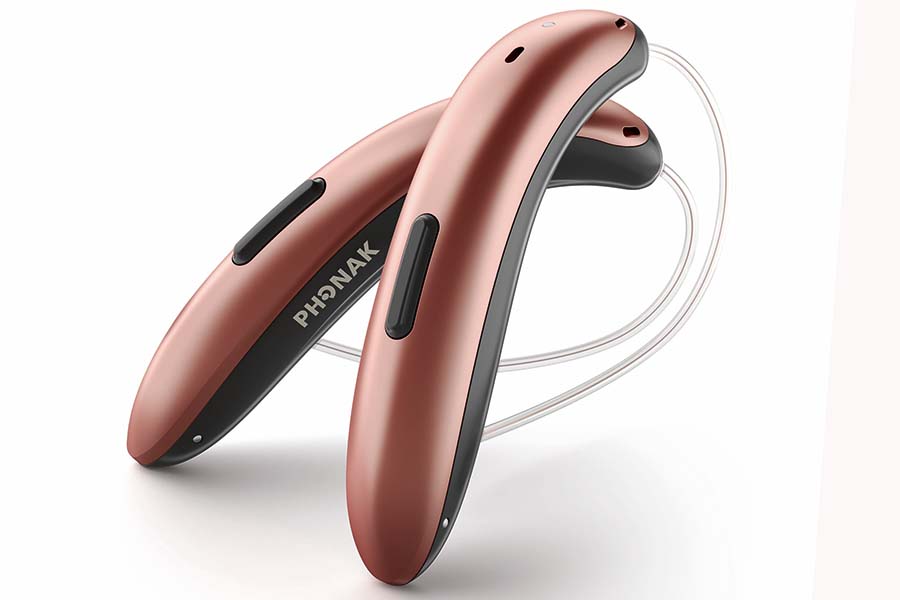 Phonak say "Phonak Slim is the company's latest addition to the latter group of stigma-busting hearing aids that are meant to be seen. It aims to embrace those who have been reluctant to use hearing aids because of how they look, or how they make them feel. With Slim, Phonak delivers a product that is not only comfortable but challenges the perception of what a hearing aid can be. It is the first Phonak hearing solution to be sold exclusively as a pair, with unique left and right hearing aids, each featuring an inward bend that follows the natural contour of the head"
The press release says that the Slim will be offered in three attractive two-tone colours - Silver/Black, Graphite/Black, and Copper/Black - and comes with its own uniquely designed charging case. It is interesting to see that the devices are sold as a pair with a unique left and right.
The Hello Go
The aids remind me of the Hello Go hearing aids introduced in Australia by Sonova. They are quite similar in shape while not exactly the same. Those aids have both a unique left and right. Anyway, the Slim will offer everything that rechargeable Paradise aids have offered up to now and a little more. You can expect:
Health data tracking
Steps
Activity levels
Optional goal setting
Average time worn in different sound environments
Unrivalled* sound quality
ADP 2.0 (Adaptive Phonak Digital 2.0) – new processing algorithm designed to establish an ideal first fit with the benefit of reduced listening effort.
AutoSense OS™ 4.0 with
Speech Enhancer - helps to understand someone who is speaking softly or at a distance in quiet
Dynamic Noise Cancellation - reduces listening effort in noise and when paired with myPhonak, allows users to personalise the amount of noise cancellation needed in real-time
Motion Sensor Hearing - detects when the wearer is moving and having
Universal connectivity
Connects to smartphones, TV, Roger and more
Multiple Bluetooth® connections
Tap Control for easy access to Bluetooth functionalities
It will be interesting to get the full details at the launch, I am particularly interested in the battery life offered by the aids. The Styletto Connect was a fantastic aid but the battery life let it down if you were a streaming power user. The feature list is interesting as well, the features mentioned are only available in the top of the range Paradise hearing aids, so it makes me wonder will the Slim just be available at the 90 levels? Anyway, we should know more by the end of this week. Update: The Slim will be available across all four levels of Phonak technology, the 30, the 50, the 70 and 90.
Please like us on Facebook by clicking the button below to keep up with our latest utterances. Alternatively, if you don't like Facebook, sign up for the newsletter below. It is important to remember; a hearing aid isn't correctly fitted unless they do Real Ear Measurement.