We attended the Phonak Global Media Day in Switzerland recently and it was an action-packed day. During the day we heard about diverse topics including how Phonak sees the future, hearing well and the general effect on life and health, a new solution for Cochlear Implants with direct connectivity to Bluetooth audio sources and a brand new multi-magnet assembly design that will mean no hassle MRIs. On top of that, we learnt about some new data in relation to the treatment of tinnitus with Lyric and the most amazing research lab I have ever seen. I will discuss all these things in separate articles, first, I want to talk about the success of the Phonak Marvel, global shortages and consumer feedback.
The Marvel platform has been well received by both hearing care professionals and consumers alike. They have been hugely successful, in fact, so successful that Phonak has found it hard to keep up with demand. There have been complaints of shortages, in particular in the US. While they believed they Marvel would be a great success, they were taken by surprise by the immediate demand.
Doubling Production
Phonak has said that they have been working hard to up their production and from next week they are doubling their production ability to meet demands. While it has been painful for professionals and consumers, you have to see demand outstripping supply as a good news story for Phonak.
Great Hearing Aids
I like Marvel hearing aids, I have said before that I never get tired of the novelty of answering my mobile phone by pressing a button on my hearing aids. That and speaking on the phone hands-free through my hearing aids is a real pleasure. The Marvel in my experience is a fantastic hearing aid platform offering great sound and excellent streaming. Apparently, most consumers like Marvel as much as I do.
Consumer Survey
As I said, Phonak detailed a recent research study in relation to the Marvel. The undertook a post fit survey with consumers to get a clear idea about how happy they were with the devices. You can see the infographic below. If you click on the image, you will be able to see a larger image. Let's take a look at what consumers had to say.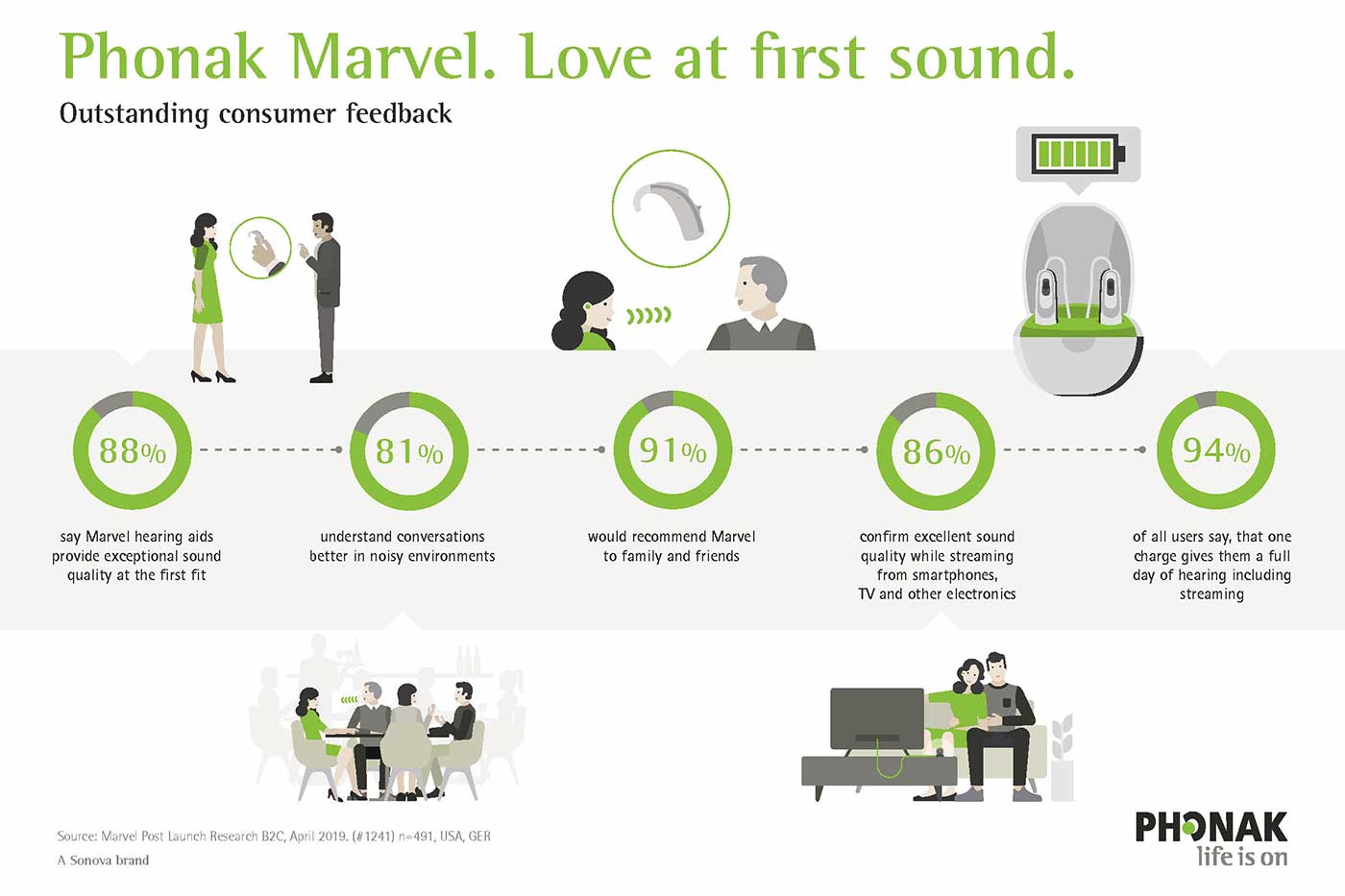 88% of the consumers say Marvel hearing aids provide exceptional sound quality at the first fit
81% of consumers say that they understand conversations better in noisy environments
91% of consumers would recommend Marvel to family and friends
86% confirm excellent sound quality while streaming from smartphones, TV and other electronics
94% of all users say that one charge gives them a full day of hearing including streaming
Those are pretty excellent scores and I would have to agree with all of them. In fact, from my experience, I am surprised they aren't higher. For instance, I am a power user when it comes to streaming. I stream audio for maybe seven or eight hours most days between books, podcasts, music and phone calls. So I am wondering what the 6% were doing who didn't get a full day?
The Marvel has so far been a huge success, and I think with the widening of the platform that I would expect to happen in autumn, that success will just increase. With Phonak doubling their manufacturing capacity, I would imagine the waiting list may get a little shorter.
Like us on Facebook by clicking the button below to keep up with our latest burblings, you know you want to!