A Hearing Aid That Hides in Plain Sight
GN Hearing announced the launch of Custom made by Resound on June 16. The new devices are fully-custom rechargeable hearing aids that support wireless audio and data streaming from Apple iOS and Android devices. The new devices look a lot like high-end wireless earbuds but are medical-grade hearing aids built for all-day use and comfort. The devices fit within a common theme among manufacturers lately of hearing aids hiding in plain sight. The cooperation between Jabra (GN Audio) and ReSound (GN Hearing) is evident. The devices look good and come with a charger that has obviously been well thought out. I had always thought ReSound had been ahead of the game regarding charging technology, and you can see the influence of some pretty sharp thinking here. Let's talk about Custom made by ReSound.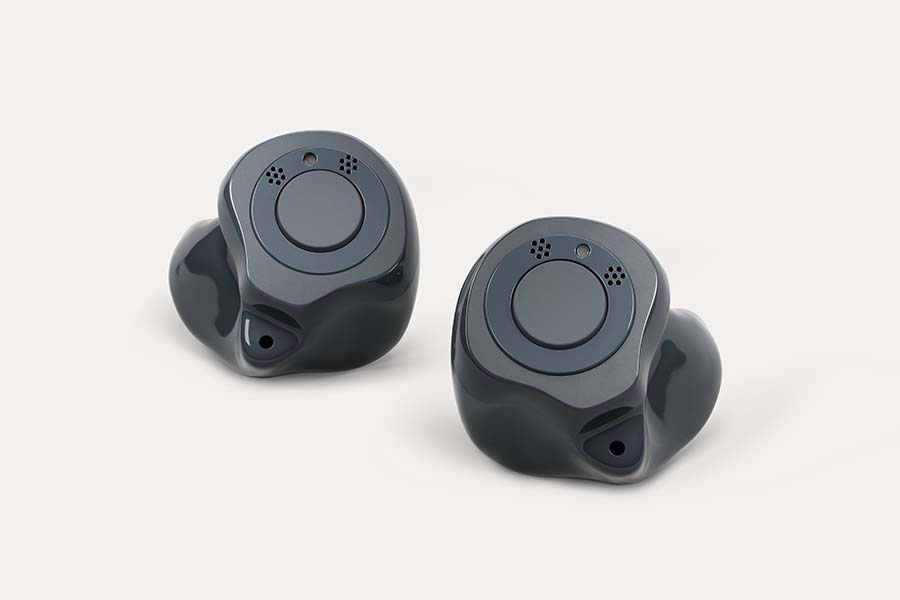 So firstly, these are true custom devices, meaning taking an impression of your ears and sending it away. They then manufacture the devices to fit the unique shape of your ears. That manufacturing process ensures that the devices are uniquely designed for you and should deliver all-day comfort.
They are dual microphone devices, and it appears from some of the claims that they probably run on the One platform. If so, I imagine they will likely deliver them at three distinct technology levels like other ReSound model types. I could be wrong, though, they might want to keep it a flagship device, but I don't think that would make commercial sense for them. I also wonder whether they will integrate it into the One range with other customs or keep it separate. Keeping it separate may add some prestige; well, no doubt we will see in time.
So, ReSound says that Custom delivers three innovations:
An industry first, Custom's charger contains two specially created inserts that match the shape of each hearing aid for seamless, reliable charging. The aids will offer up to 24 hours of use time on a single charge–even when streaming–for all-day use.
A reimagined push button that is accessible over a much more significant portion of the faceplate.
Custom delivers a 30% improvement in speech understanding in noise and 1-2 dB more directional benefit compared to the company's previous custom product, ReSound LiNX Quattro.

That Charger
I have always loved ReSound chargers, and the ability to carry around three days' worth of charge in my pocket always appealed to me. The promotional shots for the new device show a desktop charger only, but I think ReSound would be foolish not to provide the premium on-the-go charger for these devices. It only makes sense to do so within the concept of the segment they are going after.
The new custom insert in the recharger for these devices is a very clever idea. The insert mirrors the hearing aid shell's shape, ensuring good electrical contact between the aid and recharger. It also makes it much easier for the user to slip the hearing aids into place and ensure they are charging. That makes it easy to use for anyone with dexterity issues. The battery life of the devices is also outstanding, and ReSound has led the market here since the beginning; 24 hours of use, even with a lot of streaming audio, is excellent.
Choice of Colours
Custom made by ReSound will come in a choice of colours and will be available in a new In-style™ anthracite colour, or Blend-in™ hair and skin tones. They plan to roll out the devices in the US on June 29, 2022, along with the equivalent Beltone Imagine line-up in ITC (in-the-canal) and ITE (in-the-ear) styles. They have said that the new hearing aid styles will initially be available on a limited basis, with the ramp-up of supply increasing through July and the rest of summer.
These devices fit within a growing segment for traditional hearing manufacturers. Two distinct segments really, hearable type hearing aids and rechargeable custom hearing aids. The only traditional manufacturers that haven't delivered something like this are the Sonova brands and Widex. I think Sonova will possibly introduce theirs on the next platform from them. As to Widex, their stable mate Signia already has rechargeable customs, so I don't think Widex will be too far behind.
However, it remains to be seen how popular this device segment will be with the buying public. While they will be great hearing aids, the style will not be suitable for everyone. Anyone with decent low-frequency hearing probably won't be able to tolerate wearing them because of the occlusion effect. I would love to try them, but I probably wouldn't be able to wear them for extended periods. Occlusion makes me a bit twitchy. That's a downright lie; it turns me from easy-going Geoff to twitchy psychotic Geoff over a few hours.
I think these devices, like others available, will appeal to the people who need hearing aids but don't want them. I wonder, though, while they can pretend they are fancy earbuds, what happens when someone thinks they are rude for not removing them? For users who have accepted their loss and are interested in discreet custom rechargeable hearing aids, I imagine they will be just the ticket and an interesting talking point.
Please like us on Facebook by clicking the button below to keep up with our latest utterances. Alternatively, if you don't like Facebook, sign up for the newsletter below. It is important to remember; a hearing aid isn't correctly fitted unless they do Real Ear Measurement.