With the rather glorious tagline of "Be Brilliant!", Signia has announced the launch of a new style of hearing aid that will be familiar to anyone who has ever taken even a passing interest in wireless earbuds. The new earpod style Active and Active Pro hearing aids were launched in April 2021 with a rather good advertising campaign. The move represents a recent shift by hearing aid manufacturers to offer hearing aid form factors more appealing to new younger users. While Starkey and Phonak have both introduced offerings that kind of fit the bill, think custom rechargeables and Virto Black, Signia has been braver and stuck with a form factor closer to the consumer electronics devices that have been so successful. In fairness, Signia isn't new to the concept of changing up form factors, they have experience of doing so with both the Silk, their instant fit in-ear hearing aid and their Styletto, the thin Receiver In Canal. Here is what you need to know.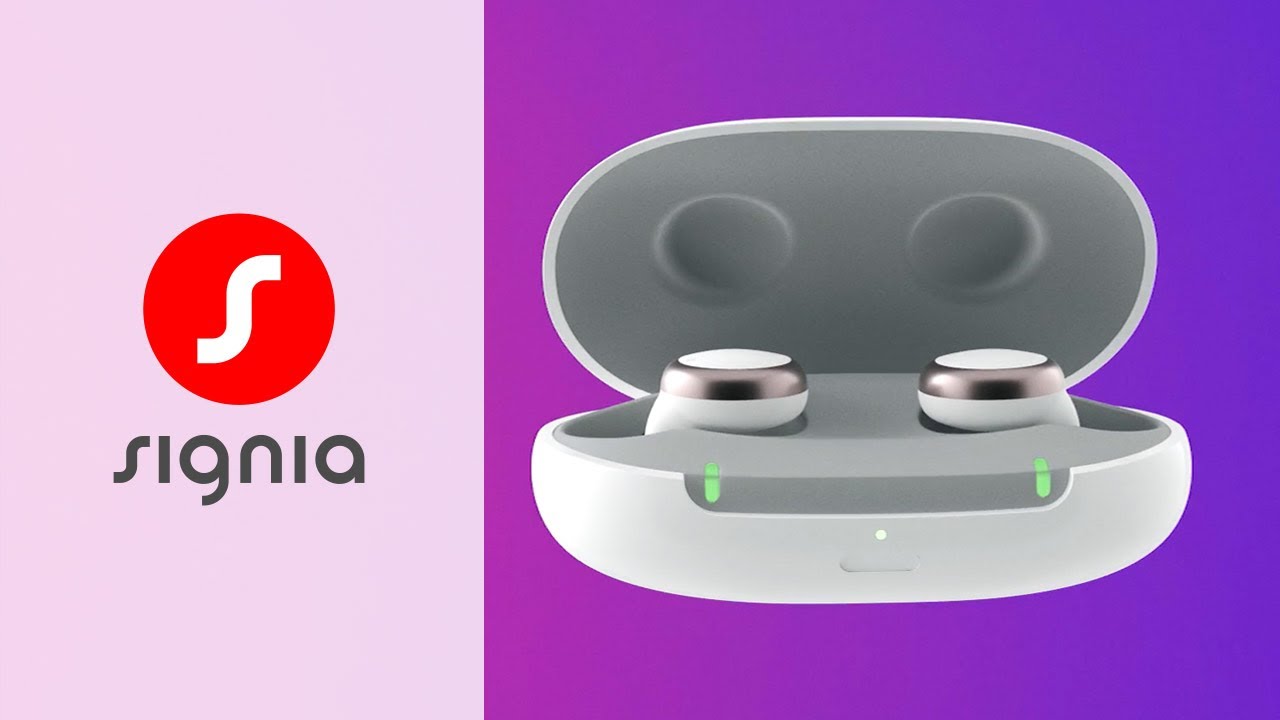 Two Models
The Active range from Signia uses their Xperience YourSound technology and includes two models, the Signia Active and Signia Active Pro. The Signia Active is a pretty interesting device. Signia says that it is a starter option, designed for occasional use by those in need of a hearing edge in noisy situations. Looking at the specs, it appears that the Active is like an entry-level model with 16 processing channels, 8 adjustment bands and other features commensurate with that technology level.
The Signia Active Pro is a premium level device with all of the features, 48 processing channels, 20 adjustment bands and extended bandwidth up to 12kHz. Both devices are designed for those with mild to moderate hearing loss who want a daily solution. Both models look the same and are available in the colour combinations of White and Rose Gold, Black and Silver, or All-Black.
They are powered by a lithium-ion rechargeable battery, come with a convenient, portable charging case with Qi wireless charging technology, and Bluetooth connectivity (Made For iPhone Only) for easy streaming of audio. The devices are instant fit and use Signia's ClickSleeves 2.0 technology which enables a quick fit while ensuring the hearing aids remain firmly and comfortably in place.
Both devices will connect to the Signia App which offers remote support from your provider. They will also connect to Signia accessories such as the StreamLine Mic and the StreamLine TV streamer.
Xperience Platform
The Xperience platform has been very successful for Signia and has a lot to offer hearing aid wearers. Fitting the technology in this form factor makes a lot of sense. These are fully functional hearing aids and offer performance including battery life along those lines. The form factor may prove quite desirable for some new users who are worried about what other people think. It will be interesting to see how the consumer market reacts to it.
For some, I think it will be an ideal solution that allows them the confidence to address their hearing loss. For many others, it will be seen as just another solution on offer. I like them, I like the idea of them and what they represent, would I be bothered going for them as my hearing aids, probably not.
However, as I think readers of the blog know too well, I don't care about what other people think, so I don't suffer any stigma. Like us on Facebook by clicking the button below to keep up with our latest utterances. Alternatively, if you don't like Facebook, sign up for the newsletter below. It is important to remember, a hearing aid isn't properly fitted unless they do Real Ear Measurement.