Signia has announced the introduction of what they are calling a breakthrough hearing aid platform that understands the complete soundscape and adjusts to the wearer's movements. The new platform is called the Xperience and it is their first hearing aids that use onboard motion sensors to deliver a better hearing experience for the user. It also has newly designed hearing devices that are smaller and more powerful than ever. Signia say that their new acoustic-motion sensors enable a completely new sound processing technology that measures more aspects of sound than existing hearing aids. Which means vastly improved hearing from any direction, in any situation – even when moving. Let's talk Xperience.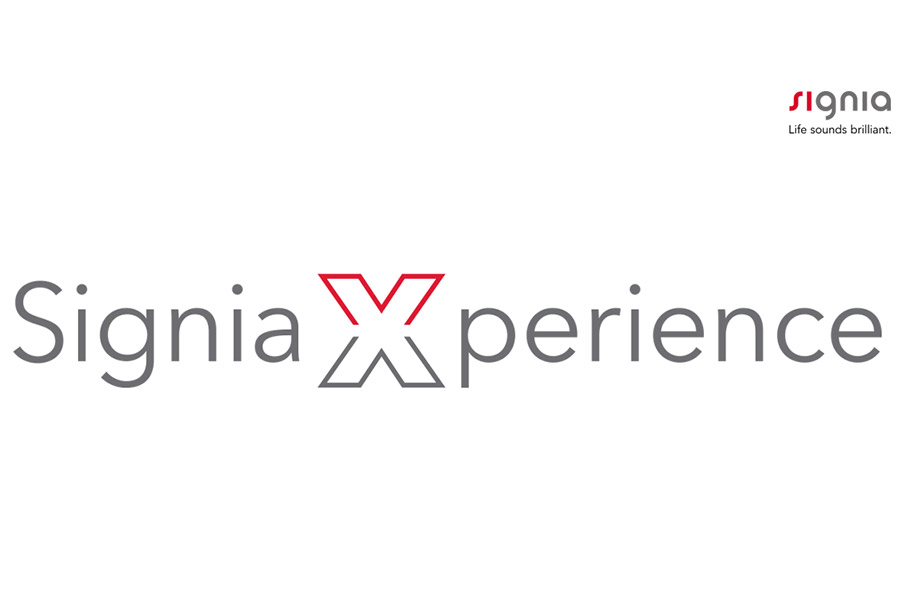 New Model Designs, New App
The Xperience platform offers the new Pure 312 X (with optional T-Coil) and rechargeable Pure Charge&Go X hearing aids in three levels of technology. It also brings brand-new, all-in-one smartphone app offering greater convenience for users.
Those Motion Sensors
They say that the new platform introduces the world's first combination of advanced acoustic sensors with a built-in motion sensor. The hearing aids will be used to provide a more complete analysis of the wearer's dynamic soundscape. They say that the new system will allow for automatic adjustments between sounds in front of and all around the wearer for a more personalized listening experience. In essence, they are saying that they use the motion sensors along with their new analysis system to give users more access to the sounds around them without compromising on clarity.
Signia has been down this route before, but the original system used the sensors on a connected smartphone to deliver more data points to the analysis and processing system. Many hearing aid wearers have an active lifestyle that involves walking, cycling and even running. But no hearing aids take the movement of the user into account when the management system decides how to help them hear better.
It means that most hearing aids don't necessarily adapt well as the wearer moves around, especially so in complex sound environments. Signia say that the Xperience platform, built upon YourSound technology, was developed to fill this crucial gap and respond to rapid changes in the wearer's environment and their movement.
The Benefits
With the new YourSound technology, Signia Xperience hearing aids have access to more variables. It is a simple equation, the more you know about the variables in a situation, the better you can plan to deal with them. The same can be said about hearing aids that provide the best sound possible. Signia say that the built-in motion sensor will allow them to take into consideration how the wearer's movement affects their hearing in each situation.
They have also introduced new technology which means the hearing aids no longer have to decide between focusing on what is directly in front of the wearer or in the general surroundings. The new system offers the wearer a more natural experience. They can continue benefit from the proper amount of frontal focus, while still being able to hear relevant speech from other directions.
Signia say the three key features of YourSound technology are:
Acoustic-motion sensors for a complete analysis of each wearer's dynamic soundscape
Dynamic Soundscape Processing for natural sound and speech from any direction, in any situation – even when moving
Own Voice Processing (OVP™) for a natural sounding own voice
New Chipset, Smaller & More Powerful
The new Signia Xperience chip includes 80% more transistors and seven times the memory of the previous Signia Nx chip, while also being 60% smaller. As a result, the first two hearing aids on the platform, the Pure® 312 X and the Pure® Charge&Go X, are smaller yet more powerful than their predecessors.
Pure 312 X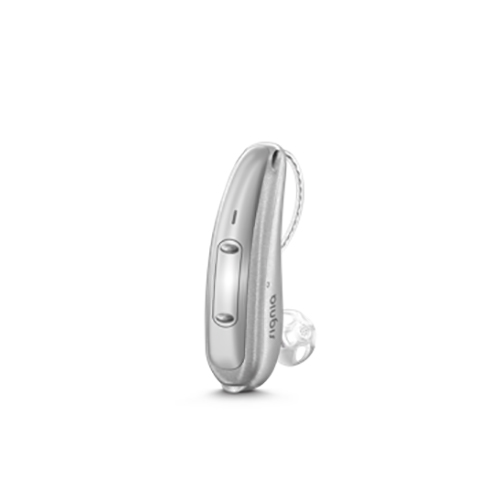 The new Pure 312 X offers a brand new design with a rocker switch powered by a 312 battery and an optional T-Coil. The receiver-in-canal (RIC) hearing aid also has Bluetooth® connectivity for effortless streaming of phone calls, music, and TV audio. The optional telecoil will be delivered in the next month or so and it is an inspired design.
While Signia has a fascinating add on telecoil that lives in a battery door, they have now designed a hearing aid case that has the telecoil built into it. It will simply be a case, of changing the case (see what I did there?). Anyway, I think it is inspired. If you purchase a 312 X and then decide at a later stage that you would like to sample the delights of modern induction loops, you simply get a new case put on your existing hearing aid.
Pure Charge&Go X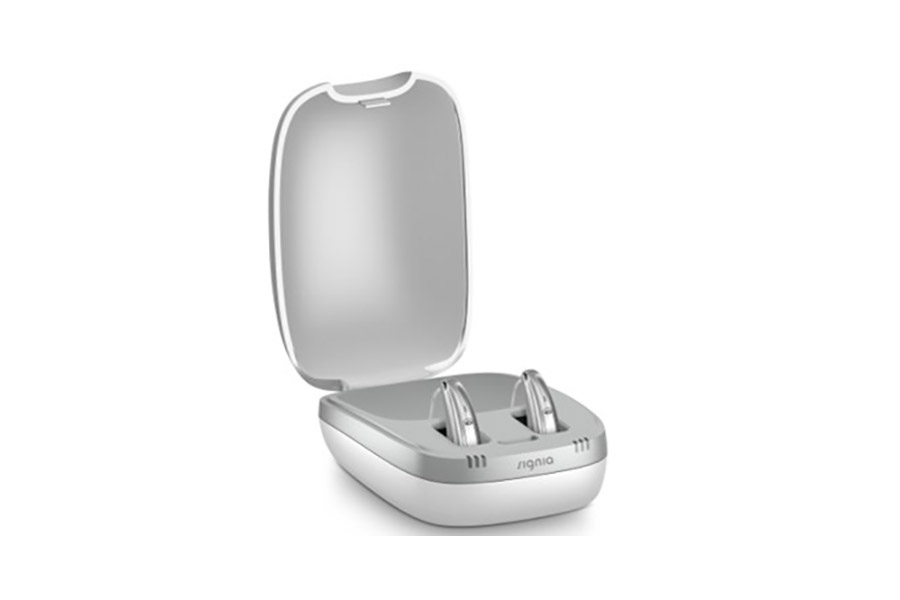 The Pure Charge&Go X will be available in November, it is a lithium-ion powered rechargeable RIC with Bluetooth connectivity. Signia say that the devices have 20% more charging capacity and are 16% smaller than the previous Pure Charge&Go Nx. It adds up to a svelte and discrete device that offers better battery life even with streaming. Signia have introduced a new inductive charger with a lid to protect the hearing aids as they charge, something that many people had complained about. The charger also works as a dehumidifier and is designed to fit custom ear molds.
The New App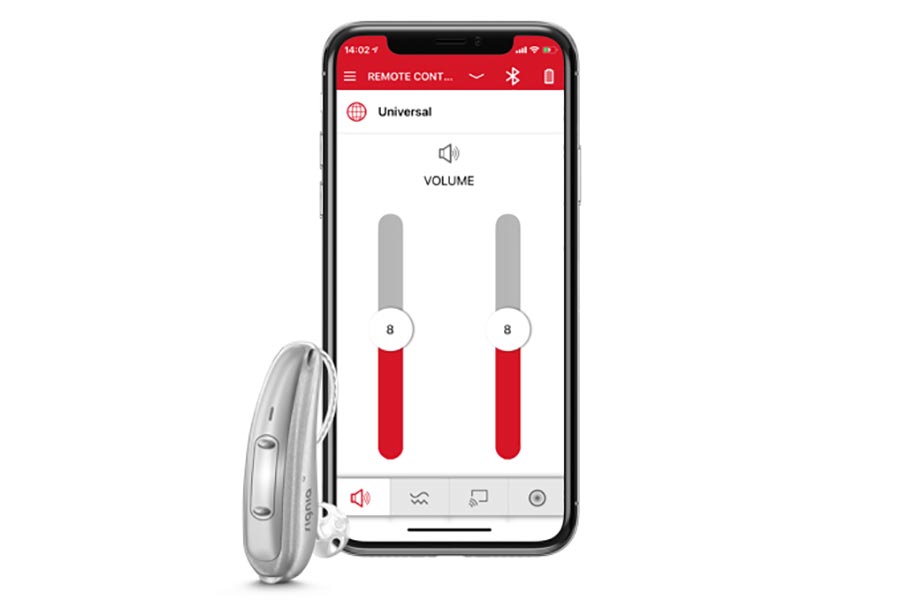 The new Signia app combines three existing Signia apps into one unified easy to use app that should meet user's needs, including:
Providing wearers with direct support from a hearing care professional
Remote control so the wearer can personalize their hearing experience
Easy management of streaming accessories to fully enjoy phone calls, music, and TV
The introduction of integrated motion sensors to hearing aids offers a huge amount of new possibilities. Signia is the first to do it and they will learn a lot from the experience. While the onboard motion sensors are already being used to make the experience better, the information that Signia will learn from the system has even more promise for future breakthroughs and possibilities. The next thing is adding a gyroscope sensor in order that we can understand head aspect, that would allow us to understand listening intent better. As I said earlier, the more you understand the better you can plan, the more you know about the variables in a situation, the better you can plan to deal with them. Signia has taken an important step forward to a more complete understanding.
Like us on Facebook by clicking the button below to keep up with our latest utterances. Alternatively if you don't like the book of face, sign up to the newsletter below. Oh and remember, a hearing aid isn't properly fitted unless they do Real Ear Measurement.