Signia Introduces The Connected Ear
Signia (formerly Siemens) introduced the Signia Pure® 13 BT today, and it is their first ever Made-For-iPhone (MFi) hearing aid. They say that it delivers uncompromising sound, industry-leading connectivity, and revolutionary remote hearing care, along with great battery life. Wearers will be fully connected to their environment, each other, their iPhone® and to their hearing care professional. The devices will be introduced in May this year and will be available in the usual three levels of technology.
The Pure 13 BT represents a few firsts for the industry, the world's first telehealth-supported hearing aid with iPhone audio streaming capabilities, the first hearing aid to use iPhone motion sensors to improve hearing in certain situations and the first hearing aid to provide both "high-definition binaural hearing" and Bluetooth® audio streaming (from a connected device). The devices will be powered by a size 13 battery which is good news for users, the 13 battery combined with the low energy use should mean less battery changes.
"World's first high definition binaural better-than-normal hearing and direct streaming"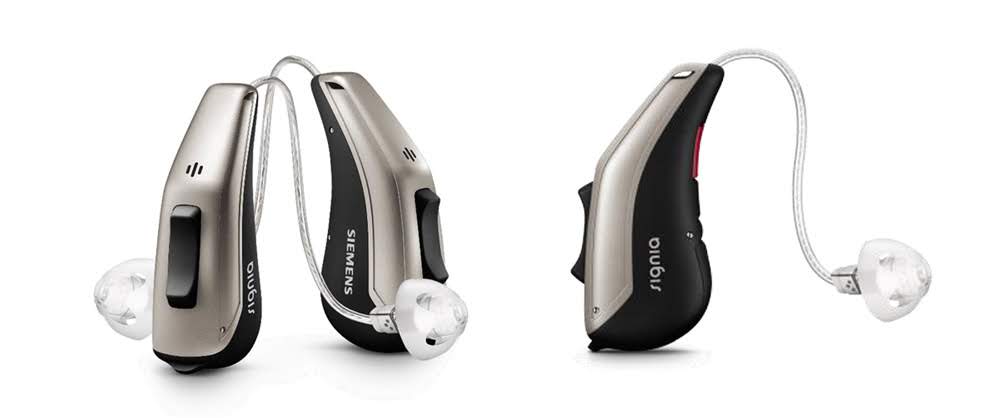 The Signia Pure® 13 BT will stream audio directly from iPhone, iPad, and iPod Touch devices via Bluetooth® low energy (LE). This will enables high fidelity stereo streaming with reduced energy consumption.]As with Widex, Signia have also retained their own wireless radio on the devices, which means that when you are streaming audio, you don't lose the benefit of the ear 2 ear communication. This is important for the user, Signia's ear-to-ear (e2e™) wireless system is used to provide better spatial awareness and speech understanding. Something that most users would not want to be without.
Motion Detection
This is really a fascinating innovation and a real sign of the expanded concepts around hearing aids and their users. People frequently move while they are speaking, and Signia think that their hearing aids should react dynamically and adjust to their changing listening situation. Up until now, the data needed for this was missing. The Pure® 13 BT is the first hearing aid to utilize the iPhone motion sensors to deliver input that allows adjustments in sound processing based on your activities. Signia say that the devices understand when a user is in motion and for the first time ever this data will allow them to deliver optimal hearing in that situation.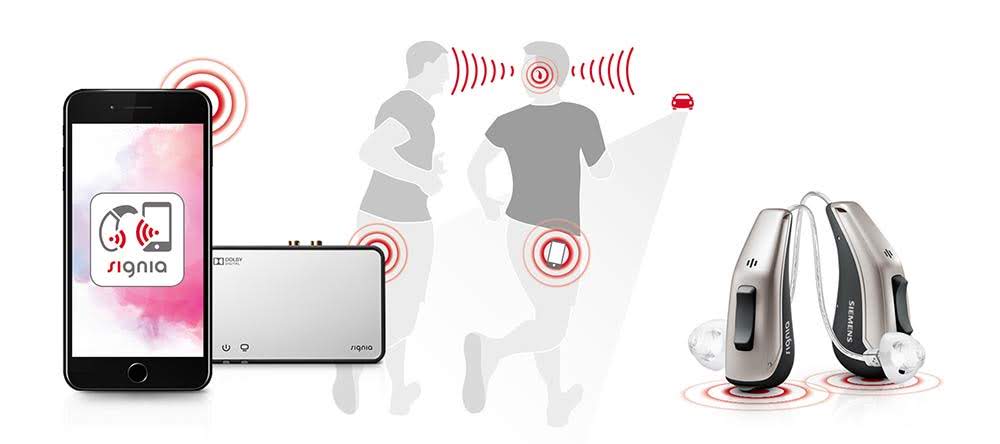 Essentially when a wearer is walking, running or driving, the hearing aids understand they are in motion, and will automatically adjust to better hear a conversation partner at their side or from the back while maintaining awareness of environmental sounds like sirens, approaching vehicles, or pedestrians. Signia claims that motion detection will make their environmental classification system even more robust, by adding a valuable data point. I can not fault them here, it is an outstanding idea and a sign of real innovation.
A Bluetooth TV Transmitter
Signia has also introduced the StreamLine TV transmitter, which delivers high-quality stereo sound – streamed from your TV or connected audio source via Bluetooth® LE – directly to your hearing aids. Apparently pairing the hearing aids with the StreamLine TV transmitter is as easy as placing the hearing aids on top of the transmitter box to allow the auto-pairing process to complete.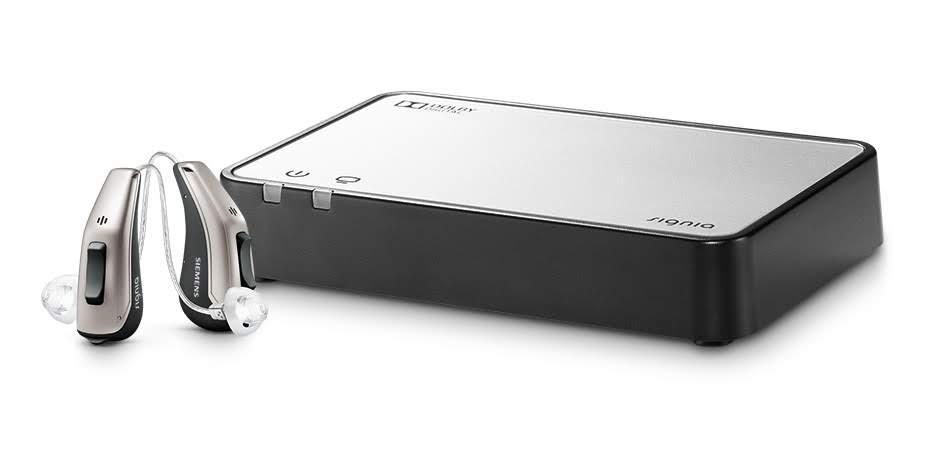 Companion App
The new myControl™ App is made specifically for Pure 13 BT hearing aids. It offers a range of advantages beyond direct streaming of audio. It acts as a remote control for quick and easy changes to settings like volume and programs, and delivers advanced adjustment options to the user for personalization of sound. Similar to a fitness tracker, the myControl App helps wearers look after their hearing health by identifying when they are being exposed to potentially harmful noise in their daily lives.
The new app will allow you to make personalized adjustments to programs, volume, microphone directionality, and treble/bass, during audio streaming. Pure 13 BT hearing aids will help users look after their hearing health. Similar to a fitness tracker, they create a personal sound profile over time based on noise exposure, so you can protect your hearing health. The app tracks your daily noise exposure, and displays the information in an easily readable way. This is an interesting little datum point, it will allow you to understand what levels of noise you are exposing yourself to on a daily basis allowing you to understand the possibilities of damaging your hearing through noise exposure.
Telecare 2.0
The Pure® 13 BT is the first Signia hearing aid to utilize TeleCare 2.0. This upgrade introduces additional capabilities such as advanced data logging, secure end-to-end encrypted data transfer, and improved remote hearing aid adjustments. The professional can now adjust your hearing aids remotely across four frequency bands (previously only gain and tone control were available to providers). The user will interact with your provider via the Signia myHearing App, which is available for both iPhone and Android smartphones.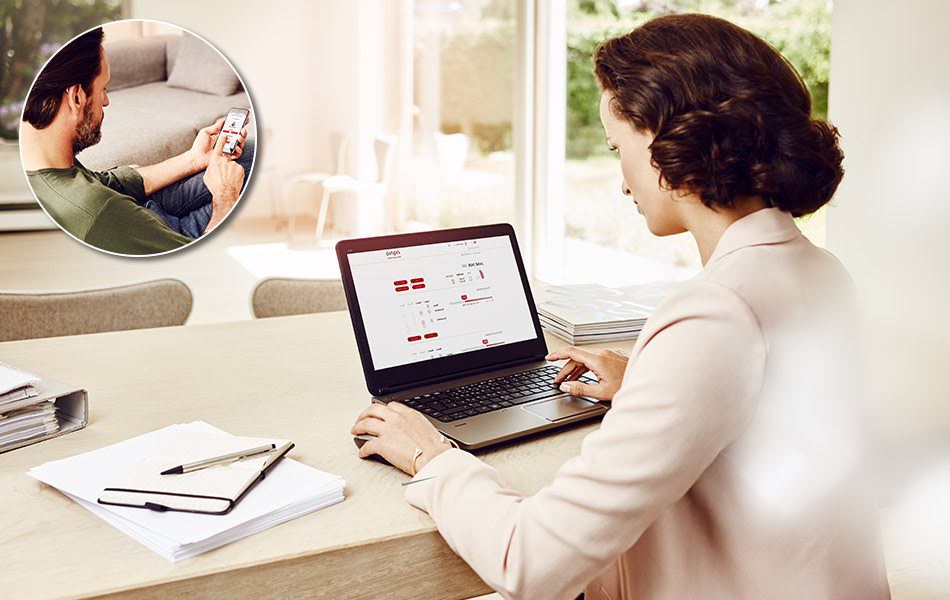 You can read more about Signias outstanding Telecare innovation here
If you like what you see, share it so others can benefit