Have your hearing aid fine tuned while you are sitting at home, what's not to like?
Sivantos, formerly Siemens and now the artist that calls themselves Signia, has introduced a truly groundbreaking innovation in collaborative hearing care. They have introduced the first hearing aid app that has deep user/professional communications and the ability for a professional to fine tune hearing aids remotely. We know groundbreaking is used quite a bit, but this is truly earth shattering.
So first I think we need to clear up the confusion of the names, Sivantos is the private business that bought Siemens Hearing Aids from Siemens. They have the rights to use Siemens in their branding, Signia, is what they have begun to call their hearing aid brands. So at anyone time they can be Siemens, Sivantos and Signia, there not confusing at all (the voices in my head just giggled).
Communicating with your professional
Well those lads just introduced a new app called "myHearing" at EUHA (international hearing aid conference in Germany). The app makes it possible for hearing aid users to directly contact their hearing care professional anywhere while wearing their hearing aids. They have the option to use different "CareChat" communication channels with the hearing care professional and also access a cloud-based knowledge tool for guided assistance on how to use and handle their new hearing aids.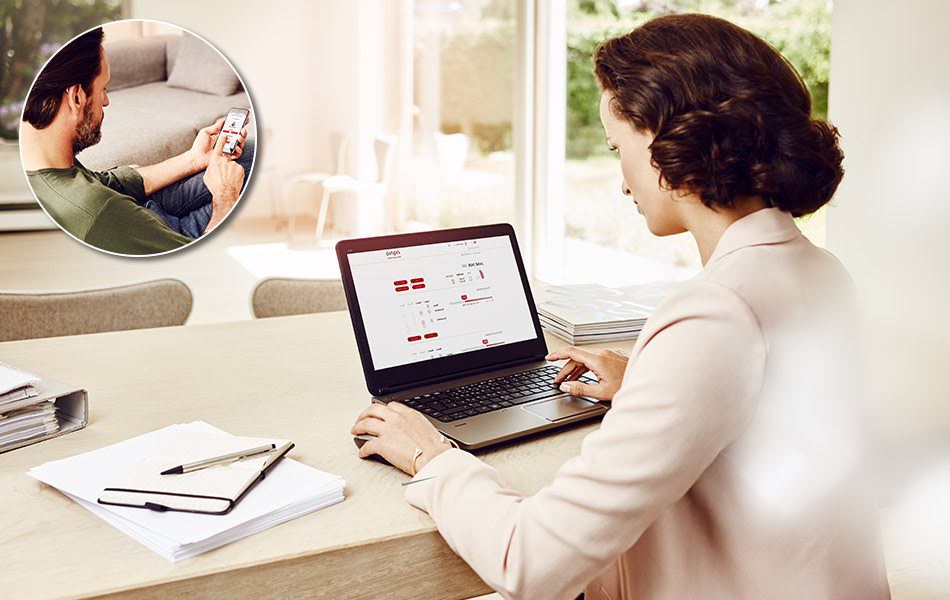 Monitoring your progress
At the same time, hearing care professionals can monitor the progress of the user. The real game changer though is the fact that the professional can provide certain setting changes remotely. In essence, for the first time the professional can fine tune the devices on the go remotely.
With TeleCare, they say they are targeting the initial phase when a person with hearing loss first begins to wear hearing aids. Up to now, the user has been given a relatively large amount of information and is then sent on their way until a follow up. The app is designed to plug the gap during that period, allowing the user to undertake structured listening tasks and access the information needed at their leisure.
However, I see a huge market for this type of telehealth approach, it will mean that users will not have to wait until a physical appointment to have some settings changed or to deliver feedback. Like the Patient Insights app from Unitron which we have discussed here, this will allow users to collaborate with their care professionals in a deeper manner.
A Simple process
It is a simple enough process, the professional loads up the app on the user's smartphone (iphone or Android) at the first visit. The app communicates via secure channels with a cloud portal that the professional has access to.
What does it offer you?
So why should you buy into it, what does it offer you?
Listening exercises
Guided assistance
Personal progress: Feedback & ratings
CareChat: Text, voice and video communication
Frequently asked questions
Remote control function
So you have access to an extensive knowledge database in the cloud via the app. It automatically shows only the information that is relevant for the devices you are wearing, so you know the information is always relevant to you.
It gives you access to handling videos which clearly explain the typical questions that arise with first-time wearers Things like:
How do I place my hearing aids in my ears?
How do I take them out?
How do I change the batteries?
How do I change the programmes?
How do I adjust the volume?
How do I clean the devices?
And quite a bit more than that which means that the professional can concentrate on helping you hear better. It also offers targeted listening and handling exercises in coordinated stages which the professional can track.
Quick and easy contact with your hearing care professional
If you are having a problem getting an answer from the knowledge tool, you can quickly and directly contact the hearing professional with just one click via the app. You can do so by calling or text message. The daily rating system in the app also allows the hearing professional to monitor and respond to your experiences.
Remote adjustment of hearing aids
For the first time hearing care professional can remotely change certain parameters of the hearing aids. This allows almost instant response to feedback about experiences of a user in different situations. The changes are made in the professional's portal and then sent directly to the app. You are informed that there are new settings on the app and you can accept them.
This is going to catch on
We think this is a fantastic leap forward for both hearing care professionals and hearing aid wearers. We think that it can only strengthen customer satisfaction. Your contact with the hearing professional as well as the handling of your hearing aids is simplified. It also means that you don't necessarily have to physically attend the office every time you want a change made. That has to be a good thing.
We think that this is another innovation that will see widespread adoption across the hearing aid industry. We know that Unitron have been thinking about this for some time and we discussed the possibilities of cloud based data for hearing aids before. It is a technology that makes sense for everyone involved and it is good to see a disruptive innovation like this come from within the hearing aid industry.
The system from Sivantos will work with all Signia hearing aids and is optimised for the entire primax platform (Ace, Pure, Motion and Insio as well as the new Cellion and Silk). The market launch is currently taking place in Germany and the USA. By the end of the year, it will occur across Europe and in early 2017 in Asia.
If you like what you see, share it so others can benefit