Every year around this time Sonova, the owners of the Phonak and Unitron brands among others, announces their results and their future plans for investors. The day was yesterday and I viewed the presentation as I always do because it gives me a clear idea about their strategy moving forward across their business. There were many interesting things in there, but one that stood out for me was their clear focus on a so-called omnichannel strategy and how direct to consumer hearing aid sales fell within that strategy. Let's talk Blamey Saunders Hears, Sonova and buying hearing aids in new ways.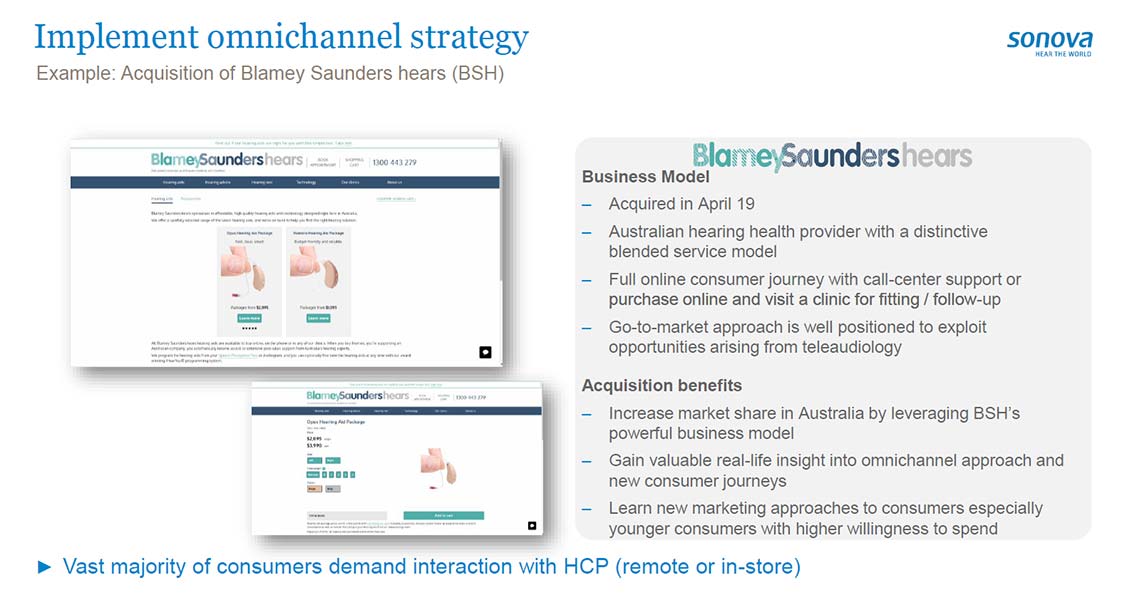 Australian consumers have been able to buy direct to consumer hearing aids from Blamey Saunders Hears for quite a while now. So what's changed and why is it newsworthy? Firstly, as we reported here Sonova purchased Blamey Saunders Hears in April, lock stock and two smoking as they say. It was an interesting move and I said at the time that it made sense for them to acquire the business as much for the locked in experience and legacy knowledge. I said at the time that the purchase allows Sonova to understand the possibilities of this model implicitly.
It is obvious that Sonova sees the DTC model as a part of their overall strategy moving forward. From looking at the presentation, they see it as a part of a blended model which offers consumers purchase opportunities that suit them. That really is the key here, this type of model allows a consumer to decide what way they want to purchase hearing aids and with what level of service and care will be provided.
While some consumers are happy to purchase online and fit their own hearing aids, some are not. Some consumers are happy to work with tele-support and tele-audiology, some are not. However, nearly all of the consumers see value in the purchase price and the packages that are available. In order to maximise the opportunities, a blended approach which services all needs is the way forward.
Driving The Model
The presentation makes it clear that driving the Blamey Saunders Hears model in Australia will help them to increase market penetration. If you read between the lines, it is also clear that it will allow them to understand how this model works, how consumers will react to it and how they may role it out.
I think we will see more device offerings from Blamey Saunders Hears over the next twelve months. We may well see a widening of the physical locations within the Australian market which allow the delivery of the blended model as well. I think that Blamey Saunders Hears will become an even more important player in the Australian market and the larger financial might of Sonova will allow them to expand the brand quickly.
Buying Your Next Set of Hearing Aids Online
I think that with the backing of Sonova, Blamey Saunders Hears will become an even more attractive vendor for many Australians. Many Australian consumers may find themselves buying their next set of hearing aids online, secure in the knowledge that they have the experienced back up and care available if they need it. One way or the other, it will mean more choice over how you purchase hearing aids, well if you live in Aus.
Like us on Facebook to keep up with the latest goings-on in the hearing aid world by clicking the button below.