Starkey announced the introduction of a new hearing aid platform they are calling Evolv AI at a virtual launch a couple of days ago. No messing around with one aid at a time with these guys, they launched a full range of ITEs, BTEs and RICs all in one go. Thinking about it actually, Starkey and Widex are the only brands to do this in the recent past. I remember when the Clear was launched by Widex back in 2010 that the other manufacturers sneered because it took them a while to launch the ITEs. How times change. Anyway, back to Starkey, let's talk Evolv AI.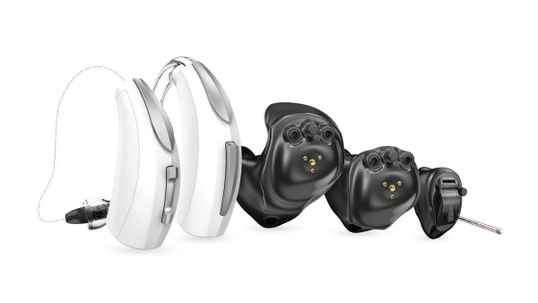 Full Model Line-Up
As I said, it is a full line-up of models, three BTEs, including a Power BTE, a Rechargeable BTE and a size 13 zinc-air powered device. Three RICs, a rechargeable RIC, a size 312 zinc-air powered RIC and a size 312 zinc-air powered micro RIC. Finally, five styles of ITEs, a full shell rechargeable, a half shell rechargeable, a CIC, a non-wireless CIC and a non-wireless IIC.
With the exception of the non-wireless devices, all of the hearing aids are Bluetooth enabled, even the nice small CIC. Of course, we will have to see it in the wild before we can assess just how discreet it is. In fairness, Starkey has made a big deal of it so I would imagine it is probably quite small.
An evolution in tech
Starkey says that the new Evolv AI is an evolution in their technology offering the best sound quality and superior performance in noise. The deeper information about the new devices and what they offer will begin to come out soon, but for now they say:
40% reduction in noise energy compared to our previous technology
Additional refinement of Edge Mode
Fall Alert and Voice Reminders at all technology tiers
Thrive usability enhancements
TeleHear™ first and follow-up fit additions
The Fall Alert system at every technology level is fantastic, it means that no matter what the budget is, people will have access to the peace of mind that Fall Alerts deliver. Anyway, as more details emerge, we will update you.
Like us on Facebook by clicking the button below to keep up with our latest utterances. Alternatively, if you don't like Facebook, sign up to the newsletter below. It is important to remember, a hearing aid isn't properly fitted unless they do Real Ear Measurement.